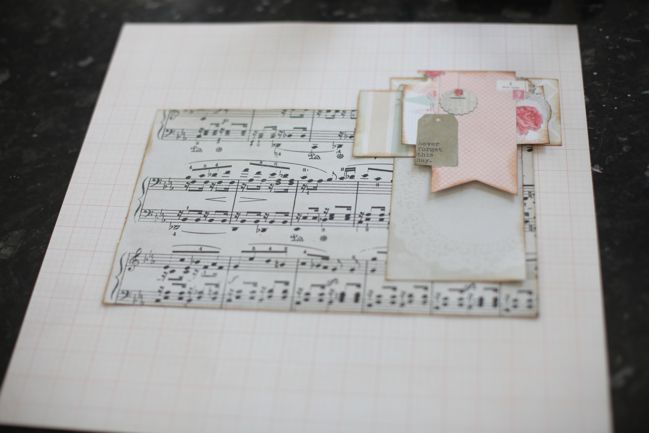 Today scrapbook manufacturer My Mind's Eye are launching their new look blog with a little something special: a blog hop celebrating some of the fabulous products MME has produced over the years. As Mondays here in Shimworld are usually dedicated to scrapbook starting points, it seems just right to combine the two.
This week's starting point comes entirely from the Follow your Heart collection designed by Rhonna Farrer for My Mind's Eye. One 12×12 graph paper design for the background (and the lines are important for where I'm going to take this page), a large box of patterned paper across the middle and a grouping of a few small pieces of patterned paper plus one detailed element cut from the patterned paper at the top right corner of the large box.
For the finished layout and a round-up of favourites from last week's starting point, please pop over to this post.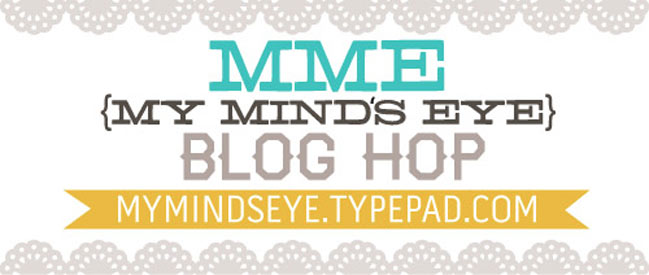 But let's indulge in a little My Mind's Eye fun for a bit too! If you're new around here, there are two recent videos you might want to check out: this one features MME transparencies and this one focuses on patterned paper. But My Mind's Eye have been around for a long while! I have some of their earliest products in my albums: the Frame-Ups die cuts, more than ten years old!

As part of their big launch today, check out the My Mind's Eye blog, and also their updated pages on Twitter, Facebook and Pinterest. This week they will be announcing three brand new lines. And now the fun part… how about a prize? MME is giving away a sheet of layered stickers to a lucky shimelle.com reader. Look closely, these are a peek at one of the new lines! You can see more from this new collection on the My Mind's Eye blog later this week.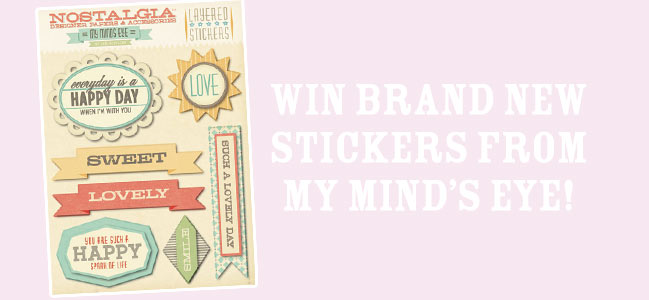 To enter to win the new stickers from MME, just leave a comment on this post. Entries close Sunday the 8th of April and I'll post the winner with the new starting point next Monday!
Your next stop on the hop is Stacy Julian, and if you've lost your way, the full hop includes Jennifer, Nichol, Rhonna, Stacy, Stephanie and Studio Calico, plus the new blog at MME!

Read more about: scrapbook-starting-points
02 April 2012

Next post: Scrapbooking Starting Point :: Set to Music (wedding scrapbook page)
Previous post: Scrapbooking Giveaway Day