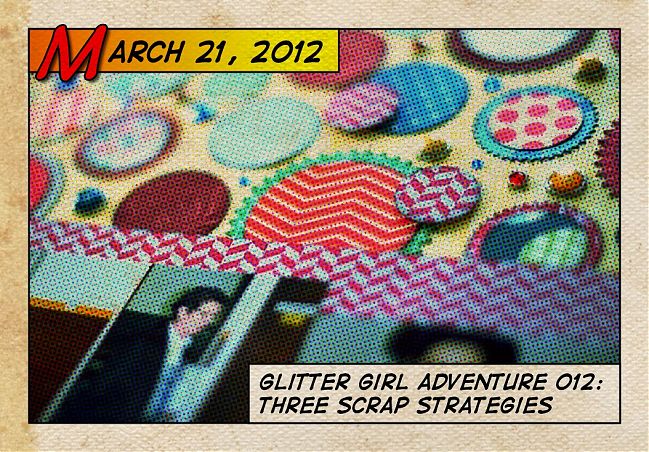 Class content ©twopeasinabucket.com.
Scraps have been a pretty hot topic on the message board recently – including this discussion that inspired this week's adventure, but also this discussion and this one, both about how to sort, organise and store all those bits of paper that end up left over after a finished project. Time for Glitter Girl to spring to action, and on her adventure this week she shares three strategies for page designs with all those scraps!

Each of these designs can be adapted to suit your style and photo needs, or used in slightly different ways on a variety of pages without every page looking the same. Always useful!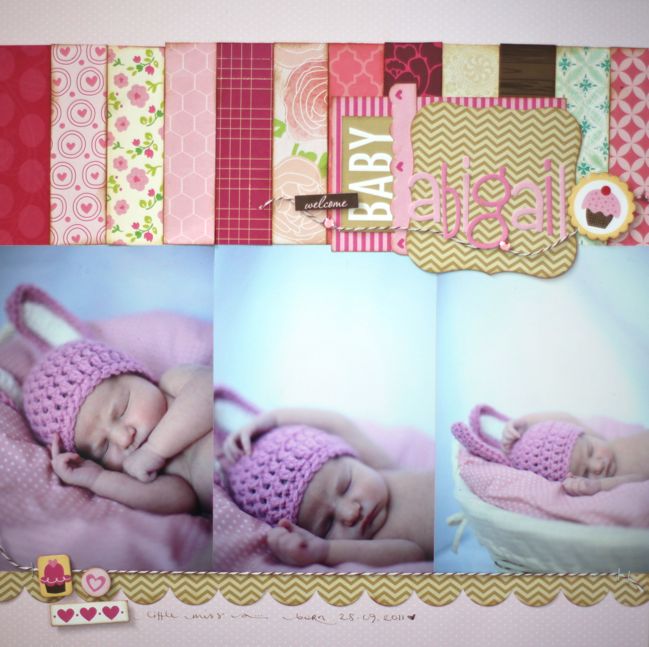 Take the example of a collection of one inch strips: the same idea can be used to cover the front of a card. It can be turned to become a vertical column of horizontal strips, which could be a rainbow of bright colours or make a great place for writing in paler colours. And it doesn't have to be a big border – it could easily be a box or a circle instead. If I only had two 4×6 pictures for this page but wanted more space to write, I could move the collection of strips to take one of the photo spots and open up all that space at the top for as much journaling as I want to include.

This technique of repeating one shape in a contained explosion is one of my favourite techniques for scraps. This page from a few years back uses the very same idea and it's still one of my favourites, so I was excited to try it again, this time with punches and dies rather than cutting everything from a paper with scissors. However, I know this kind of embellishment overload isn't everyone's style. Just take it back a bit: fewer, larger shapes to cover that same space will be less chaotic, as will repeating a few patterns more rather than trying to cut every piece from a different design. The same can be limited to a smaller part of the page, either for less embellishment or to dedicate more space to photos or writing.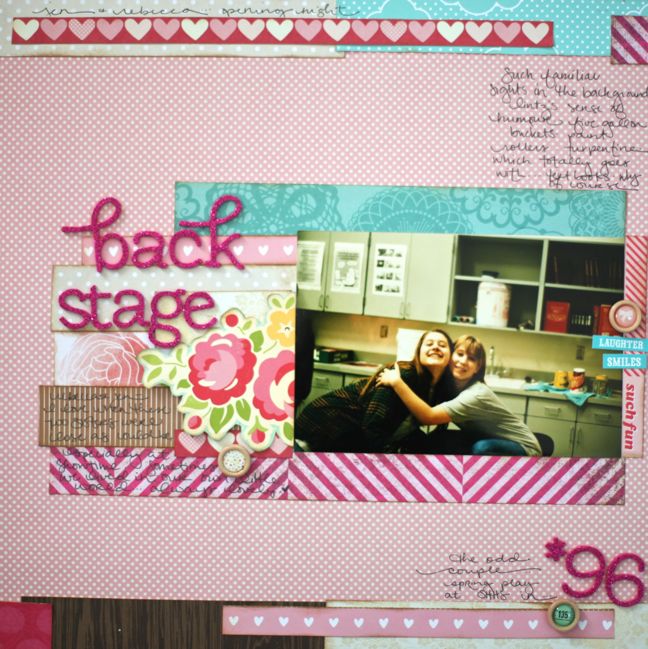 And this final strategy starts from something different: in the first two instances, I chose my paper scraps based on their colour. In this case, I was looking for the shape – all long narrow strips of paper. From that I could find a good mix of colours that would work but I was generally less fussy about the colours I was choosing. This page design is not dramatically different from many other pages I've made, but I would usually include at least one large block of paper in the middle somewhere – but in this case it is entirely strips with the single exception of the flower cut with scissors from a sheet of patterned paper. By starting with those strip borders at the top and bottom of the page, you can adapt the middle to any requirements – different number or size of photos, more or less embellishment, and so forth. You can also bring ribbons, tape and border punches into the mix. This older page does that with a larger photo too.
Now it's your turn! This week Glitter Girl challenges you to put at least one of these three strategies to use with your own scraps and off-cuts. Make a page and upload it to Two Peas and check the box for the Glitter Girl challenge in step four of the upload process to share it with us all – and you're also welcome to share a link in the comments here if you fancy!
Onward, covered in glitter, my dear scrapbookers!

The Adventures of Glitter Girl is a weekly series on Two Peas in a Bucket, and goes live every Wednesday. I'll share each adventure here shortly after that. I hope you enjoy her quests for crafting happiness, and if you ever have a scrapbooking dilemma yourself, you can always call her to action on the message board.

Read more about: adventures-of-glitter-girl two-peas-in-a-bucket
22 March 2012

Next post: Gardeners' Digest :: Scrapbooking News from the Garden Girls
Previous post: Scrapbooking Starting Point :: You Can Count on the Girls