Class content ©twopeasinabucket.com.
In this week's adventure, Glitter Girl tackles creative block, an issue currently being discussed here on the General Scrapbooking message board at Two Peas. Her adventure takes her through the reasons why creative block occurs, how to find inspiration here at Two Peas and how scraplifting can become a useful step in the creative process.
To create the layout in this week's video, Glitter Girl selected six layouts posted at Two Peas and took one piece of inspiration from each. The product choice of the Peachy Keen collection was inspired by Say Cheese by hyperstarre, the white cardstock and splash of ink was inspired by Hello Lazy Mornings by 4Shanna, the garland of buttons and mixed paper elements was inspired by Lookalike by Jen Chapin, the title came from BrianaJ's Time Flies layout, Wilna inspired the photo strip with a mix of colour and black & white images with her page Ten and Chasing the Morning Sunshine by MaryGrace inspired the final touch of lace to complete the page.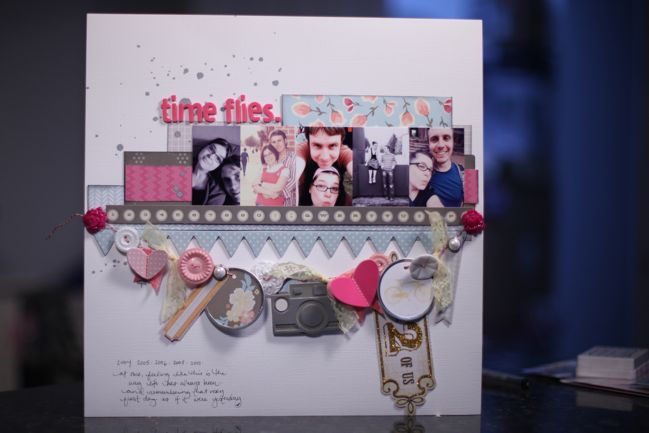 Click here for supplies – and a bunch of them are on sale, by the way.
I wouldn't normally make such a prescriptive list of inspiration points, and would rather take just one element perhaps. But this was such a fun page to create and the more detailed challenge created by all those elements made it come together quickly. I love the look of the finished page and how it looks different than any of those original pages. Proof that creative block can be crushed when we need it to be!
This week Glitter Girl challenges you to take inspiration from something you have found at Two Peas in a Bucket. Create something to share with the Two Peas community and in your project description, tell us about how you found inspiration there. Be sure to click the challenge box when you upload a picture to the gallery. You can also leave a link here in the comments to share what you have made!
Onward, covered in glitter, my dear scrapbookers!


The Adventures of Glitter Girl is a weekly series on Two Peas in a Bucket, and goes live every Wednesday. I'll share each adventure here shortly after that. I hope you enjoy her quests for crafting happiness, and if you ever have a scrapbooking dilemma yourself, you can always call her to action on the message board.

Read more about: adventures-of-glitter-girl two-peas-in-a-bucket
19 January 2012

Next post: ANFSCD January :: Step by Step Scrapbooking Project
Previous post: Saying Thanks 02 :: Border Punched Thank You Card