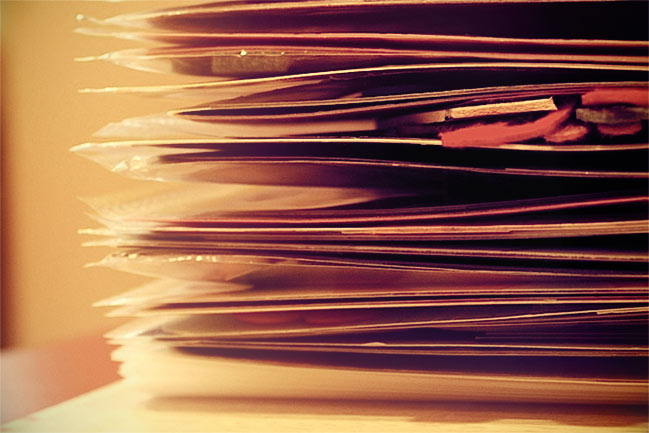 As we reach the first weekend of the new year, we have a little change to how the weekly giveaways will work here! Nothing too different though: they will still be giveaways that promote handmade, small business and all that sort of loveliness. They will still go live on a Friday evening, UK time. But the time you have to enter will be extended! Giveaways will now close on a Thursday, and the winner will be announced on Friday, in the same post that opens the next prize. Cool, cool? Lovely. Let's move on then!
For the first giveaway of 2012, one winner will win registration in Layout a Day (LOAD) 212, an online scrapbooking class from Lain Ehmann.
In her effervescent and down-to-earth style, Lain invites you to spend February with her in LOAD 212, creating 29 layouts in 29 days (it's leap year!). Each day brings a new page prompt, layout example, and video to help inspire you. LOAD 212's theme is Past Perfect, and participants will be mining recent (or ancient!) history for unique story-telling opportunities that share a little bit of themselves on their scrapbook pages. With a private Flickr gallery and message board, scrappers share inspiration and motivation with sister LOADsters in a safe and friendly internet community. To register or see what past participants have said about LOAD, visit the class information page here.
I've worked with Lain on the True Scrap event, and Layout a Day is a different set-up where she spends a full month with you, while True Scrap is an intensive three days filled with different topics, workshops and instructors. I've had a little peek at how Lain structures her Layout a Day materials, and you receive an email each day with a topic to kick start your thoughts on a particular theme, then a short video with a sample page and Lain's thoughts on various ways you could take that topic and run with it. You're welcome to take visual inspiration from her sample pages or to work in any other style you like. Part of the idea of completing a page every day means you can work quickly and simply, so it won't take you hours and hours each day.
Do any of these describe you?
It's the new year, and the photos are piling up on your hard drive or your scrap desk. But you're not really feeling the love. You're a bit burnt-out and tired…
or
You're raring to go, but making scrapbooking a priority has fallen by the wayside as you tackle "life:" Work, home, kids, friends… when are you going to get time to scrap?
or
You're a new scrapbooker and are still trying to find your sea legs in this crazy, seemingly all-consuming hobby.
If any of those sound like you, then Layout a Day might be right up your street.
To enter this giveaway, leave a comment on this post mentioning just one thing you would like to scrapbook this year. Easy! (If you're new to commenting here, please note you need to click the 'preview' button first, then you can publish your comment.)
Entries close at the end of Thursday 12th January 2012 (UK time) and the winner will be announced Friday evening. One winner will be chosen at random from all qualifying comments, and the prize is provided by Lain Ehmann.
Good luck!

Read more about:
06 January 2012

Next post: BasicGrey scrapbook page and scrapbooking sketch
Previous post: Glitter Girl and the scrapbooking mystery of memorabilia