Oh! The glory of an internet connection! Let me catch up with you a bit.
We have moved, but we are still very much living in stacks of boxes. We'll get there. We don't have any internet or phone there yet, so thank goodness for the modern conveniences of mobiles and coffee shops with wifi and all such things. And for today, I'm meant to be cropping at a weekend away with friends, but they have been ever so kind as to not ridicule me too much for sticking my laptop on my cropping spot since there is a decent internet connection here. Roll with the punches – that's this whole adventure!
We left off with discussion of Christmas projects and one option for page numbers in a Christmas journal. This year I wanted my page numbers to be coordinated but varied, and the Simple Stories Christmas papers turned out to be perfect for this. The 6×6 paper pad includes several sheets of small accents that are easy to cut into boxes, so I started by cutting all of those accent sheets and inking the edges so no matter what I would have those ready.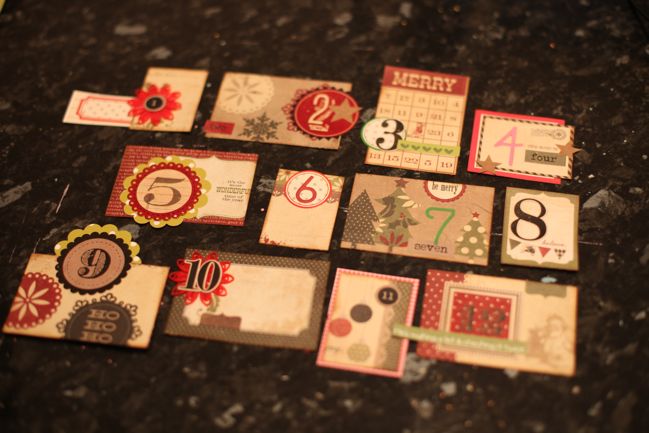 From there, I started adding a few little embellishments and numbers from my Christmas kit, including some labels and some dimensional pieces and plenty of number stickers. They aren't overly embellished, because I prefer to be able to work them into various styles as the month goes on. For me, I like a balance of items that are prepared and ready but still have the potential to be customised as each day unfolds, so some days I'll add these straight to the page and other days I'll dress them up more with gems, ribbons, twine and whatever else happens to match that page. As soon as I have the printer set up, I'll be adding some numbers from Rhonna's printable numbers which I love.
For now, these will all sit in a bowl at the side of my desk, and then with each entry I'll add a number, all coordinated but no two alike. Perfect for my album this year.
Are you making page numbers? Share a link or describe them in the comments.
Nice to be back – and now to work my way down a BIG to do list! Hurrah!
xlovesx

Read more about:
26 November 2011

Next post: New scrapbooking goodness from Jenni Bowlin Studio
Previous post: Scrapbooking Giveaway Day