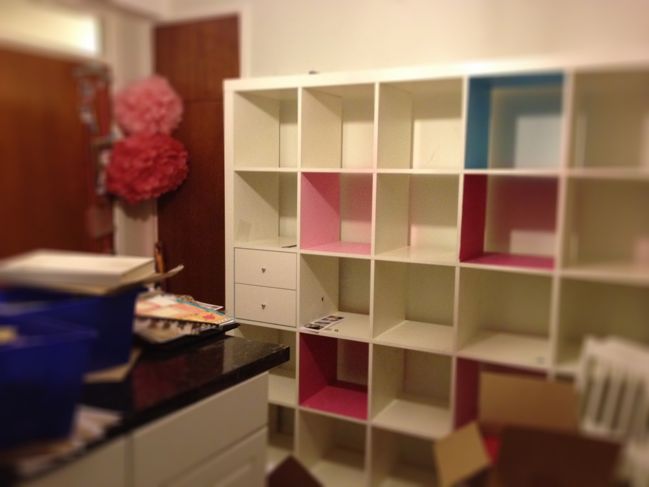 Right now, my scrapbooking space look like this. It makes me sad. It has also made me rather tired, but I can cope.
We are moving house. We had no intention of moving house, but we rent and our flat is being taken off the rental market, and we had our little window of time to find somewhere new. We love our neighbourhood and didn't want to move to another area, so we are moving around the corner to another flat in another building. It's such a short move that our postcode is only changing by one letter.
So I'm afraid I need to hit the pause button just for a tiny bit. I was working on scrapping stuff right up till the last minute possible, but all my studio furniture and boxes will be moved at 8am tomorrow, so earlier today it was time to clear the desk, empty every shelf and box every last inch of pretty paper and ribbon.
Part two of the Christmas Journal page numbers? It's in a box. The finished starting point layout from the last SP post? Also in a box. I am really, really ready to be out of boxes.
If I owe you an email or need to process your class registration, please give me twenty-four hours to get things out of boxes and I will be right on it.
I'm looking forward to seeing pretty, happy albums and things in those shelves just as soon as physically possible.
Thank you for your patience.
xlovesx

Read more about:
15 November 2011

Next post: Scrapbooking Giveaway Day
Previous post: Scrapbooking Sketch of the Week - with a Christmas twist!