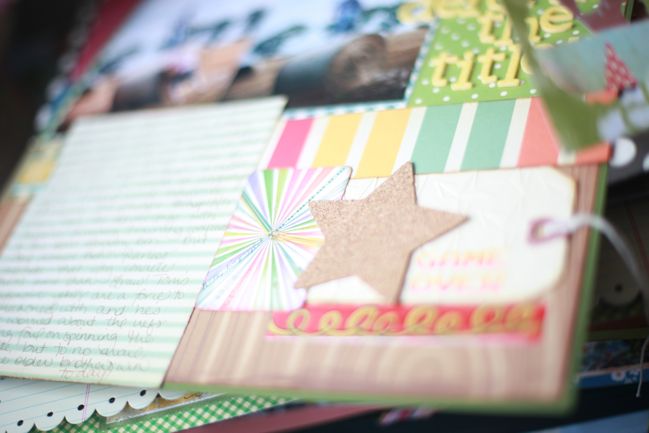 You may have noticed by now I'm rather fond of writing in scrapbooks. I love how written tales of little memories make a scrapbook so much more than just a photo album of anonymous people. It's why I teach classes like Journal your Christmas and True Stories with their emphasis on committing those memories to paper before they fade into the busy nature of our day-to-day lives. I'm not the only person who shares this pro-writing ethos, and I'm happy to welcome Lain Ehmann today with her thoughts on her favourite scrapbook pages. Don't miss your challenge at the end of this post!
When Shimelle asked me if I wanted to create a little post for her blog, my response was, "Heck, yeah! With glitter on top!"
Because if there's anything I love almost as much scrapbooking itself, it's writing about scrapbooking.
I've been scrapbooking a long time (fifteen years in the current incarnation, thirty-plus years if you count my Rick Springfield photo albums circa 1985). And I've learned an important lesson in that time.
This may shock you, but the pages I love best in my scrapbook albums are not the ones with the flashy flowers, fancy page elements, and awesome photography. Yes, I love to look at those (and, to be honest, pat myself on the back a bit!), but the ones I really am glad I created are those that capture a little hidden part of our life, something no one would ever know unless I wrote it down.
Like how I sometimes sneak into my kids' rooms at night to listen to them breathe.
Or how my eleven-year-old steals every pen in the house (just like I used to do…!).
Or how my four-year-old (at the time) told Daddy he had "big hooters."
These little butterflies of memory are the reason I scrapbook. Not to document one more Christmas or one more soccer game or one more Open House. But to tell the stories behind the pictures — and to tell the stories of my heart, the things that make me laugh and the things that make me cry. Sometimes they're one and the same.
Let me illustrate. From my albums, I would choose this and label it an example of a Good scrapbook page: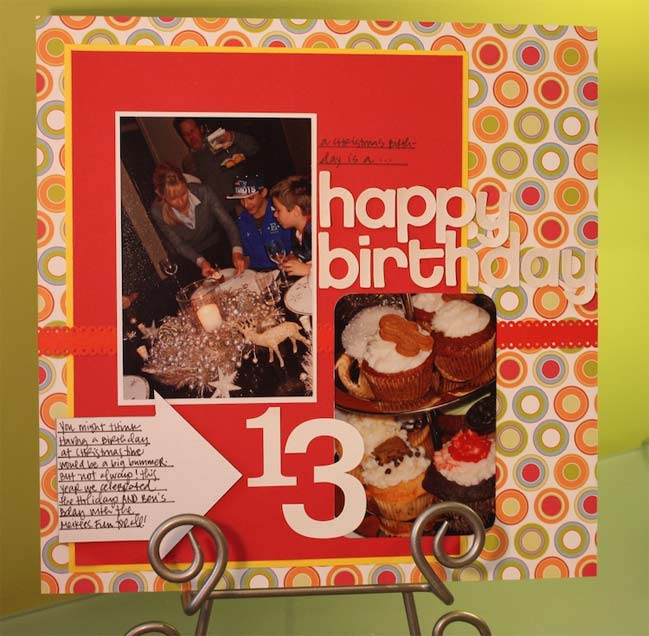 But then there's the Bombdiggety scrapbook page: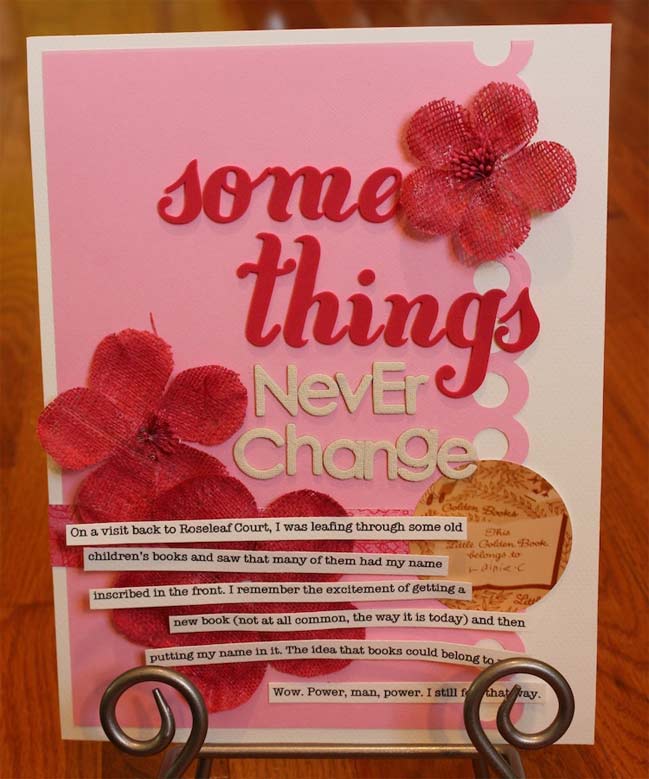 I love both these layouts, but the second one speaks to me more. Anyone could guess that my son celebrated his 13th birthday in some fashion. But would they know that I loved books so much, even at an early age, that I went around the house putting my name In every one I could find?
Your challenge: This is exactly the sort of thing we can all apply to our Christmas scrapbooking to get so much more value in our books than just the annual photos of the family in front of the tree. So today I challenge you to find a creative way to document a holiday memory that's currently missing from your scrapbooks. Feelings, thoughts, memories hidden behind the pictures. It doesn't have to be deep and angst-ridden. It can be light and breezy. But angst-ridden works, too, if that's where you're at! It's all good.
And so are you.

About Lain…
Lain inspires women to make their scrapbooking fun and meaningful through her blog, classes, and live online papercrafting events. Her next class, Your Story Matters: A Guided Expedition of Self-Discovery helps scrapbookers gather their memories and stories in her signature effervescent style. The week-long class includes daily prompts, an online virtual crop, and more. You can find out more about Your Story Matters here.

Read more about: online-scrapbooking-weekend
13 November 2011

Next post: Scrapbooking Sketch of the Week - with a Christmas twist!
Previous post: Christmas Gift Wrap Tag tutorial by Mindy Miller