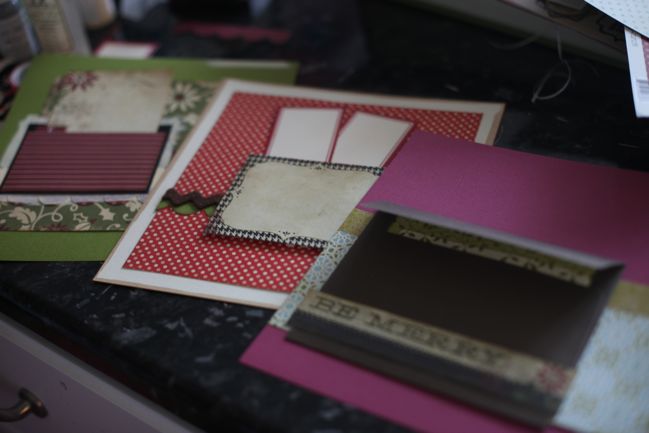 There is a very simple reason why the Christmas class around here is called Journal your Christmas, and that's because it is the written element of the process that really makes this project worthwhile, in my opinion. That doesn't mean you have to write at length (though you can) and it doesn't mean you have to write by hand (though you can) and it doesn't mean you have to draft and redraft until it's perfect (though you can). It's just the idea of thinking about a certain topic and taking a few moments to compose those thoughts in writing rather than running off, mid-thought, to the next hustle and bustle of the holidays.
With that in mind, I love to have elements in my journal that encourage me to write a bit more than just what will fit on the front of the page. So pockets are the perfect way to throw that in the mix. About ten of my pages will include pockets of some sort where additional writing (or other papers from the season) can be tucked away for safe keeping. Here are three easy techniques to prepare pocket pages in your Christmas journal!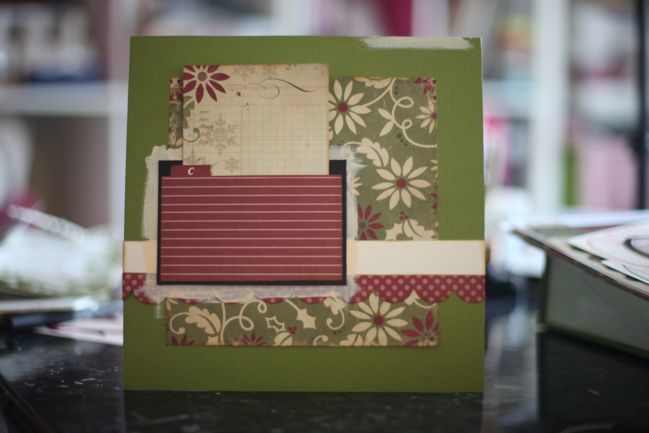 Remember, these are just pages in progress and they will come to life throughout December. (Come to life? Really, Shimelle? It is paper you know. It's not really going to become animate and walk in and ask for a cup of tea. Which is a good thing really because apparently I am quite terrible at making tea.) So there are no page numbers, titles or other themes yet. At this stage I just prepare a few types of pages that can then be used for any entry in the project. In terms of supplies, almost everything is from this kit I assembled earlier. Plus my three shades of cardstock (I've cut the pages and have a stack of off-cuts to put to use) and a few little extras I've mentioned specifically in each example.
Pocket #1 is a die cut journaling card (it's by Lily Bee and in the kit) adhered on three sides but left open at the top. I'll probably stitch this to pocket to the page, but I tend to save up my stitching then sew a big stack of pages in one session. I've added part of a sheet from the 6×6 Simple Stories paper set (also in the kit) with a ledger design so there is already paper ready and waiting for writing. (By the way, a few people have asked about that 6×6 pad as it's currently sold out. If you are signed in and click the 'request and notify me' link, you'll get an email as soon as it's back in stock. I use that button a lot actually, and it's way easier than constantly looking to see if something is back on the shelf.)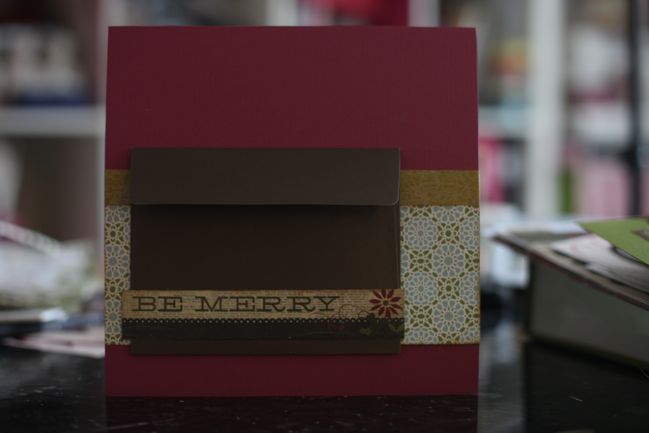 Pocket #2 I've used envelopes in every Christmas journal I've ever kept and I'm not stopping that tradition now. I use a mix of new envelopes and those that arrive in the post during December when Christmas cards start to arrive – especially if they have nice stamps! I love including our names and address written by our friends and family – there's something very lovely when you pull a card from the letterbox and know who it's from just by the handwriting, so I like that I can include that. But this page has a new envelope, ready to go. This was just a spare I had with a set of cardblanks (I always screw up at least one cardblank in the pack!) that I've glued to the page and topped with a border strip from the 6×6 paper pad. The patterned paper in the background is from the kit and the green border strip is from a roll of washi tape that I have been using so often lately that I don't ever remove it from my desk! But that strip doesn't need to be tape and could easily be replaced with a strip of paper.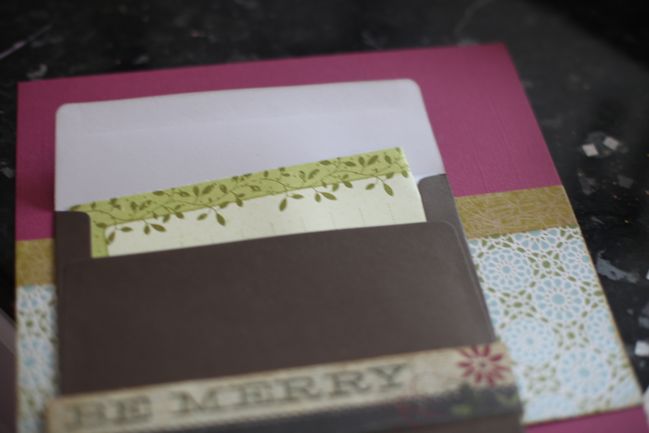 As soon as I add an envelope, I add paper too! No excuses not to write that way. I have a giant stack of those journaling notebooks that Making Memories put out with every collection for quite a while, so I've pulled all the red, pink, green and cream pages and they are in my use-it-or-lose-it pile this Christmas. Whatever is left over in January will hit my donate box, as I've used these a lot over the years and I feel I will fall out of love with them soon. But for now, they are great for places to write!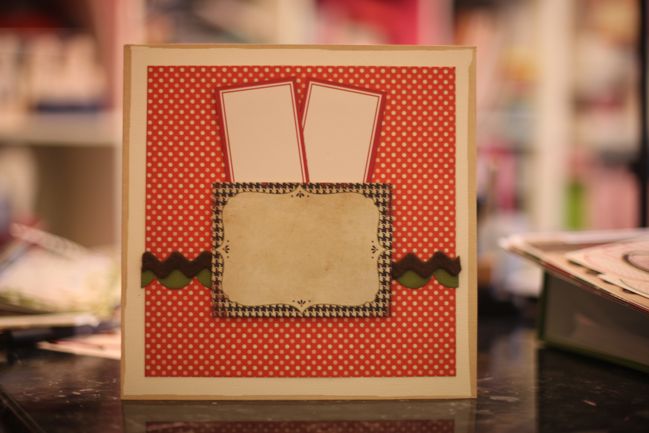 Pocket #3 Sometimes it's nice to have a pocket with some dimension so you can add more than a sheet or two of paper! I started this page with a 7×7 block of patterned paper (from the kit) and punched a border strip of cardstock (from the off-cuts pile) and added a bit of felt trim (this isn't from the kit – any ribbon or fabric scrap would work or a border sticker). The journaling card in the middle of the page is cut from the 6×6 paper pad (the same as the other pages) and this time the pocket is adhered with foam tape to create the dimension. Use a roll of foam tape or a handful of pop dots to adhere the card on three sides, leaving the top open to hold whatever is needed. I've started with two labels cut from a Jenni Bowlin accessory sheet (from the kit) and I'll probably add some real Christmas paper here too, like a tag from a present or part of a Christmas card.
Your challenge is to prepare a pocket for a Christmas page of your own! If you prefer to scrap some Christmas photos for your 12×12 albums, go for it with a completed page and a pocketful of writing. Or you can prepare pages ready for December! Whatever you make, take a picture and upload it to your blog or a scrapbook page gallery. Leave a link to enter. Entries close at the end of Sunday the 20th of November. One lucky entry will be randomly chosen to win a $10 gift certificate to go shopping!

Read more about: online-scrapbooking-weekend
12 November 2011

Next post: Decorate a Christmas Window :: Craft Tutorial by Corrie Jones
Previous post: Christmas Card Tutorial by Pam Brown