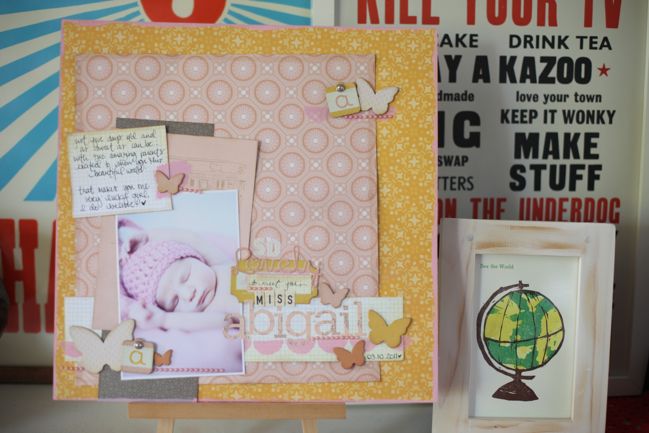 Now I'm curious if anyone guessed this particular page topic when I posted yesterday's starting point with all that pink and yellow! This new little face is the daughter of a certain scrapbooker so I'm quite convinced her first words will be things like patterned paper and border punch. But seriously, she is super lovely and didn't make a single peep while we spent an afternoon taking all sorts of lovely newborn pictures of her. If only she would always be such a willing model! We'll see how that works out, Miss Abigail!
Most things on this page are Studio Calico, including the new chipboard butterflies. I'm now convinced I will need multiple packages of those! There are a couple letter stickers from October Afternoon, some MME pearl brads and pearl strips, then I added pink paint with a border stamp from Jenni Bowlin – but everything else is Calico goodness!
If you create something from this week's starting point, do leave a link at the end of this post so we can see all the different end results from the same start.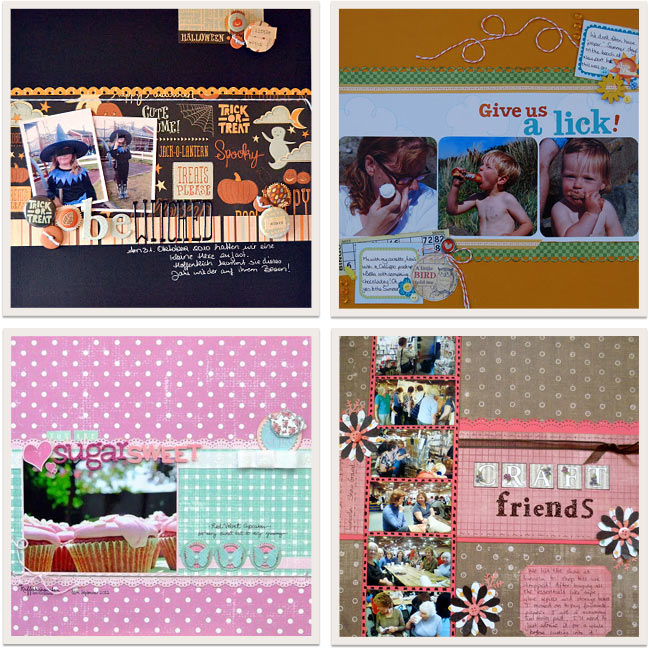 Here are four of my favourites from last week's starting point. Clockwise from top left, they are one, two, three and four. Have a click and see more detail and more posts from each scrapper!
And you know what starts tomorrow, right? It's Pretty Paper Party time! And it's not too late to join in – so sign up and join us for four weeks with hundreds of ideas for using that stash of paper you have collected!
Have a great rest-of-Sunday!
xlovesx
PS: The missing post is no longer broken! Find last week's round-up and finished page here.

Read more about: scrapbook-starting-points
16 October 2011

Next post: Scrapbooking Giveaway Winner
Previous post: Scrapbooking Starting Point