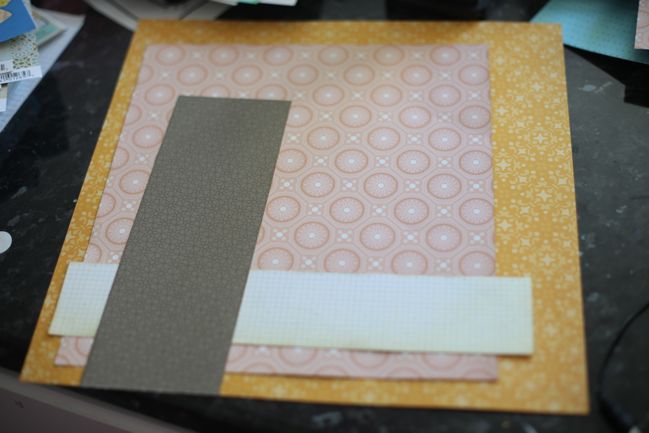 Oh hello there Saturday! You make me want to jump up and down and glue pretty paper to other pretty paper and possibly bake chocolate chip cookies. Will let you know how that goes. But here's the beginning of the pasting of pretty paper, and this week it's all paper from Studio Calico and all things on a wonky angle. Dare to give the wonkiness a try? Embrace the wonkicity, I say! (I really do say because wonkicity is a beautiful word if ever I invented one.)
The large box in pink is 9×10 inches, the strip of white grid paper is 2 by just shy of 11 and the grey box is roughly 3×8, but that bottom edge ends up cut at an angle where it goes off the edge of the page.
So that's your starting point this week! If you're new to Scrapbook Starting Points, the idea is really easy: you take this placement of papers and replicate it using papers from your own stash. Then you finish the layout in your own style with however many photos in whatever sizes and however much writing and embellishing you want to add. Then upload your page to your blog or a scrapbook page gallery and leave a link here so we can see all the variations made from this same starting point! I'll post some of my favourites a week from tomorrow.
PS: I only realised this morning that last Sunday's starting point post isn't showing? I must have broken something. Will get it fixed asap! And I'll try my darnedest not to break anything for tomorrow's post of this finished page! I mean, there's wonkicity and then there's just… broken. Broken is way less fun!

Read more about: scrapbook-starting-points
15 October 2011

Next post: Scrapbooking Starting Point :: Lovely to meet you
Previous post: Scrapbooking giveaway day