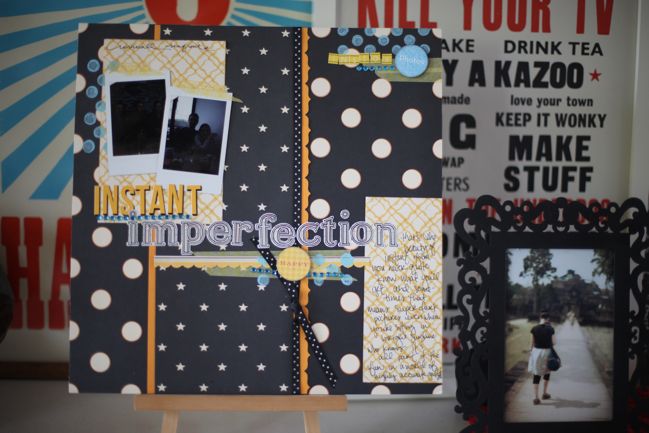 I know: you thought it was going to be a Halloween page, right? But it turns out I have scrapbooked all the Halloween photos in my possession. Sad times. We are seriously considering it time to throw a Halloween party in order to rectify that situation! But it turns out if you throw enough yellow and blue into the mix, you can go from this very Halloweenish start to something not requiring a pumpkin in the embellishment!
This is a bit of a funny page though, and this photo makes it look even more the case. The two pictures are Instax photos from several years ago when I had a pack of film that just didn't expose very well. On this image, it looks like the photo on the left is completely black – it's not, I promise. There are indeed three people in the picture and they were sitting in bright sunlight but for whatever reason, the shot came out very dark. But there's something about instant pictures that makes me never discard the mistakes, and I figured actually that is part of the story: I love that amount of imperfection that comes with instant film in a world full of ever-climbing megapixels and accuracy. I don't play roulette at a casino, but I do like the crazy gamble of instant film. So out of the drawer and into the album they go, overly dark exposure and all!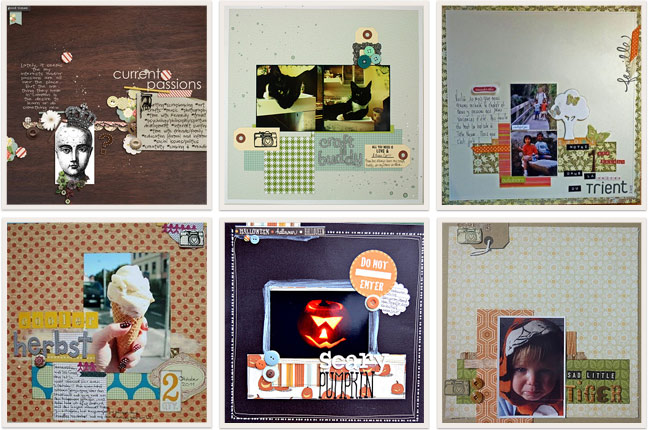 Here are six of my favourites from the scrapbook pages submitted throughout this past week. They started with this starting point but ended in such different layouts! Click the corresponding link to see any of these pages in more detail and get to know the scrapbooker behind the project.
Top row, L to R: one, two, three.
Bottom row, L to R: four, five and six.
Thank you to everyone who participated in this week's challenge!
So whether you're scrapping beautiful pictures or something completely imperfect, happy crafting!
xlovesx

Read more about: scrapbook-starting-points jenni-bowlin-studio
09 October 2011

Next post: 10 Things :: October 2011
Previous post: Scrapbooking Starting Point