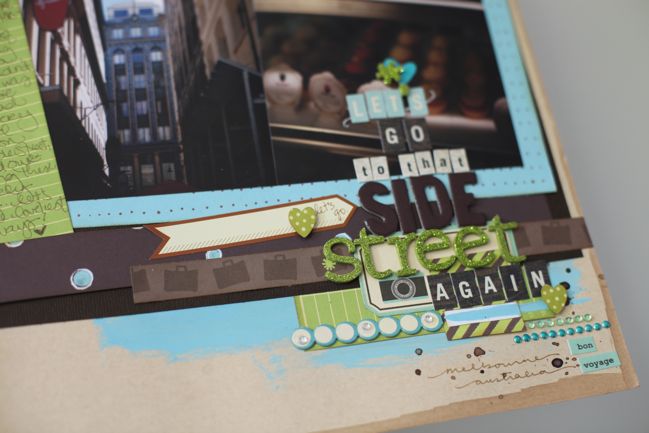 Not long ago, SJ upgraded to a camera that included video and I kept asking her if she had shot any video yet. And the answer was mostly no and I kept thinking if she did shoot some video it would be lovely because she has such an interesting style and outlook. So one day she sends me an email to say 'I finally shot a video! And I've uploaded it!' and I watched it and I suddenly thought: this is such a very, very good idea.
I had no idea what she would be filming with her camera but it turned out she made a scrapbooking video – with a new challenge that had been rolling around in her head and I love it. Also, SJ has a voice that is often so calm I think she should narrate books-on-tape for toddlers at bedtime, but that's just me. (By the way, what do they call those now? Books-on-iPod just doesn't have the same ring to it, and audiobooks sounds far too grown-up for fairy tales.)
So first of all – here is her video. Watch and listen and see if this makes a lightbulb spark for you!

I love this idea: go back to your very favourite pages, find a point of inspiration that makes that page special, then use that inspiration point for a brand new scrapbook page. Such a beautifully simply way to stay true to your own style. So I pulled out an album and found a page I made long ago (in days of yore!) and found one point I could take from that and put to use on something new.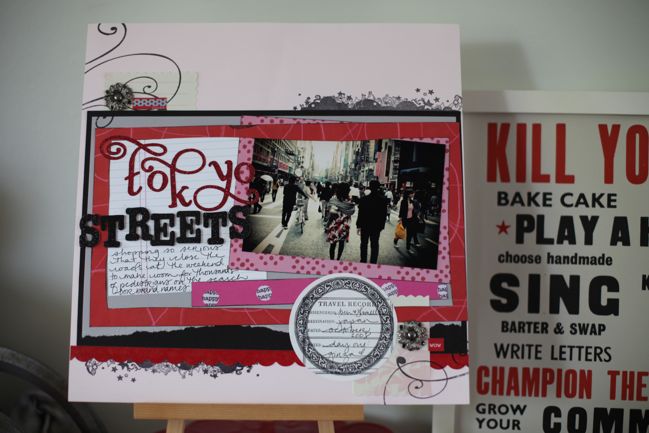 I started with this layout, which was actually my very first page created for the garden at Two Peas, and it's still one of my favourites. I love quite a few things about it, but the idea is of course to take one, and what I really wished I had done more often was the treatment with the patterned paper. Lots of bold mats layered to create a big frame of colour. And I remember when I made this page I had mixed papers that were quite new at the time with some old favourite patterned papers too – and suddenly I was off and running.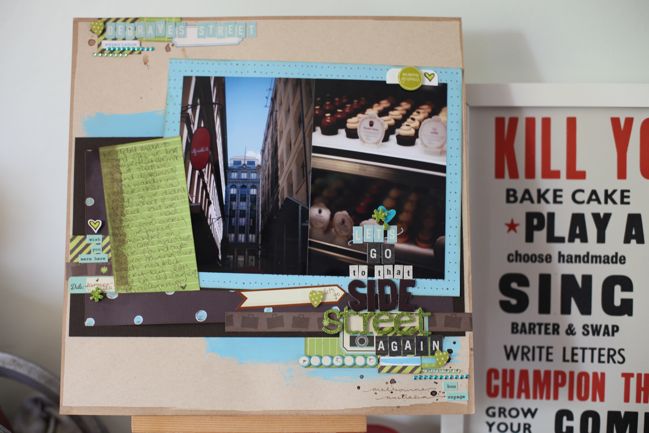 I am usually quite good about my paper stash: use what I love, give something away if I don't love it anymore – don't collect it just to look at it in a stack. But we all have our weaknesses, and mine comes in old KI Memories papers. I have so much old KI (both their regular line and the Love, Elsie collections) and there is no way I'm giving it away. I still love it. The trick is to find ways to make it work so the pages stay true to my current style even when I'm using papers that have very old dates on them. The Love, Elsie papers I used on this page are most definitely labelled as 2006. But I love how they work with more current collections, like the Amy Tangerine paper and stickers, the new Eclair Thickers, all the labels and stickers from October Afternoon.
Take One was a fabulous challenge for my creative process: I've been meaning to get these two photos on a layout. I've been meaning to use these papers that aren't getting any younger. Finding something I love about an old favourite page meant making this page was such a lovely adventure.
You can join in SJ's Take One challenge any time. She's going to post a new video tomorrow, I do believe!
xlovesx


PS: Just a little heads up in case you like the recent collections from American Crafts. Two Peas is running a one day sale with 25% off more than 300 AC products, including albums and brand new lines like the Amy Tangerine collection. It's not often that the new stuff is on sale so soon, so today is a good day to go shopping! Plus my stand-by the 12×12 3-ring album in black fabric is in the sale too. Perfect. Find the sale here. But it's today only so don't dilly-dally, okay?

Read more about: scrapbooking-videos
10 October 2011

Next post: Scrapbooking Giveaway Winner
Previous post: 10 Things :: October 2011