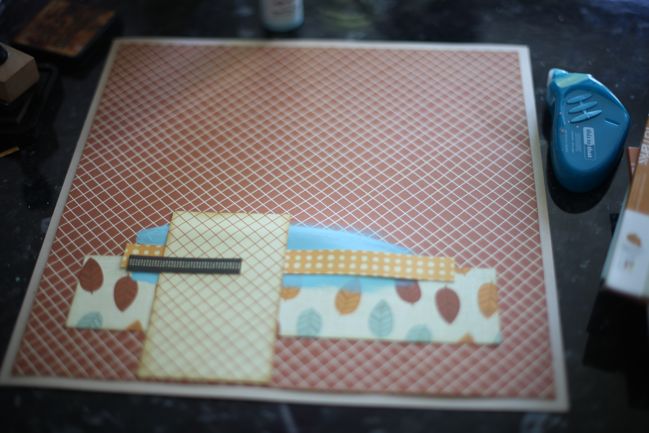 Happy Saturday! Here's a new starting point for a scrapbook page. I threw in a layer of paint this week, but obviously you can leave that out if you prefer. But if you have plenty of paint and you're not using it, consider this a kick to give it a try!
This week I've started my page with the Nightfall collection and I'm thinking of something autumnal, despite the sudden burst of summer weather we've had in London this week. (Definitely not complaining – it has been lovely to leave my jacket on the coat rack for a few more days!) What colours and themes are speaking you you lately?
You can definitely put your scraps to use, and perhaps show off one full sheet of patterned paper you particularly like. If you like to follow measurements, this starting point uses papers cut to 11.5×11.5, 2.5×9.5, 3×5, .5×8.5, .25×3 (all in inches). Or you can estimate and use what seems to work.
I'm curious to see if you add lots of photos to the empty space of focus on one or two photos right in the middle of the page. If you create a page this week, please link it up below and share it with everyone!
Tomorrow I'll be back with my finished page from this Starting Point plus some favourites from last week's challenge. There is still time today to add your layout there.
Have a beautiful weekend! Oh, and don't miss this weekend's giveaway either!
Scrapbook Starting Points is a weekly challenge. Click here for more Starting Points inspiration.

Read more about: scrapbook-starting-points
01 October 2011

Next post: Scrapbook starting points :: This Place is Magical To Me
Previous post: Scrapbook Giveaway Day