We bashed through the basics of aperture in lesson four, and I have to say aperture is way more fun when you just let go of the technical stuff and see what your camera can do. So today let's do just that.
You may have noticed I have a habit of taking photos of things in the grass. There are a few reasons behind that – partly because that means I can shoot outside with lovely natural light. Also it means I'm getting outdoors for something in my workday, which is nice. As I don't have a garden, it usually means I'm heading to the park, where I get all my best ideas. And I love how you can see the seasons change just from the grass. I consider grass to be the most lovely of all neutral backdrops and give the chance I will photograph just about anything there.
It's also the perfect place to have fun with aperture.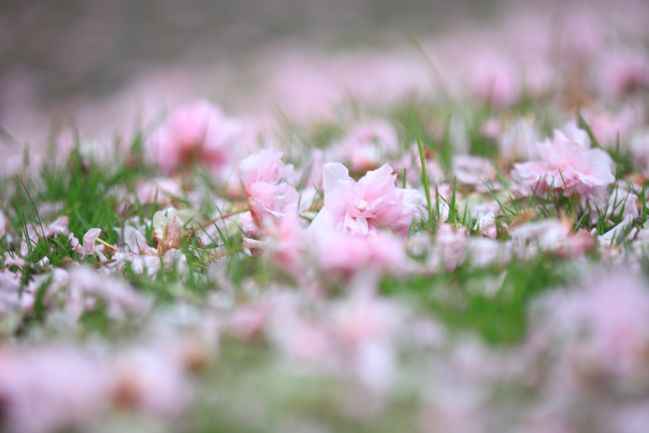 See, the grass can instantly tell you the season with springtime colours like these. The biggest part of this adventure is learning to step away from the viewfinder. All of today's examples were taken without my eye to the viewfinder and without the preview screen – just trial and error of getting the settings right first, placing the camera on the ground (or perhaps on top of something small, to get an angle) and clicking with your best guess of the framing. Now that's something that is really easy with fully automatic modes – because you can let the camera decide everything and it will get the lighting pretty much right and put mostly everything in focus. But shots like this are a bit boring with everything in focus, really! There's something about the selective focus that makes the difference between 'oh, isn't that delicate and pretty' and 'why are you photographing a bunch of stuff on the ground?' – at least to me.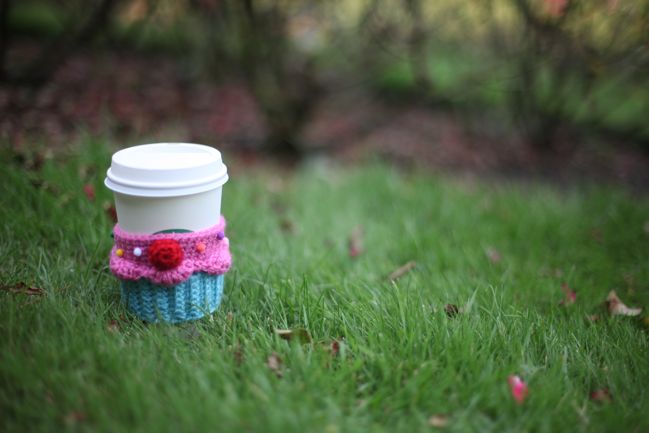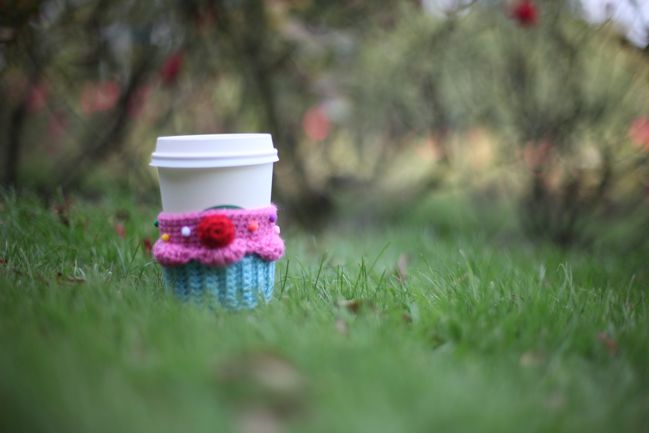 Yes, 'fun with aperture' to me often means no looking through the camera. Here's why – the first of these two shots is taken from a low angle, but I'm still looking through the camera. The camera is maybe eight inches off the ground? The second picture is taken without me looking, and the camera is right in the grass. The perspective is completely different and it changes the idea of size and detail and all sorts of things. Both angles have their place in different functions (like you might notice that the plane of focus in the second shot is actually too shallow to capture all the detail of the adorable stitchery by Twinkie Chan) but if you never try the not-looking option, you'll never know what stylishness you're missing!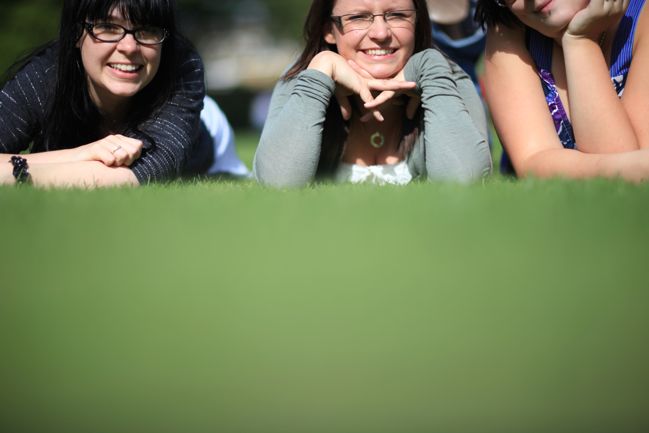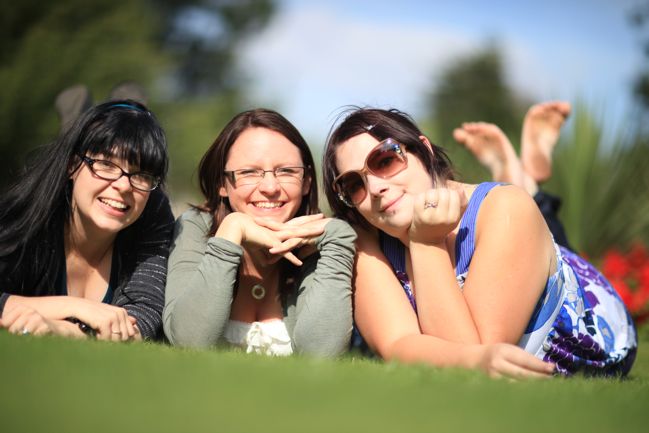 You can shoot just the grass, objects placed in the grass or people laying on the grass, of course. And there is a lot of trial and error involved in this. There are nine shots between the first outtake and the keeper shot here, while we got the angle of the camera right and got ourselves positioned so we didn't have trees growing from our shoulders or the camera focusing on our elbows rather than our faces. As these were all shot with the self-timer, there's more hassle involved in getting up, trying to correct what wasn't right and then getting back in the shot, but still – nine shots is hardly the longest photo shoot in the world. Trial and error will get you there more quickly than you might think.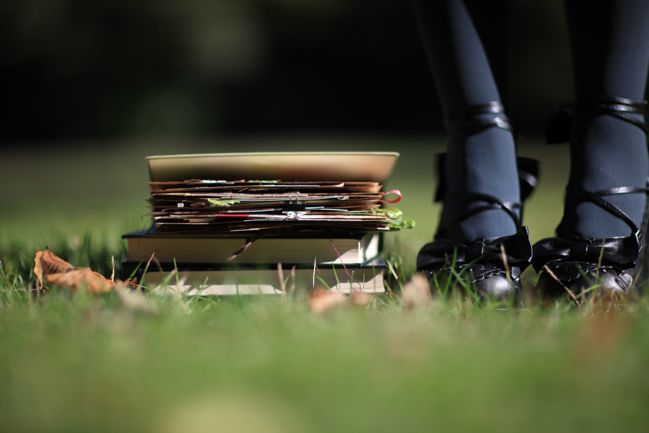 This is a little trick you can use for self-portraits – include something that isn't you (something that won't move). For this example, I set up the books and got that shot just how I wanted it then didn't move the camera and put on the self-timer and jumped in the shot. The first shot I stood a bit too far away from the books, so I tried again and stood closer – this was that second shot. A lot less trial and error. I've used the same technique for self-portraits that weren't just my feet too and I find it way less stressful than just trying to get the focus right without anything else in the frame… though it always takes more than two shots for me to not make a stupid face! (More about that another day… and we can all bond over silly fake smiles we pull for the camera, even though we don't mean to!)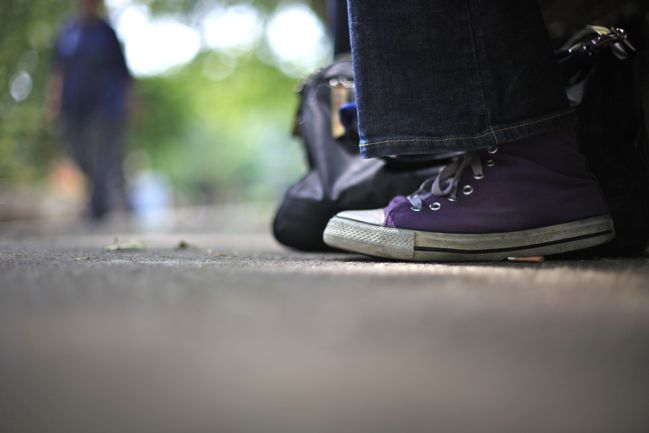 Sadly, sometimes the ground is not covered in grass and you may be confronted with concrete, dust, wood or gravel perhaps. The same ideas apply and you may find each carries its own context in the photo. The same feet in the same purple sneakers look young and playful in the grass, but carry more angst on the littered city pavement. That's something I love about photography – how you notice some things when you take the picture and some things after. Somewhere in the middle there is a magical combination of the purposeful and the accidental all in the single snap of the shutter.
So here's a new assignment: whether it's grass or some other background you love, step away from the eyepiece and see what you can capture with the unique aspect of a shot without everything in focus. Embrace trial and error and enjoy the funny shots where everything is blurred or crooked or off-centre. It's all part of the experience. If you're happy to just give it a try with what you already now, then grab your camera and go. If you would prefer a few more steps to make it easy, then try these:
1. Before you leave the house, figure out how to set your camera to its lowest aperture. If you're not already shooting in full manual, shoot in aperture priority (A or Av on the dial of an SLR) and set your ISO like we walked about here and set your aperture to its lowest setting, then the camera will take care of the shutter speed to give you the right amount of light for the shot.
2. Grab something you want to photograph in the grass and take it outside and set up your little scene. (Or if it's lovely and autumnal or springlike where you are, you can just use what nature has put there in terms of leaves and flowers!)
3. Just eyeball what you think would be a good distance and angle to place the camera on the ground. Without looking through the viewfinder, press the shutter halfway to focus then completely to take the picture. Now look to see what you got!
4. From there, use trial and error to recompose the shot – closer, further away, better focus, more (or less) centred in the frame – until you get something you like. When you start to get close, you won't want to move the camera when you review your shots, so even though you're trying not to look through the viewfinder, you may still want to get down on the ground. So you know… don't wear your prom dress or anything.
5. Extra-credit for trying a self-portrait! Even if it's just your shoes. (Extra-extra credit for cute shoes, of course!)
A note for point and shoot users: if you can't control aperture on your camera, don't despair. Try this in macro mode (usually a little flower) and you may have some luck, especially if you zoom in to the max available. It won't blur to the same extent but it will limit the focus more than your fully auto mode.
And one thing just to throw out there: these images – even the 'after' examples – are far from perfect. I know it and I'm fine with it, because I find I have far more fun when I don't worry about perfection in every shot. And bonus: when I have more fun taking pictures, I take better pictures! I can point out flaws in these images, from focus to framing to shadows. But they were all photos that were fun to take and each of them is better than what I would have shot a year or two before, so even if it's not perfection, it's progress. That works for me. If it works for you too, consider us instant friends in this adventure.


Read more about: camera-school photography
21 September 2011

Next post: Scrapbooking Sketch of the Week
Previous post: Scrapbook page :: Putting on a show