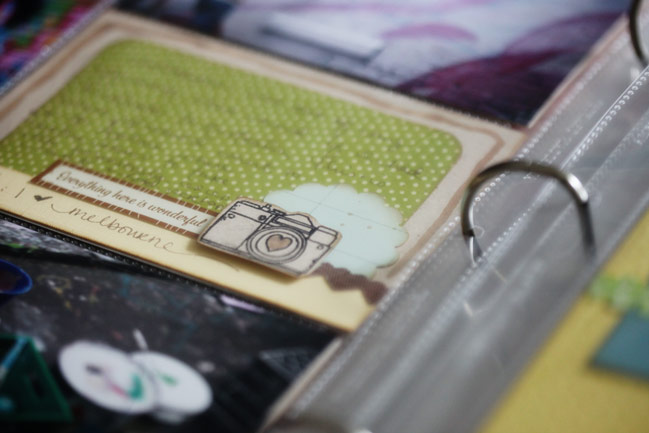 ©twopeasinabucket.com. Click here for supplies and more images.
Turns out Learn Something New isn't the only bit of back-to-school scrapbooking on my desk at the moment. At Two Peas, the Garden Girls are going back to school with a twist – it's all about the elements of making stand-out pages, cards and albums. It's called Design School. It's a free event with a range of example projects plus PDFs to review design principles and inspire your projects.
My part in all that design talk is the idea of continuity, and specifically how I try to keep some continuity throughout an album. In particular, there were two pages in my album that were bothering me as neither stayed true to the continuity elements throughout the rest of the book and wouldn't you know they ended up on facing pages in my album. So I set out to find a way to remedy this and make those two pages less awkward. You can watch that process all in a tidy little video!
Be sure to check out all the other projects in the first week of Design School and beyond – it's a great resource with lots of scrapbooking styles represented so you're sure to find something that catches your eye.
xlovesx
PS: Winners of the crop weekend challenges will be posted later today Wednesday morning!

Read more about: two-peas-in-a-bucket
23 August 2011

Next post: Scrapbooking challenges :: The Winners
Previous post: Back to school kits