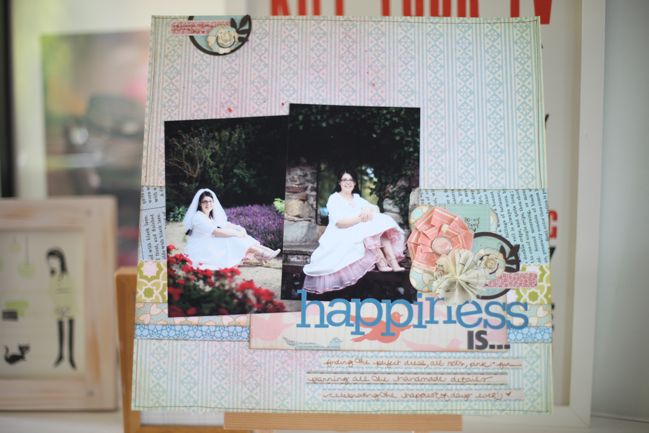 If you've been scrapbooking all weekend, it's time for a little entertainment break, right? So I give you a little something from my childhood: Schoolhouse Rock. Something that essentially every American in a ten year age bracket (at the very least) knows by heart, and yet the Brits know just this one song and not the rest of the schoolhouse full of songs. Sigh. But it's this:

And yes, three is a magic number, even in scrapbooking. It's handy when you can repeat something on a layout three times, like a splash of colour in three points that creates a triangle or three daisies in a row. Three photos is the perfect medium between enough but not too much on a single page. But let's be honest: there are a huge amount of supplies that just don't give you three in one pack. Stickers rarely repeat on the same sheet, die-cut packs tend to have a variety or maybe just duplicates but not three of each. And so there's another way that magical three can help – in groups of embellishments.
For this page, made with almost entirely Studio Calico supplies, the embellishment grouping to the right of the photos doesn't repeat the same thing three times, but instead groups three single embellishments with something in common: three types of flower-shaped embellishments. One is a paper notions flower, another is a flower made by ruffling a FabRips strip then twisting it into a spiral, and the third is a resin flower attached to a punched circle and sticker. All different, but all flowers, and three of them together seems just right to me.
Here's your challenge: Create a project (layout, card, etc) that includes a group of three in the embellishment. It can be three kinds of flowers like I used, but that's not a requirement – you could use three squares, three butterflies, three things that are red, three apples, three hedgehogs… whatever group of three takes your fancy!
Many thanks to Studio Calico for sponsoring this challenge! You can find them on Facebook and Twitter, so don't miss any updates!
One entry will be selected to win a prize pack of scrapbooking supplies from Studio Calico. Entries close at midnight next Sunday (21st August 2011).
Feel free to use the comment section to chat about this challenge, as the entries should go in the linky widget!

Read more about: online-scrapbooking-weekend
14 August 2011

Next post: A bargain for UK scrapbookers
Previous post: Scrapbooking challenge :: Older Photos