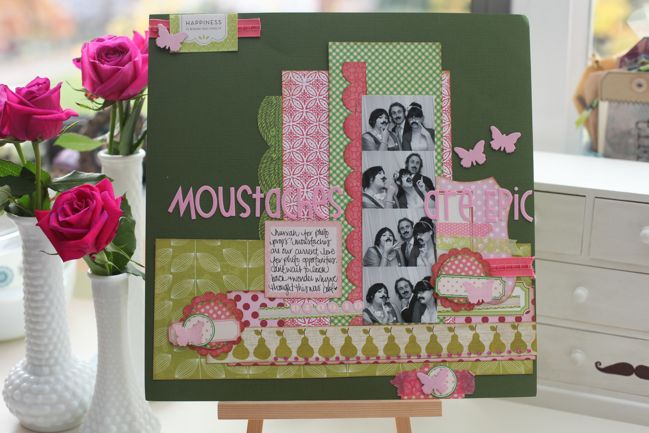 Switching it up for this week's sketch with a bit of an older layout and no video this week while I'm working on the road (not to worry – the video will be back next Wednesday) because this layout has a few things I've been wanting to discuss on a sketch day. Things like using four small images as a photo strip in place of larger images. Or opting for black and white photos but pairing them with plenty of colour. Or the differences from a sketch to a finished page.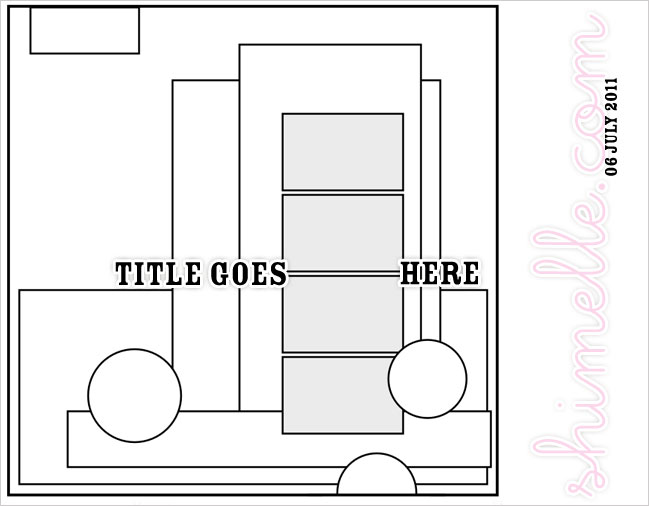 When I look at this design in sketch form, it already feels quite busy to me, but if you compare it to the layout, I actually added way more stuff than what's here on the sketch. Recently someone mentioned they felt my layouts were coming out more "dynamic and alive" from the sketches and goodness, that was just such a lovely thing to say! But it also made me want to identify what it is that created that feeling she wanted to recreate on her own and I think the extra stuff is part of that. When I scrap from a sketch, I start with those basic shapes, but then I put the sketch aside and start adding more bits and pieces with extra layers. A lot of it comes in paper strips – either just plain rectangles or scalloped pieces from die-cuts or border punches. Then I realised I needed more room to journal and added two journaling die-cuts. Then layered those circles to become embellishment rather than just a shape. And eventually decided some butterflies could tie all those different shapes together. (Also I am very excited to tell you this time butterflies are actually relevant, since these photos are from Laura's wedding and there were butterflies in her wedding decorations!) Perhaps it also helps that when I add extra stuff, I try to add the same stuff in multiple places – so the butterflies repeat, the ribbon repeats, the dotty label stickers and so on. I don't often scrap from just one collection of supplies, but I do repeat the same elements in multiple places on a page to make it obvious that they belong.
You may want to add more stuff or you may want to stay more in line with the sketch – and either is fine, of course! I love hearing about our process in creating your page, so if you have a real system for how you build or interpret a sketch, feel free to share in the comments!
As always, the weekly sketch is no-stress and just for fun! If you use it, I'd love to see, so please leave a link so we can see your work.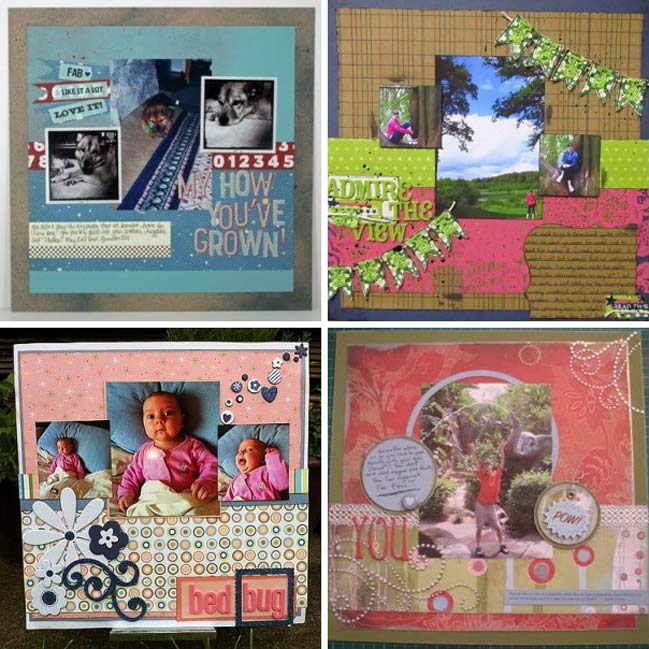 Last week left a few regulars really stumped with the mix of square and standard sized prints on one page, but I loved the variation in the layouts from those who were up to the challenge. Here are four of my favourites this week, and I love how all of them are clearly from the sketch but they have each chosen something in particular to change and make the design their own. Click the corresponding links to see any of these pages in more detail:
Top left
Top right
Bottom left
Bottom right
Thank you to everyone who participated in last week's sketch! I hope you'll join us again!
xlovesx

Read more about: sketch-of-the-week wedding
06 July 2011

Next post: Scrapbooking Giveaway Day!
Previous post: New scrapbooking class, coming right up...