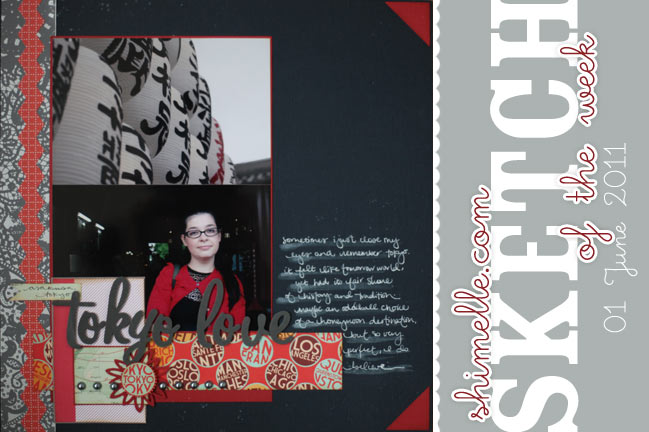 This morning I have been processing class registrations and tallying up our numbers for our day of girl power. I will save my gushing message of thank you for later today, when I can post the exact total and show you our donation to Plan-UK, but for right now, let me just say this: it was amazing.
And for now, how about this week's sketch? Recently there has been a discussion on Two Peas about schools of thought in printing photos. Some people only print the specific photos they are going to scrap, others print everything and plenty fall somewhere in the middle. I print a great deal of photos and will print two or three or even more similar shots if I like them all. Which seems a little silly to some, but there are two reasons it makes me happy. The first is that a library of printed photos doesn't make me feel behind – it makes me feel inspired. I love that there is a catalogue of printed photos that show our everyday lives, and I prefer images that are printed (like the old days!) rather than just living as pixels on a hard drive. But that's just me. The other reason is more relevant to this layout: it's because I like being able to scrapbook the same event from a different perspective. I've scrapbooked this day and place before but it has been on my mind recently, and then I passed these photos in the drawer. Perfection: the chance to return to that day with additional (if similar) photos and document some thoughts from the this point on the timeline.
A side note: if you watched that BBC documentary a while back about the girl from the Isle of Wight who is big in Japan, you are allowed to giggle at the title of this layout with full appreciation that I love kawaii kitsch.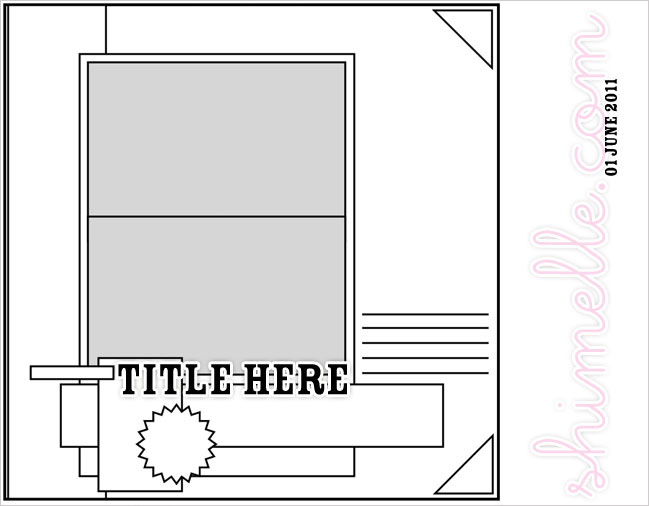 Some of the design inspiration for this page comes from that older layout, and the two will live happily together in the same album. I wanted to use the same navy and red colour scheme (but this time threw in grey and a tiny bit of aqua) and wanted to repeat the photo corners, but this time I cut them from cardstock as I don't have the same supplies from that older layout. I used two 4×6 photos, but you can fill the photo space on this sketch with any number of pictures you would like. There's really only one area of embellishment – just below the title. If you have that patterned paper by Studio Calico, by the way, the circles fit just perfectly inside the Martha Stewart sunburst punch. (Wait. Did I promise yesterday I would get back to the butterfly punch? Well… sunburst will have to do, I suppose.)
As always, the weekly sketch is no-stress and just for fun! If you use it, I'd love to see, so please leave a link!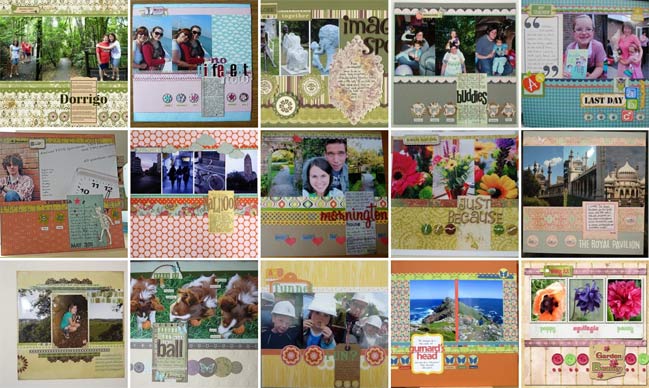 Last week was one of the busiest weeks yet, going by how many of you posted and shared your pages! Here is a sampling of pages from that three photo sketch – click the corresponding link to see any page in more detail and get to know the scrapper behind the page!
Top row, L to R: one, two, three, four, five
Middle row, L to R: six, seven, eight, nine, ten
Bottom row, L to R: eleven, twelve, thirteen, fourteen and fifteen.
Thanks to everyone who participated in last week's sketch. Happy scrapping!
xlovesx

Read more about: sketch-of-the-week
01 June 2011

Next post: How a bunch of scrapbookers made a big difference
Previous post: Five ideas for scrapbooking with girl power