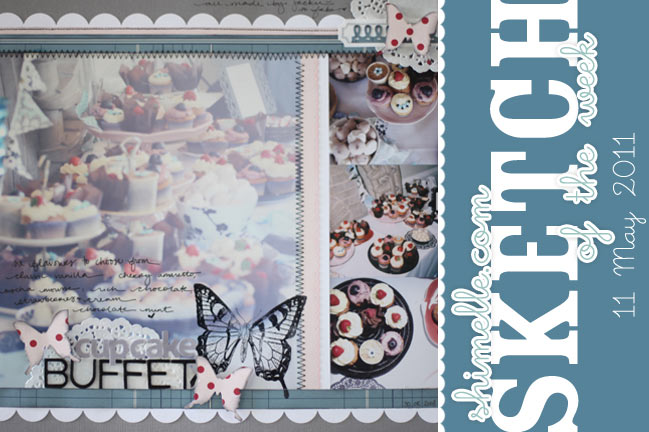 Supplies: Butterfly stamp and patterned papers by Jenni Bowlin Studio, letter stickers by Sassafras and American Crafts, doilies by Little Yellow Bicycle, border punches by EK Success (small and large) and Martha Stewart Crafts and butterfly die by Sizzix.
Lest you think I was exceedingly organised when I ordered those 691 photos a couple weeks back, I have to admit that part of that ordering frenzy was a case of clearing the decks. I found I actually had a bunch of photos uploaded that I had never printed… for quite some time. Like our honeymoon, and even some photos taken by friends and family at our wedding. So that works out well as something to break up all that kraft cardstock with the travel photos! What better to break it up than cupcakes? Exactly.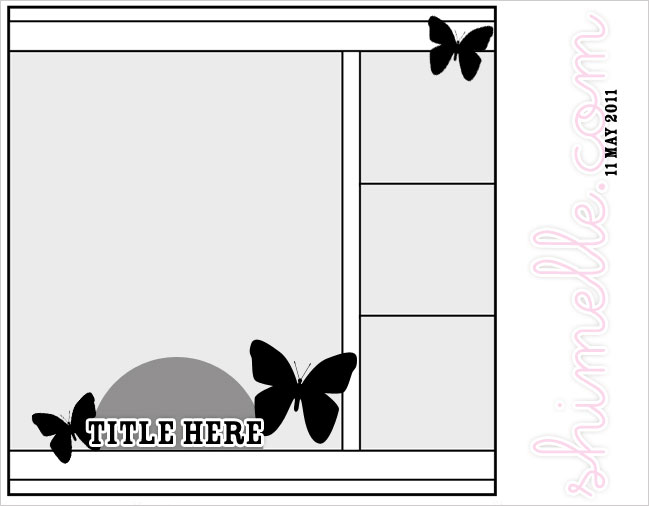 This week's sketch has four photos and none of them are 4×6, shockingly! Three are cropped to 3×3 inches and the fourth shot is a larger print (this was an A4 print that I trimmed a bit), but you could substitute patterned paper here if you preferred. We had vintage cameras on all the tables at our wedding and this was a film shot taken with a camera older them I am… and I love the fade and the grain it produced. Just perfect for adding some journaling too – I used a precision pen to write right over the top.
I want to do a page just about the lovely friend who made all our 300+ cupcakes – Jackie, do you have a blog?! Seriously, she is amazing. And I have some photos of her all decked out at the wedding so that definitely needs to get in my album. Soon!
As always, the weekly sketch is no-stress and just for fun! If you use it, I'd love to see, so please leave a link in the comments.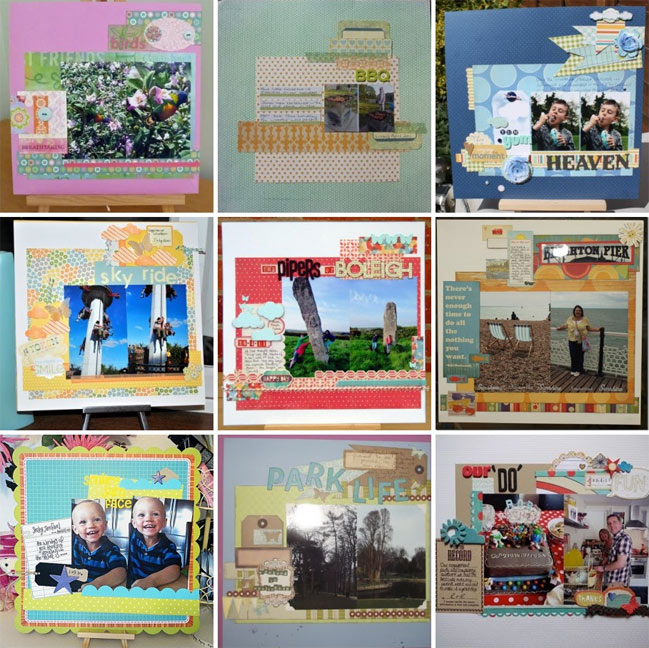 So many lovely layouts from last week that it was so difficult to choose! I stopped at nine… but they are all lovely.
Top row, L to R: one, two, three.
Middle row, L to R: four, five, six.
Bottom row, L to R: seven, eight and nine.
Click on any of those to see and read more and say hello.
Thank you to everybody who took part last week! Now it's your turn – everyone is welcome! Upload your layout to a page gallery or your blog and link it up here to share. Happy scrapping!
xlovesx

Read more about: sketch-of-the-week
11 May 2011

Next post: Scrapbooking sketches: to follow or to reinterpret?
Previous post: Outlook - scrapbooking travel photos