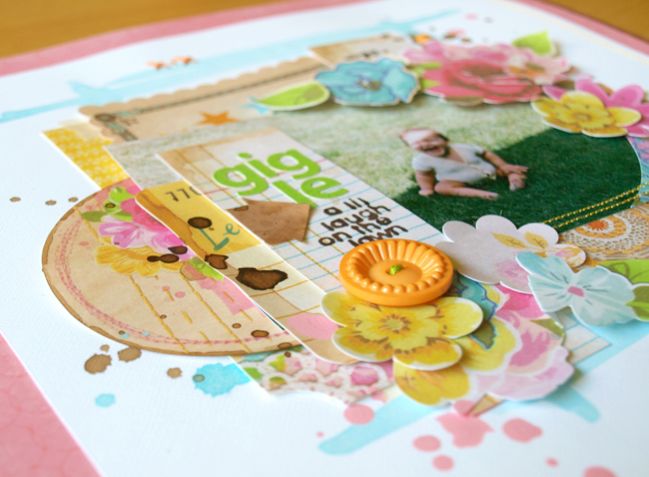 Today I'm thrilled to welcome Michelle Clement to shimelle.com to share five beautiful ideas with a brand-new paper line. I hope you're ready to get crafty, because all I wanted to do when I saw these projects was start cutting, pasting and stitching!
Lately, floral and vintage-inspired scrapbook goodies have been my muse! I decided to focus on one of Sassafras Lass' newest paper collections, Sweetly Smitten, and five cute and wonderful ways you can use it on your projects! I contributed designs to this lovely floral-full paper line in conjunction with Sassafras, so I can tell you firsthand that there's lots of love, handstitched details, and even a few doilies in there to give your projects lots of character as you work with the super-cute paper, stickers, and dimensional 'foldies'. Here we go!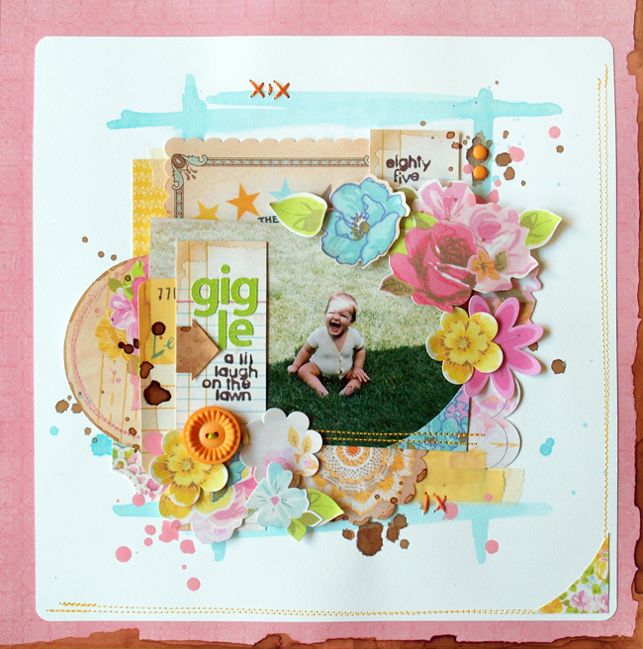 Use Stickers as a Background
I love love love me some pretty paper, but the ephemera-inspired stickers in this collection were just calling out to me to make a little collage with them as a background, instead! (There's a cute little 'memory star' certificate, a vintage button card, and a few cute lined journalling spots that lent really well to a quick and easy collage!) No need to worry about cutting and gluing for this collage, though – just stick them down onto your cardstock, overlapping! Super easy-peasy, and it gives a layered look in a flash – to make a few of the stickers a little more dimensional on my page, I stuck them onto a thin white computer paper and trimmed around the edges, first, and then stuck them on.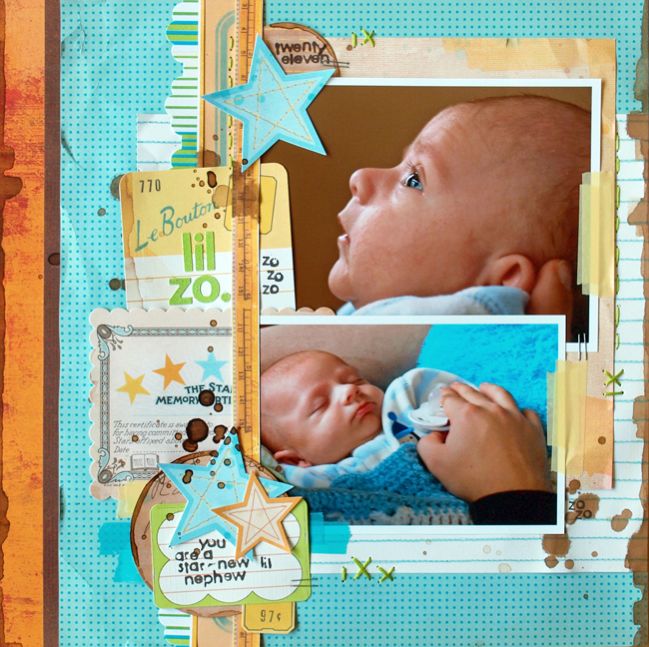 Make it Masculine
Lots of times, it's easy to get overwhelmed with the 'girlyness' of a collection and miss seeing how versatile it really is! And believe me, this one is suuuper girly, so it's easy to see just that. But can you still use it if you don't have girls to scrapbook about? If you only have three boys or mister husband, or if you just don't like flowers? Of course!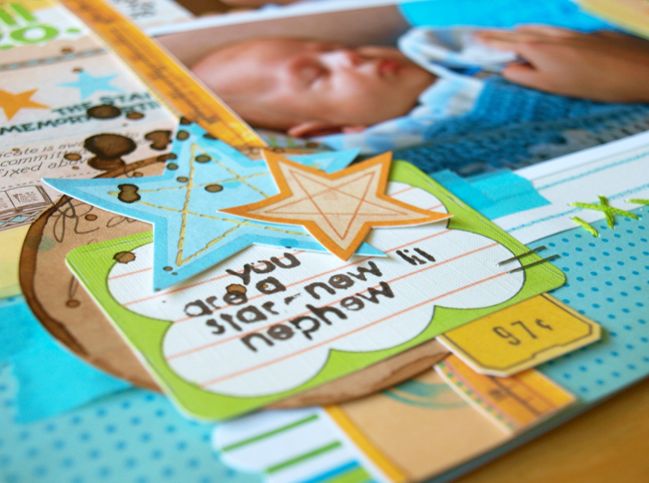 The stickers and papers have some beautiful masculine details to them – you just have to look past the flowers to see! The simple blue polka dot makes for a great masculine background paper, and the lined paper (even though it's sewn) is a perfect neutral paper. There are lots of neutral and masculine stickers, too (the button card, the lined journalling tag, the stars, etc.) – and after collecting the boy-friendly bits from the collection, I added a teeny bit of orange and brown in, too, to set off the blue & yellow, and there you go! Boy-friendly!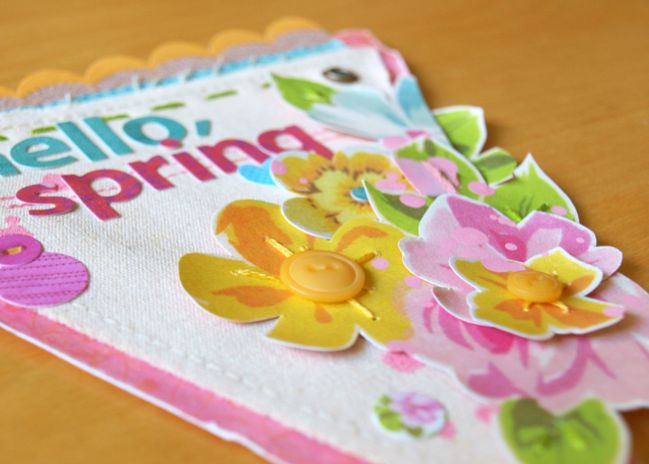 Stitch the Details
If you've peeked at the details on the stickers and paper of Sweetly Smitten, you'll see lots of hand-stitching already there. When you're in a pinch and want to make a quick page – awesome! The handmade touches are done and you can just put them right on the page!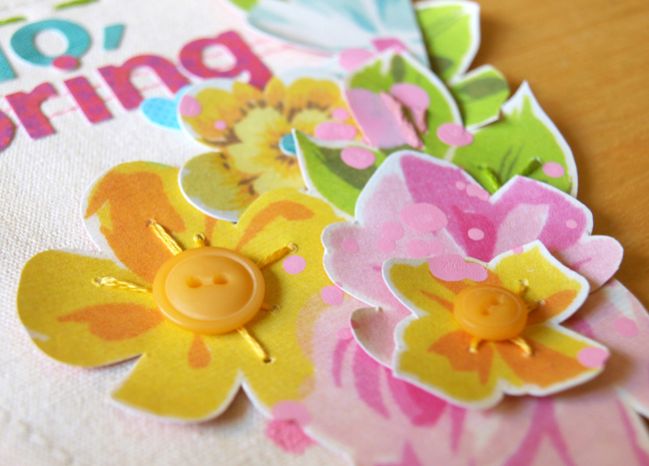 But if you're feeling a little more crafty and have a moment to add a little 'something extra', try stitching your own details in – it works really well with the feel of things! For the layered flowers on my banner triangle, I cut them out of patterned paper, pierced some holes with my needle in the petals and leaves, and used embroidery floss to add a special little bit of dimension to them.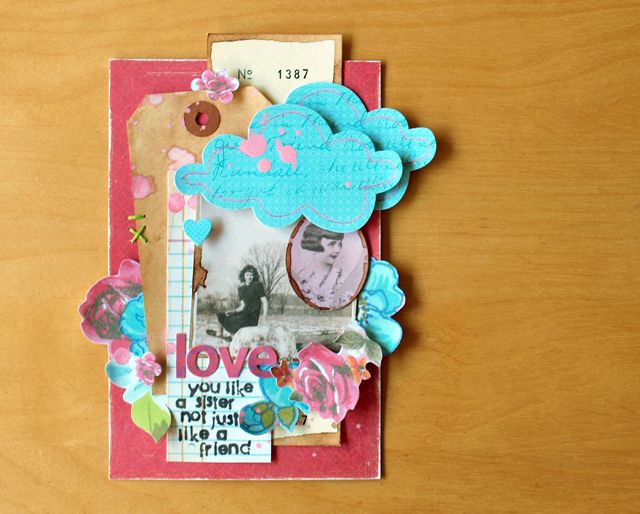 Layer it Up
There's nothing I love more than layers on my pages (you could say I go a little crazy with it, sometimes…lol). Sweetly Smitten has tons of teeny little stickers that layer well together, and the new foldies that coordinate make layering even easier! They're die cut, so you simply poke out the foldie you want, fold it where indicated, and then stick it onto your page using foam squares or another dimensional adhesive! So easy!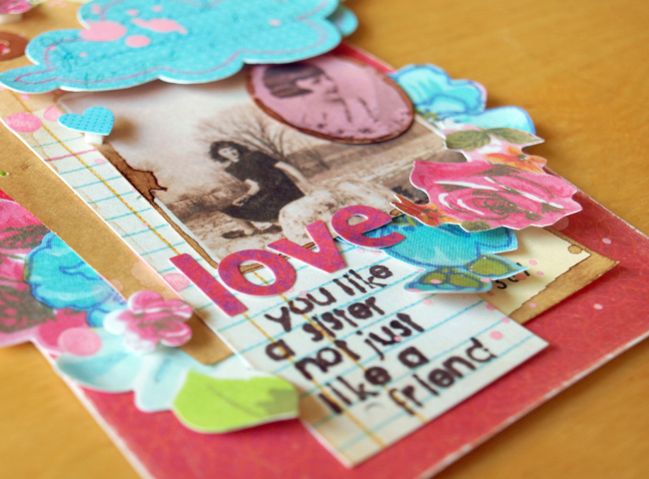 I also used multiple stickers to add dimension to this card – I stuck them onto plain white computer paper and just trimmed around the edges before adhering them with foam squares.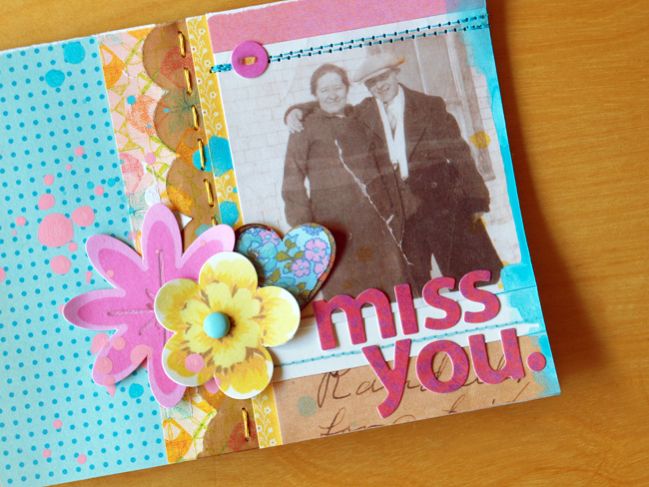 Paint or Dye It
This is something I do to nearly everything I work on, but for this card I decided to use one of the scallop sticker 'extras' (the part that was left on the sticker sheet after I used the scallop sticker) as a mask for some walnut ink. I stuck it onto my patterned paper and used a brush to paint walnut ink on the right side of the sticker 'mask'. Once it was dry, I peeled off the mask and had a super-cute scallop dyed area with some of the patterned paper details still showing through! I also splattered a little bit of paint around for the finishing touch.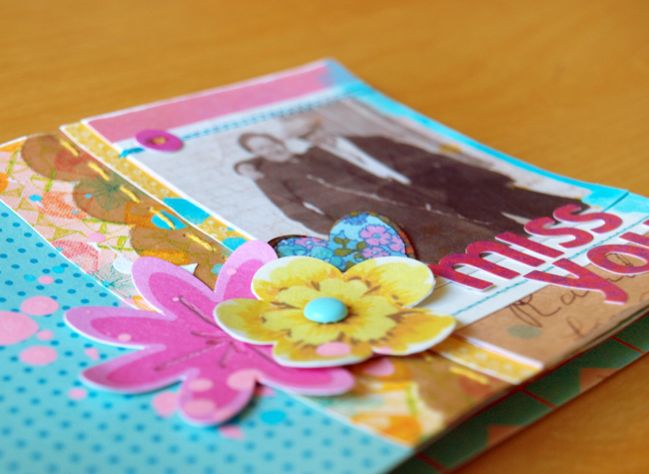 I hope you're inspired to play with this lovely paper collection & scrapbook a bit, now! I had a blast both designing the papers & stickers and scrapbooking with them, myself – it's so much fun! :) Thanks for having me share it with your readers, Shimelle!
---
| | |
| --- | --- |
| Michelle Clement is a 26-year old artist, and lives in Vancouver, BC, Canada. She works in children's tv animation, and also freelance designs – she's currently working on scrapbook paper collections for Sassafras Lass, as well as her shop-of-cute-things, Bubbly Shnooks. She loves living close to the ocean, getting her hands crafty in everything from scrapbooking to crocheting to sewing, and also enjoys summer jaunts out in the sun, like camping and napping on a cozy blanket. She has a weak spot for singer-songwriters, acoustic songs, hammocks, cinnamon dolce lattes, handprinted graphic tees, elastic belts, cardigans, thrift shops, floral linens, yellow, and anything octopus! You can find her daily ramblings and crafty adventures over on her blog, Scissor Quirk. | |

Read more about:
15 April 2011

Next post: Scrapbooking giveaway day
Previous post: Scrapbooking Sketch of the week