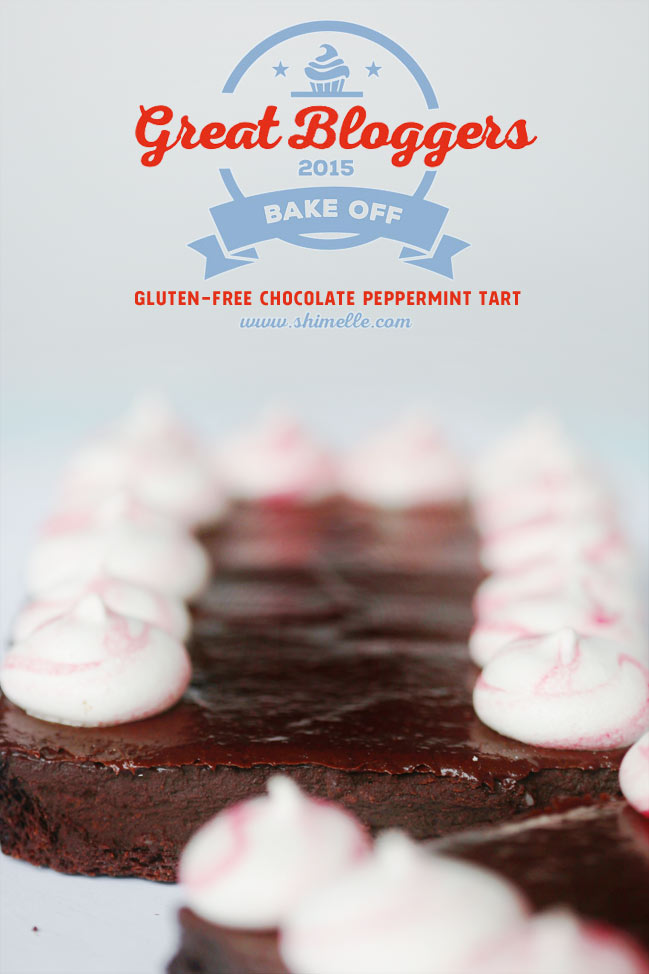 The semi-finals of the Great British Bake-Off have been and gone and taken at least a metric tonne of chocolate in their wake, along with one more baker. Three whole rounds of chocolate, chocolate, and more chocolate this week: a signature chocolate tart, a giant chocolate soufflé for the technical, and a chocolate sculpture showstopper that went a bit mad really! Flying high in my tiny kitchen thanks to patisserie success with a star baker nod, I desperately wanted a go at that chocolate showstopper, but alas my last two bakes have taken so much time that I really couldn't bring myself to spend an entire beautiful sunshine-filled family weekend shoved in the kitchen, so the chocolate tart for me this week. But not without a little bit of extra something, because I am apparently incapable of leaving well enough alone. Consider it my tribute to the baker on the show who seems to have the same problem!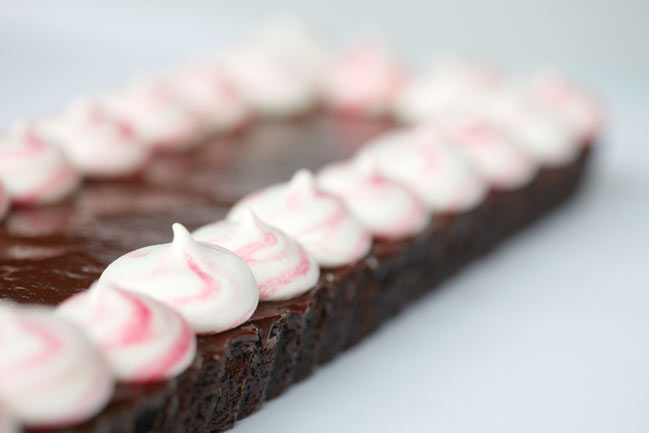 Maybe it is the early Christmas paper crafting this year that has me thinking peppermint already or maybe it's because someone asked me last week what I missed from America and I replied 'Other than family and friends, probably Girl Scout cookies'. Anyway, chocolate and mint and an attempt to remember the finer nuances of the Girl Scout Thin Mint were on the agenda. Side note: I was definitely respectable at selling Girl Scout cookies as a small child, and once had someone order thirty-two boxes of Thin Mints all in one go. I have no idea if that was a year supply or her Christmas shopping for everyone else or something else creative. I just said thank you a lot and left with a big smile on my face. Second side note: Girl Scout cookies have come up in conversation a great many times since I moved to the UK. It is a surprisingly high number of people who assume the cookies are actually made by the Girl Scouts, leading many to confusion over why something would be so universally lauded when it would be like any bake sale, and completely a cookie roulette as to whether your local scouts were talented bakers or far from it. Alas, they are made in a factory and the scouting part is the selling and delivering. I know your life is richer for knowing that, yes?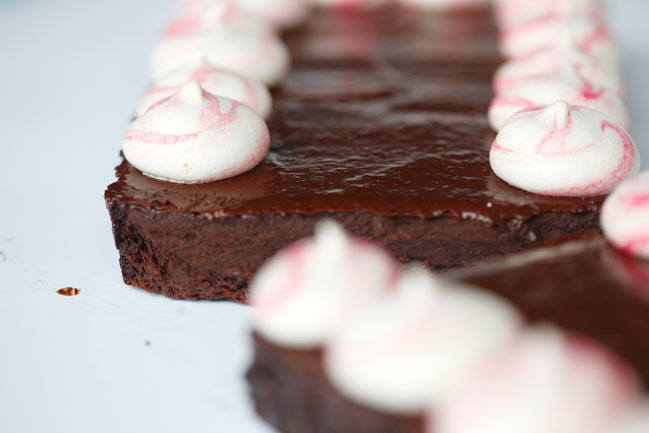 For the chocolate pastry crust, I actually started with the same cookie base I used last week, but halved in size, and added extra butter, cocoa powder, and icing sugar to make it more a buttery and crumbly chocolate pastry rather than a cookie. Have to say this is a spot where I can see they are just cutting corners to make drama on the show – I have never met a chocolate pastry that wasn't improved by a few hours chilling in the fridge. Taking that extra time away, the bakers end up with a sticky and unpredictable mess.
For the chocolate pastry, combine half of this cookie dough recipe with an extra 50g butter, 20g cocoa, 50g icing sugar, and 1/2 teaspoon peppermint extract.
Butter a tart tin and line the bottom with parchment. Roll out the pastry and press into the tin. Pierce several times with a fork. Bake for 10 minutes at 180C. When out of the oven, press into the pan with the back of a spoon or a pastry tamper.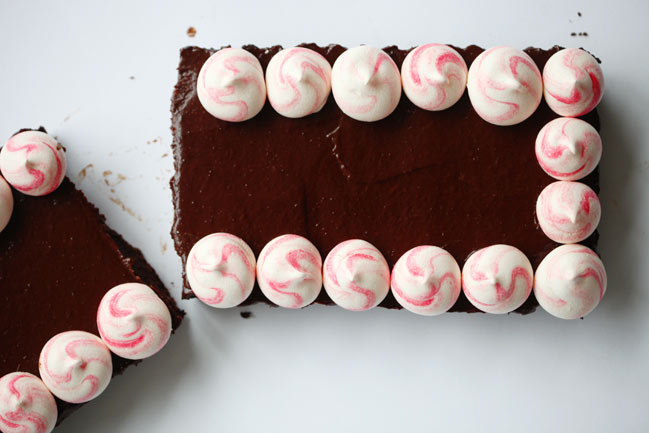 Then there are two chocolate fillings: a rich, set chocolate mint ganache and a shiny, lighter chocolate mirror glaze. The mint ganache definitely puts this into Thin Mint territory for me. To make it look the part for a Christmas party, I tried making peppermint meringues to mimic peppermint candies, which were easy enough if you have a pretty liberal definition of 'mimic'!
For the chocolate mint ganache, heat 350ml double cream in a saucepan until it just starts to bubble. Remove from heat and add 450g dark chocolate, broken into pieces. Let it just sit in the pan for about two minutes, then stir slowly to mix. Stir in 70g unsalted butter and 1 teaspoon of peppermint extract. Pour into the pastry crust and chill in the fridge.
For the chocolate glaze, I followed this tutorial, with 4 sheets plain gelatine, 125 ml water, 225g sugar, 150g dark chocolate, 30g sifted cocoa, and 65ml double cream. I would suggest going as dark with the chocolate as you can – I made it with 60% chocolate and it is very, very sweet. There isn't a great deal of it in a single serving, so that might be okay as a contrast to the richness of the ganache, but I think if I was using these steps again, I'd be tempted to go for the 85% chocolate instead. Pour over the cold tart once the ganache has set, and put it back in the fridge to set again.
For the meringues, I tried dried egg white powder for the first time. I used four sachets, which is equivalent to four egg whites, and mixed to the instructions on the packet, which is basically six teaspoons of warm water per sachet, gradually mixed. Then whisked with the mixer with 1/4 teaspoon cream of tartar and a pinch of salt until soft peaks formed, then gradually added 300g sugar while it continued to whisk away, eventually turning into pillows of white meringue. Meringue takes on flavour extracts to an extreme so it only took the tiniest few drops of peppermint to make a very minty meringue. The red is a gel food colouring drawn inside the piping bag in a few lines, then fill the piping bag with the meringue and pipe circles onto baking parchment and dry them out in the oven on low heat. These small meringues took about 45 minutes at 100C, and kept their white colour. Too high a heat will turn it yellow!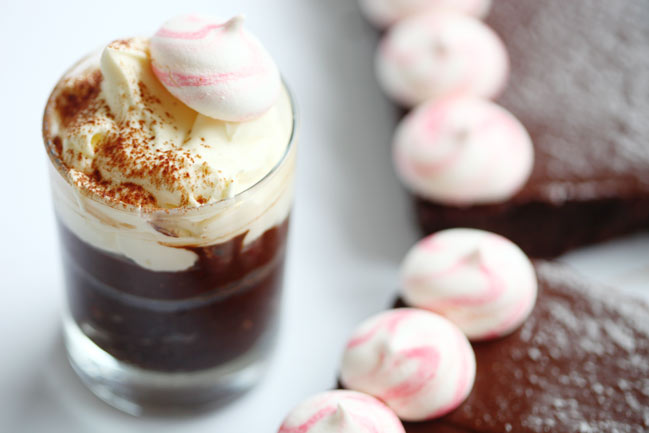 These amounts actually made a bit too much ganache and glaze and a heap too much meringue, so we also had enough for three little layered chocolate pots, with the remaining double cream mixed up for a vanilla whipped cream to balance all that chocolate and peppermint!



Great Bloggers Bake Off is organised by Jenny at Mummy Mishaps. See more bloggers' bakes this week at participating blog, Baking Queen 74.
Please no spoilers from the actual show in the comments, for those who watch later than the original broadcast! Thanks.







Read more about:
05 October 2015

Next post: Rhubarb and Custard layer cakes: my 2015 bake off finale
Previous post: Gluten-Free Cookies and Cream Mokatines, or The Day I Used Every Single Bowl I Own on One Recipe