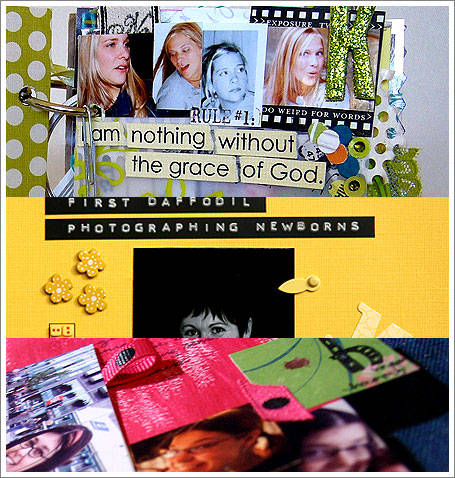 So, so excited for this. A class totally different than anything we've done so far. The sort of thing I think about when I get into big dream mode. Except it's for real.
You Think You Know Me is not a class with a supply list, a set of instructions or a guide for creating something similar to many other participants.
You Think You Know Me is a class that pushes you to create something all your own, while offering inspiration from a range of artists with a variety of styles.
You Think You Know Me is about you.
You Think You Know Me has no right or wrong answers. But it does have a workbook.
You Think You Know Me can include lots of pictures, a few pictures, lots of words or a just a few words.
You Think You Know Me can be a 12×12 scrapbook, a smaller format album, a minibook, a handbound book, a journal or a three-dimensional keepsake.
You Think You Know Me has no deadlines and no stress.
Here's the deal: *Sign up between now and the 15th of October.
*On the 10th of October (or when you sign up between the 10th and the 15th), you'll receive an electronic workbook with questions to think about.
*Between the 15th and the 25th of October, you'll receive 10 idea sheets filled with the work of a team of artists. Each has completed the project in her very own style, from clean and graphic to grungy and hands-on.
*You can create your project at any speed. Work along with the October time frame, or keep the materials and create when it fits your calendar.
*You can listen to audio files to cheer you on throughout your project.
*You can publish your images to the web via a community blog.
*You can chat as much or as little as you want on an opt-in email list for the group.
Sign up now:

$15.00
More teasers through the week.
xlovesx

Read more about:
01 October 2006

Next post: You keep me a secret
Previous post: Rose-coloured times