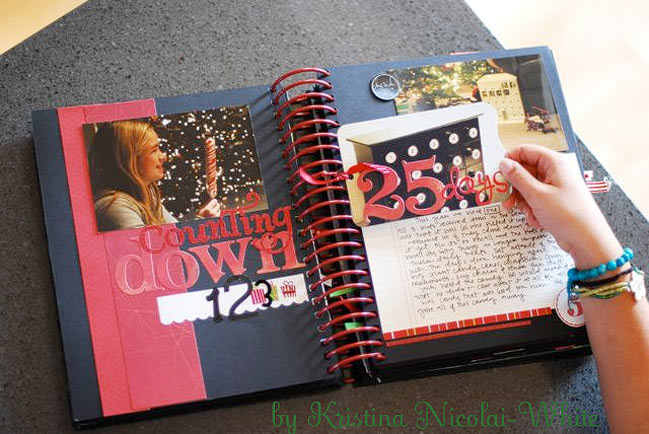 Each prompt in Journal your Christmas includes not just my pages, but also pages participants have made during Christmases past. Part of the fun is going back through all the previously posted albums to see which pages make great examples each day. But I also wanted to share a few albums you can look through online. I love how each is unique to the style of the scrapper who created it.
The album above is by Kristina Nicolai-White, who many of you will know as Pea1 — she and her husband founded Two Peas in a Bucket more than ten years ago. I've seen this 2008 album in person (most of it…Kristina was still working on it then) and it's huge and tactile and amazing to read. Kristina used a ton of different products but focused on a few types to make it all work together: letter stickers, labels and patterned papers cut into circles. Plus she added lots of fun smaller-sized pages in between the big pages, which makes it more interactive with so much to see. Kristina writes a great deal as well as including photos and the end result is such a treasure. She also put in a few of her own twists, like starting the album early to coincide with her family's Christmas schedule. I absolutely love everything about this book. Check out the entire album here.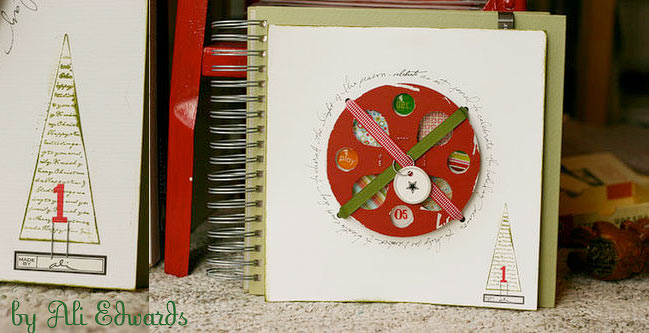 Ali Edwards first joined the class in 2005 and I love how these pages have elements of her signature scrapbooking style blended with the freedom of art journaling. Her stamped trees are some of my favourite page numbers to date and I marvel at the way she embossed this snowflake. See more pages here.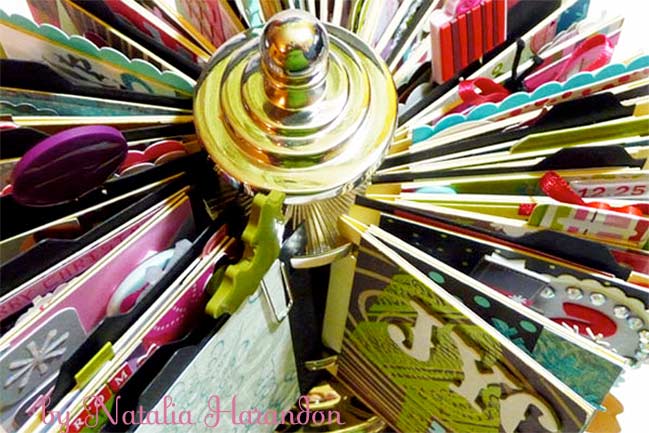 Natalia Harandon has been journaling her Christmas for several years now and you may have seen this fab ATC spinner in the Christmas issue of Scrapbook Inspirations magazine. At first I wasn't sure the tiny ATC format would work for this project, but Nat's collection is absolutely fabulous and I love the idea of a journal that comes out with the Christmas decorations. The small size kept her on track with the time constraints of a busy December and it also allowed her to stretch her favourite supplies further. See the full project here.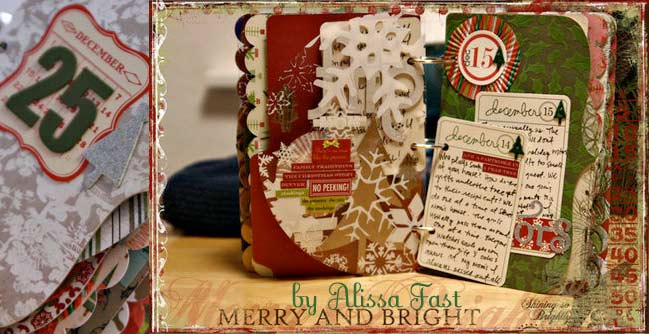 Alissa Fast has made several journals as well and her 2008 book is in my forever favourites list. It's a book filled with depth and texture and colour but it still looks like every single little thing was just meant to be there. The shaped pages and mix of supplies and real-life ephemera makes this album both beautiful and very 'real' in the way it documents each day through the season. See the full album here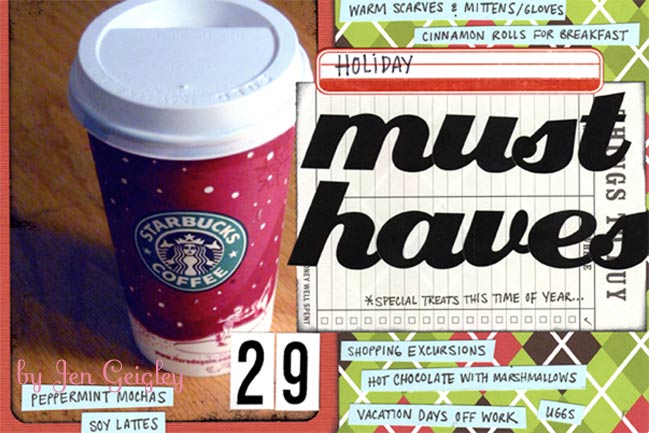 Jen Geigley makes pages that are bright and bold and happy without ever crossing from cute to cutesy, a bit like how raspberries are both sweet and not sweet and that is exactly what makes them so fabulous. I love watching her little girl grow up on the pages of her Christmas journals and her 2007 album is just divine. I love, love, love it. Jen also designed the numbers I used on my pages last year, and I had a few left over so I used a big 25 on the cover of my album this year. So in general, she rocks. See the full album here.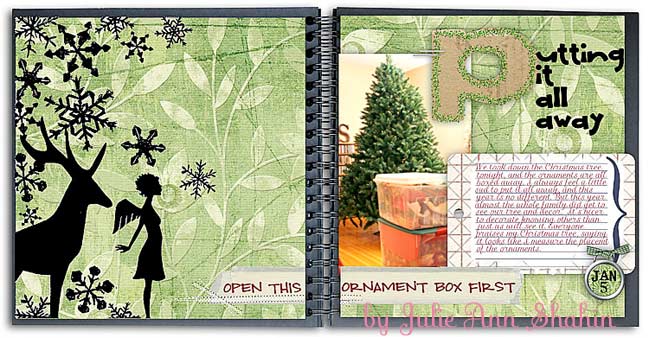 Julie Ann Shahin has created three digital scrapbooks that she prints at the end of the project. She has used a different format each year, and each one has been a winner. In 2007, she created each page to be the size of a 4×6 landscape photo so she could print the pages and turn it into an adorable hybrid album. I'm particularly fond of her 2006 album with double page spreads and some of my favourite digital artwork. You can see all three albums on her blog — start here with 2006.
Now, I really could continue with at least fifty more but I should probably get back to work. If you have more time, you should also check out albums by Sam, Iceboxpoet and Vee to get an idea of the variety of books that are created in this class.
Alumni, if your album is online, post a link in the comments of this post to share it.
Can't wait for tomorrow! First Journal your Christmas prompt will be sent in a matter of hours now!
xlovesx

Read more about:
30 November 2009

Next post: Christmas Journals I am loving this year
Previous post: And the winner is...