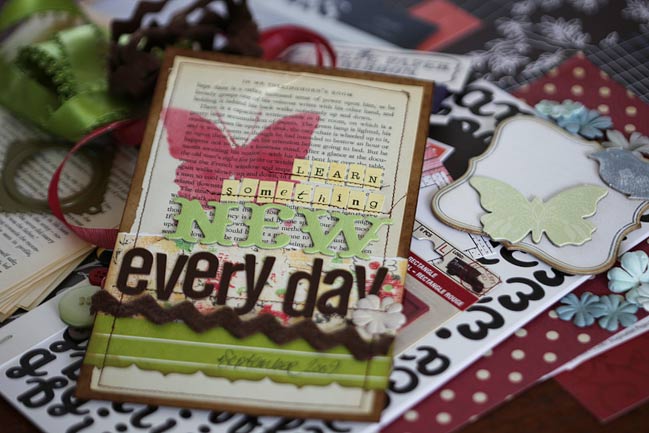 September is a special kind of second new year: the time of year when we head back to school, set new goals, live up to our shiny new intentions and embrace the idea of doing a little something to make ourselves a little better somehow.
Around here, we do that with an online class called Learn Something New Every Day.
Now it its fourth year, this online class encourages you to observe the world around you and learn from your daily experiences and surroundings. We work with a small format album to make thirty daily entries, and we adopt a few short cuts and techniques to make those daily entries possible in even the busiest of weeks. And once you've joined, you're welcome to participate for as many years as you like at no extra cost.
The class includes:
…preparation notes delivered next week
…thirty daily full-colour pdf prompts delivered to your inbox
…access to a private class forum at shimelle.com to chat and share your work
…permanent file archive so you can come back to the materials at any time
PLUS New for 2009:
Although the principles of the course stay the same each year, the prompts are revamped to show you a new book with a new look. This year's additional materials include:
…for paper scrappers, this year's featured album is made with repurposed supplies that will encourage you to stretch your supplies by recycling some items from daily life, and the option of a kit for scrapbookers in the UK.
…for hybrid scrappers, four pages of printable accents to include in your album (available to download on the first day of class).
…for digital scrappers, five page templates (layered .psd files) and a mini kit of papers and embellishments designed just for the class, plus the option of additional digital supplies available when class begins.
So you'll get all that too, whether it's your first year to sign up or you're joining us again in 2009.
Ready to sign up? You can choose your currency and pay in UK pounds or US dollars by clicking the cupcake of your choice:
You can pay by credit/debit card (click on the left of the payment screen) or Paypal account (log in on the right of the payment screen). Please be sure to enter a valid email address as part of your payment so your prompts can be delivered to your inbox.
Participated last year? You don't need to do anything. You'll receive a message in the next day or so with all the relevant links for you. If your email address has changed in the past year, however, you will need to update it on your forum account to ensure you receive your emails.
Any questions? Leave them in the comments or shoot me an email and I'll get an answer to you straight away.
I can't wait to meet the Class of 2009!
xlovesx

Read more about:
17 August 2009

Next post: Class starts tomorrow :: Win a place today!
Previous post: Go To Press: class starts today!