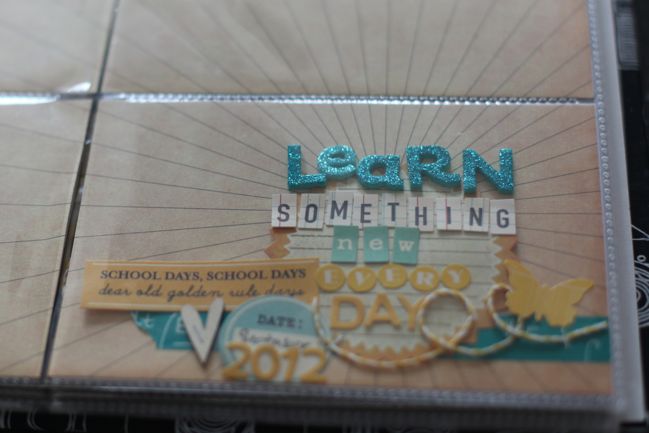 With just the last tiny bit of August remaining, I'm breathing deeply and looking forward to September, a month filled with reflective tradition. While the resolution-crafting, be-your-best-self energy of the new year hits in January, I also feel that same hope at back to school time, even though I probably won't find myself inside a traditional school in the month ahead.
That reflective tradition is an online class now in its ninth year: Learn Something New Every Day. It is something I started as a scrapbooking class, but it works well for a variety of memory-keeping formats, be that a mini book, a Project Life or pocket style scrapbook, a full-size scrapbook, a journal, a diary, a planner, a social media account, or a blackboard. Essentially, you need your pen and a few moments to reflect on the day. That's it. If you want to add photos, then include some kind of camera. Everything can be as simple or as creative as you desire.
The entire idea of Learn Something New is to open your eyes, your ears, and possibly even your heart to the world around you and record one thing you learn from that world each day for a month. Sometimes we learn from our mistakes. Sometimes we learn from watching others. Sometimes we learn from things that seem more like school, from a training session or reading an article. Live the day, then take a moment to sum up something you have learned in a single sentence. Leave it at that, or complement it with photography, art, or more writing if you wish. That's why it's so easy to adapt to a variety of formats.
You can read more about the course here, including a bit about how I've used a few different formats for this project over the years.
Each day in September, class participants receive a PDF prompt by email with something to read and set you on the way to various ways you might learn from your environment, plus visual inspiration from a variety of crafters. There's also a class forum to chat and share in a members-only environment, or hashtags to share your thoughts and images in a more open format. This annual class has a great wealth of materials from previous years, including video, galleries, digital templates, and printables, all of which you can access when you join.
This year, I will be adding a new video series to the class materials. It was developed from working through my lessons from September 2014 and how September was unfolding differently for me with a baby than in all those earlier years, but it's not a parenting video series in the slightest and my hope is that it's useful for a variety of life circumstances. I simply had a different perspective in that particular September and wanted to share how that made a difference to my process with this annual project.
Learn Something New has a one-time registration fee of £10 GBP or $15 USD, and then you can participate as many years as you would like at no further cost. I'd love for you to join us!
These buttons will allow you to pay by your choice of credit/debit card or Paypal account – your choice. Please make sure you are using a valid email address. Registrations can take up to twenty-four hours to process. If you do not receive an email in that time, please check your spam folder, then email me at shimelle@gmail.com. If the email address on your paypal account is not where you would like to receive class materials, please let me know that too. You can leave a note on your payment, or send an email if you miss that bit. (If you would like to gift the class to a friend, just sign up as normal and in the comments or an email, let me know her email address. Simple as that.)
Previous class participants, the first message goes out on the first of September, and includes an easy way to opt out of mailings if you prefer not to have emails this year. If your email address has changed in the past year, drop me an email and let me know so I can update that for you.
May back to school be wonderful for you in whatever form it takes!

Read more about:
30 August 2015

Next post: Start with a Sketch :: A new online scrapbooking class
Previous post: Explore - the new online scrapbooking class - starts tomorrow. Win a free place today!