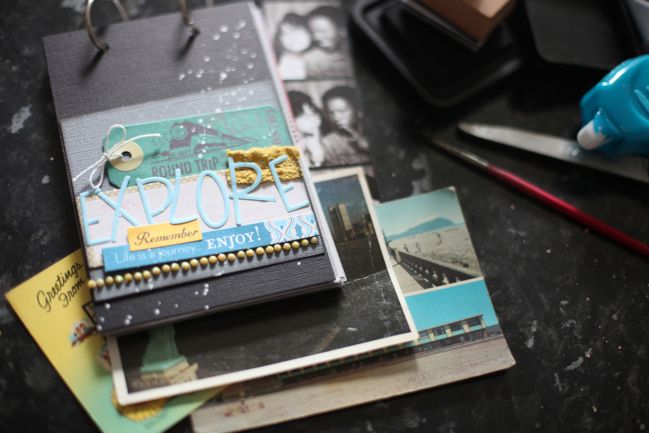 Tomorrow is the first day of a brand new online class – Explore! To celebrate, today I'm giving away a class pass for one winner and a friend to enjoy the class for free. Plus it's not too late to sign up and join in the fun of twenty prompts, four videos and more to keep you inspired, documenting and creating!
To enter the giveaway, just leave a comment on this blog post. Easy! (If you're new, it's worth knowing you need to click the preview button when you post your comment.)
I'll pick a winner bright and early tomorrow so you can start with everyone and not miss any of the fun. So be sure to leave a valid email address on your comment so there's no delay if you win! If the winner has already registered for the class, that's okay too – I will send a full refund of the class fee and you'll still get the extra pass for a friend to join you.
Throughout this four week course, we'll be exploring the world, even if you're not going anywhere. Each prompt covers a different aspect, from days when we'll focus on photography to videos that cover crafting techniques to do something new with your existing supplies. We'll be taking pictures, making journaling easy and stretching ideas so you'll keep creating long after the final prompt appears in your inbox. If you're worried about being too busy for the next four weeks, then the workbook is your answer! You can print it from day one and follow along in a quick format then come back to the full prompts when you have a bit more time to explore those ideas.
Ready to sign up? Click one of these!

Registrations are processed individually, within 24 hours of a completed payment (though usually faster). A welcome message will be sent to the email address on your payment — if your paypal address is not where you would like your prompts to be sent, please leave a note on your payment or email me. If you have not received a welcome email within 24 hours, please check your spam folder. If it's not there, please email me at shimelle at gmail dot com so the information can be resent.
If you have any questions, please don't hesitate to get in touch through the comments or by email. I'm so excited to teach this class and I very much hope you'll join me for the fun!
Right – time to leave a comment if you'd like to enter for a free place for you and a friend and spend the next four weeks taking part in a brand new scrapbooking class from the comfort of our own home!
xlovesx

Read more about:
17 July 2011

Next post: It's not too late to Learn Something New!
Previous post: Explore :: A new online scrapbooking class