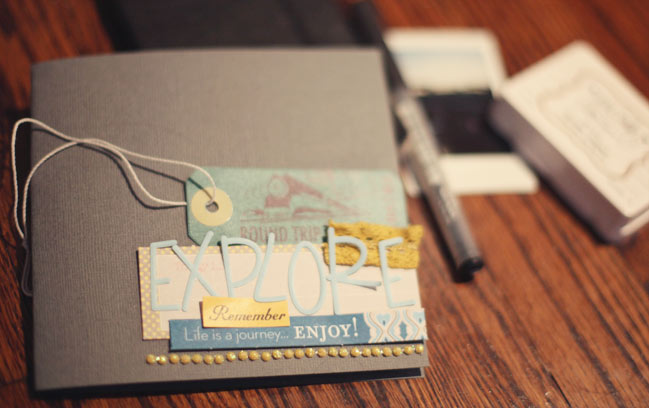 More and more I'm learning that travel is all about perspective for me. I love to go somewhere new because I love to be surrounded by something that will inspire me in a new way. But when I return home, that feeling of awe and awareness continues as I try to look at my own surroundings as an explorer. Whether you love to travel or prefer to stay close to home, I would love to share that process with you. And that's the basis behind a brand new online scrapbooking class starting here soon. It's called Explore.
Explore starts Monday, 18th July 2011 and runs for four weeks with prompts Monday through Friday. These prompts take you through an adventure from your perspective. Everything is written in a way that you can participate from home – this is not a travel album. Instead there are prompts on using your camera, your pen and your crafting supplies to look at your surroundings and your memories in a new way. There's a new adventure in every prompt.
Many of you have said your favourite classes here at shimelle.com are those that result in a completed book that you make day by day, so a mini album with daily entries is one way you can participate in this class. The day by day entries can be small and not take too much time, so I think this will be a popular option! But there are additional ideas included if this isn't right for you. You can follow along by filling in a printable workbook or by writing blog posts or by writing in a journal or by creating fewer pages in a larger format so you can add them to your 12×12 albums. There are even ways you could explore the class prompts through other kinds of creativity if you prefer to paint, stitch or otherwise make beautiful things. Everybody is welcome.
Explore includes…
…twenty full-colour PDF prompts, which can be read on your screen or printed onto paper.
…four tutorial videos to expand on the printed materials.
…a printable workbook to follow along by filling in the blanks.
…a bonus printable minibook to continue your exploration after the class has finished.
…a private message board for participants to chat and share their work.
…full, permanent access to all the class materials so you can participate on your schedule, even if that means this live run doesn't suit your calendar.
Some special guests will stop by during the class to share their perspective with inspiring stories and projects. A few surprise opportunities will present themselves throughout the course. And if you join us on the message board, you will find so much support from others working right alongside you. By the end of the class, you'll not only have the experience of this specific project, but also photography, journaling and crafting ideas you can take forward into your own future projects.
You can sign up any time and in your choice of currency: 10 UK pounds or 16 US dollars. If neither of those is your native currency, you can check exchange rates here then click whichever currency you prefer. You can pay by credit/debit card or from your Paypal account – click the currency button of your choice then follow the prompts on the next screen for your payment method.
Ready to sign up? Click one of these!

Registrations are processed individually, within 24 hours of a completed payment. A welcome message will be sent to the email address on your payment — if your paypal address is not where you would like your prompts to be sent, please leave a note on your payment or email me. If you have not received a welcome email within 24 hours, please check your spam folder. If it's not there, please email me at shimelle at gmail dot com so the information can be resent.
If you have any questions, please don't hesitate to get in touch through the comments or by email. I'm so excited to teach this class and I very much hope you'll join me for the fun!
xlovesx

Read more about:
06 July 2011

Next post: Explore - the new online scrapbooking class - starts tomorrow. Win a free place today!
Previous post: Scrapbooking Day Special Offer on Online Scrapbooking Classes