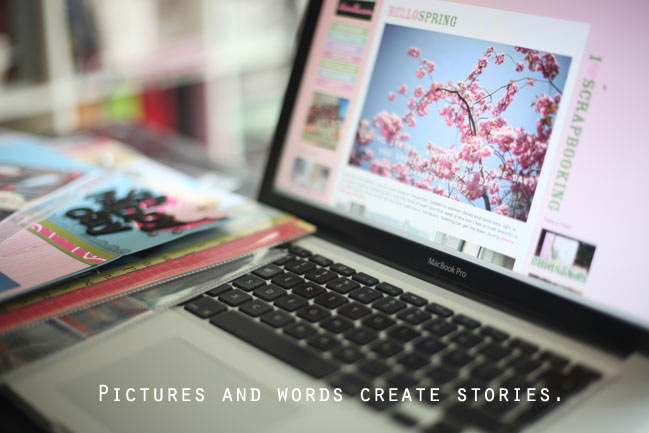 I started blogging a bit after I started scrapbooking, and for quite a while the two things lived quite separate lives. Blogs very rarely had pictures back then, and perhaps that was why the leap to the visual took a while for me to grasp. Of course, my scrapbooking style has certainly evolved and likewise, the blogging changed too. Eventually I left that exceedingly random and picture-free blog behind and started things with a bit more thought here at shimelle.com… and now a thousand posts later I still find I have ideas I want to convert from head to notebook to blog to scrapbook (sometimes missing out any of those steps) and I think I'm far more in love with blogging now ever. Part of that is from Blogging for Scrapbookers, a project that originally started in late 2009, but revisited over the past month. Scrapbookers getting together to blog about what they love. I love it when things come together like that – it's simply electric. And so, it's time to push all that to the next level of inspiration. With a new class: Beyond Blogging for Scrapbookers. It starts Monday.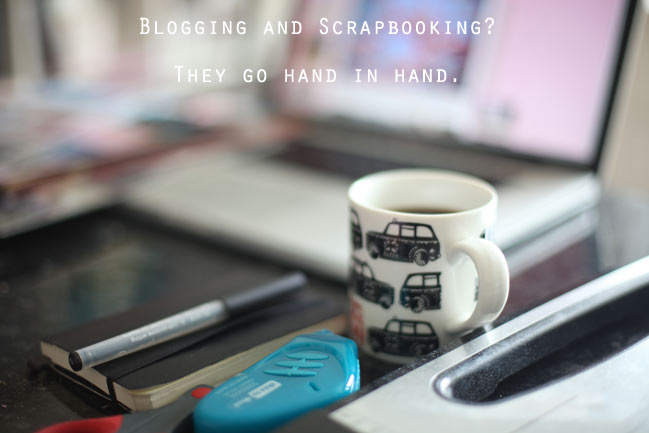 Over three weeks, we'll cover:
Getting to know your readers: who is reading and who do you want to be reading? We'll make stats and analytics easy to use and understand, we'll work with concrete ways to start conversations on your blog that get your readers talking in the comments and we'll define exactly what's best for how you want to blog, whatever that angle may be. Using videos, series posts and other ideas, we'll make sure blogging is fun for you and your readers.
Simple ways to serious storytelling: how to eliminate boring blogposts forever. You are worth more than that! Taking your blog posts to the next level makes a direct impact on your scrapbooking, as it becomes second-nature to tell stories in meaningful ways. We'll even cover a list of things never to write so you'll have a warning system in place to prevent blog post boredom! Photos also come into play in your storytelling, both on your blog and your scrapbook pages. We'll look at ways to take engaging photos (no matter what your camera) and how to best display them on your blog so they grab everyone's attention and develop your style.
The blogosphere: blogging is very much a community and the more you contribute to that, the more the community gives back to you in comments, links, praise and support. In recent years, this has developed its own little world that includes social networking and sites like Facebook, Twitter and Pinterest, just to start. Some bloggers can get great benefit from these tools – but they are no means a requirement of having a great blog. We'll work together to find the right balance for you and make sure you're sharing just what you want to share with the audience you want. If you want more readers for your blog, this will include how to find them while always staying within the happy lines of internet etiquette!
Of course, blogging takes time and sometimes blog posts come easier than others. We'll look at forward planning, brainstorming and how and when to take a break from your blog – without losing your readership! If you're interested in making a bit of spare cash from your blog, we'll cover that too – just at an introductory level so you can be aware of your options and choose what's best for you. (If you really want to focus on earning from your blog, you can also join us in May for a special online business workshop.)
And we'll always keep the focus on scrapbooking, so you'll get scrapbook pages as inspiration in the daily prompts, we'll cover many topics that will apply both to the way you blog and the way you scrapbook and we will continue to make the two work together, just like we started in Blogging for Scrapbookers.

A note about that actually: do you have to take Blogging for Scrapbookers in order to join us for Beyond Blogging? I'm not going to enforce this as a strict prerequisite. If you want to jump in now, go for it! However, we aren't going to go back to the basics that are covered in the first Blogging for Scrapbookers class. If you're new to blogging or you find the technical side of changing your template or formatting a post difficult, then I would highly suggest you sign up for Blogging for Scrapbookers as well, so you can download the Blogging Blueprints workbook as a manual and have a look at the prompts so you know where we're coming from. You can sign up for Blogging for Scrapbookers at any time and have full, permanent access to the class materials and the message board. A quick review of the first class will also help you embrace the 'assignment' format for the classes. At the end of each prompt, there are suggestions of how to put that day's topic into action. But we are all busy people with varied amounts of time to apply to different things! So each prompt has three options for how to apply what you've just read and watched. The first is a quick option for just five to ten minutes! The second option has a bit more detail for someone who wants to spend thirty minutes to an hour on a fun project, and the third option requires more time but is meant for a longer-term project, like planning future posts and developing your style over time. There is absolutely no pressure to keep up with any sort of daily assignment on a deadline and the schedule is entirely up to you – just know there are options for improving your blog just five or ten minutes at a time when you can't devote hours!
In Beyond Blogging for Scrapbookers, I'm excited to share two new elements with you: a series of videos that cover additional material and profiles of fifteen different scrapbooking bloggers, who share their perspective on blogging and how it works hand in hand with their scrapbooking. There are also more options for customising your blog design covered in this workshop, in case you fancy giving things a bit of a visual shake up! But mostly, I hope you'll join me to create some amazing blog posts over the next three weeks.
Class includes:
…15 full-colour PDF prompts delivered to your inbox, Monday to Friday
…Series of videos with further instruction
…A special series of profiles of a variety of scrapbooking bloggers, discussing why they blog, their creative process and other insights.
…Blog graphics in a choice of themes that you can customise to create your own blog design
…Private message board for class members
…Permanent access to all class materials

Class starts Monday, the 18th of April, but you can join at any time and have full access to all the materials. If you would like your class materials sent to a different email address than that of your paypal account, please be sure to leave that information in the notes to seller box or email me to let me know. Class registrations can take up to 24 hours to process. Thanks!
If you have any questions, please let me know and I'm happy to help you decide if this is the course for you!
Hope to see you in class on Monday morning!
xlovesx

Read more about:
14 April 2011

Next post: Scrapbooking Day Special Offer on Online Scrapbooking Classes
Previous post: Blogging for Scrapbookers :: 10 Reasons to join us!