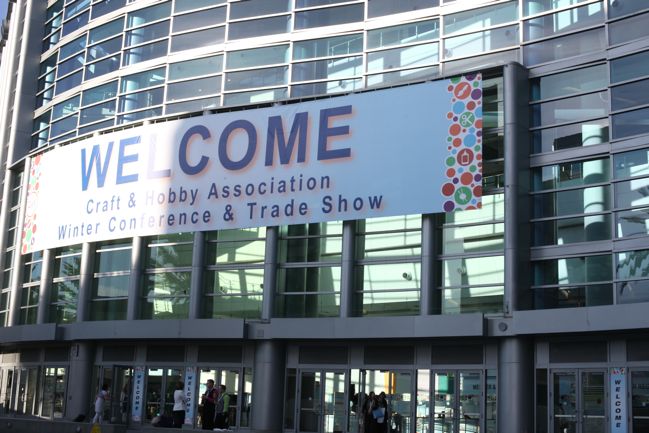 On the tenth of the month, a bunch of us share ten things. Any ten things. All different kinds of ten things. And you're welcome to join us.
For February, I'm running late. I have a sort of megadeadline for a big project staring at me right now and I'm still trying to wrap up all the CHA posts (look for the rest of those through the weekend – I really want to be all done with that by Sunday and get back to other posts on Monday!) and I'm also wanting to get those boxes from earlier today out the door and into the post as soon as possible. So we can do basic things like… walk to the kitchen. It will be awesome.
I also wanted to write a sort of wrap-up post with my overall notes from CHA so in terms of efficiency, it's time for two birds and one stone. Except I don't want to throw stones at birds. Not ever. But I do want to tell you ten things that struck me at CHA this year.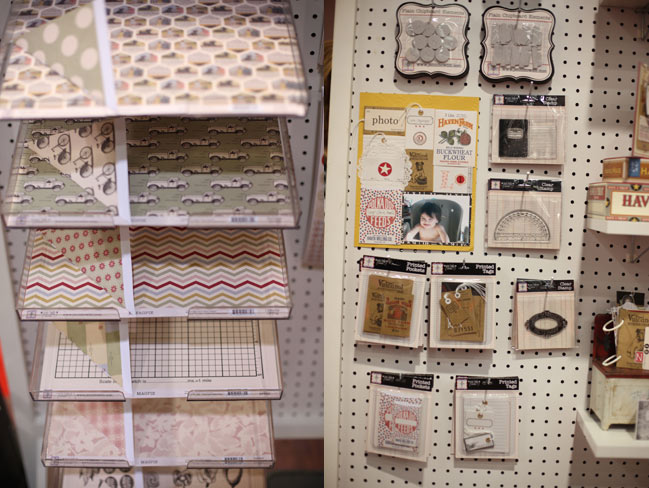 1. Everybody loves a chevron.
This was the most obvious trend and it appeared at almost every booth, and it cracked me up that it was unanimously termed the 'chevron' and never the 'zig-zag', though if someone said 'what's a chevron?' the answer was invariably 'you know, a zig-zag'. Love it. And clearly I'm loving this trend as I really didn't see a single chevron paper that I didn't want to add to my shopping list. Look for 2012 to be the year of the zig-zag layouts.
2. Tape and twine must have an awesome profit margin.
I only say that because nearly every manufacturer added washi tape and coloured twine to their collections this year. (Trust me, nothing really has an 'awesome' profit margin in scrapbooking. But it did make me giggle that so many companies must have looked at those two products and thought they made good business sense.) And when I was working for Jenni Bowlin, who didn't add tape and twine to her collections? Buyers specifically said 'and where is the tape and twine?'. In a serious tone. Not sarcasm. And this happened multiple times throughout the day. That's just how much tape and twine was scattered around the show floor.
3. Hype marketing is gone.
The show takes up physically less space now than a few years ago. I think the non-paper craft manufacturers have really decreased in exhibitors – I'm sure two years ago we were still seeing a lot of cake decorating and wood blanks and more yarn companies on the floor, and of course we've lost many companies in the scrapbook world too. The show used to include the basement, but everyone is on the same floor these days. There used to be so many exhibitors that it was difficult to see the full show in three or four days, so companies really tried to hype their booth so you would seek it out. They would give away t-shirts and badges and bags and hats and all sorts of things with their name and booth number so you would see it and be reminded that you needed to get there and check out their new stuff. To encourage people to wear all that branding, there were lots of on-the-spot prizes given to random people wearing the free stuff. Sometimes enough companies would do this sort of thing that it seemed like people were walking billboards! And really, there wasn't much of that this year at all. Just an observation. My guess is that if the show is small enough to see everything, the expense of the hype marketing goods and giveaways just isn't worthwhile. (But that's my guess, of course.)

4. We like a good comeback.
There was a lot of good discussion about the return of Heidi Grace Kress and Heidi Swapp. Literally every single comment I heard about both designers and their respective lines was positive. There was good buzz about some other things that made a return after a bit of an absence too – like the new Dear Lizzy line (which just hit Two Peas here by the way!), the return of BasicGrey after their decision to skip the summer show and Margie Romney-Aslett now happily designing at Bazzill.
5. Some companies are sorely missed.
We all have our favourites who aren't in this game any more. Mine is Sassafras. I'm sure I'll get over it some day, but it's not now. KI Memories were missing from the floor but haven't closed their doors – they recently launched a new digital set-up and shipped the Hot Date paper line to stores. Let's hope this is a successful regrouping and we see them back very soon.
6. This isn't the time for new exhibitors.
Newer names in scrapbooking, like Ormolu and Elle's Studio, are following a very different business model these days. Is it possible to become a major player and never sell at CHA? Possibly – if the company is happy to grow at a steadier pace rather than go to the show in hopes of becoming a major player straight away. But really, there were very few new exhibitors and many that were technically 'new' were comebacks of some sort. So we can still have new in the industry without new at the show… which is a shift.

7. Things are simpler.
This show is expensive enough when it comes to paying for the booth space and fixtures, shipping everything in giant crates, employees, travel and so on and so forth. It appears that manufacturers have chosen to reserve the extra expense that comes in commissioning huge booth endeavours with custom carpentry and so forth. Instead, we see companies using displays they can use at multiple shows, with simple branding and products and project samples easy to see. Not so many layouts blown up to four feet square, not so many walls in crazy accent colours or anything like that. That said, in general there were fewer sample projects and in talking to store owners (and sometimes just listening to store owners as they shopped), I think there are certain products that would have been better sold with examples that effectively showed a product in use. Simple booths can be great, but not at the expense of letting buyers see just how awesome it would be to have this amazing piece of paper that will let you make this fabulous project. I do wonder how many manufacturers are aware of which projects on their booth did and didn't sell product. (I know, if I didn't have things like that on my mind, combined with a lifetime of random song lyrics, I could totally find the cure for the common cold or something. But sadly, this is what plays on my mind.)
Of course, we're also seeing simpler innovations rather than big risk products. In almost every case, I think that's a good thing for this point in the market. There were a few things out there that confused me a little, but by and large the floor was filled with products that will be attractive to the scrapping masses rather than something totally oddball that will only appear to a select few.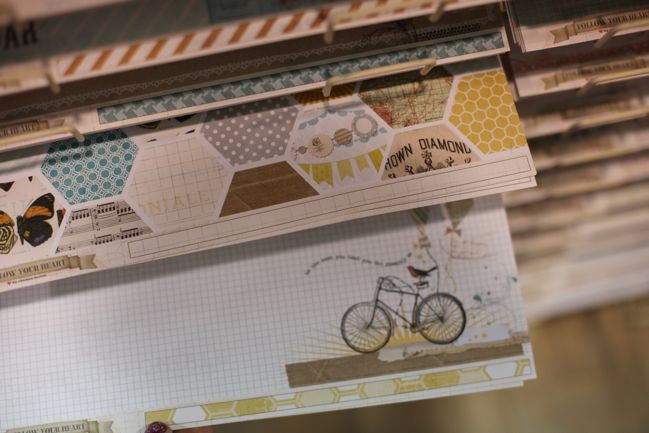 8. Hexagons are cool.
They are. They aren't circles. Nor rectangles. Nor squares. So we can throw them into layering as something new. Simple, but different. Hexagons were big with Jenni Bowlin Studios and Rhonna's line for My Mind's Eye and a few bits and pieces elsewhere too.
9. If my normal life were like CHA, I would be exhausted and not fit into any of my clothes.
I am never prepared for the crazy hours that happen at CHA. It seems like you can get so much done in four days, but it's almost every hour of those four days. At the end, no one has slept properly for at least a week, as the last few days of preparation are usually a bit mad too. And all the big meetings happen over food. CHA is basically the only time in my life when I schedule every single meal for several days. I love the energy and the ideas and the getting to talk to people I don't see the rest of the year, but oh my goodness, at the end my body is seriously asking me to lay off the cheesecake and go to bed. (In fact, after the show closed, I meant to just sit and veg for a couple minutes while I went through my notebook, at about 6:30pm. I still needed to book my ride to the airport the next day. Next thing I knew it was 6:30am and I still had my notebook on my lap. Oh wow, that was not the plan.)
10. I never get tired of looking at paper.
A few of you have commented on things like 'doesn't it all blur into one?' and I'm sure it does for some, because there really is a lot of stuff entering the brain at once. But I really do have a childlike love of paper and every new line that I like still makes me exclaim. I talk to paper at trade shows. Not like an actual conversation, I hope. I assure the paper doesn't usually talk back. But all those words I overuse in life? Lovely, amazing, cute, lush, brilliant, fab? I find myself saying them time and time again. So every year when I decide if this trip will be worthwhile, I finish the show thinking it has been more worthwhile than ever. Looking at paper is almost as awesome as making things from paper.
And if you'll excuse me, I think it's about time I go do that now.

Read more about: 10-things
10 February 2012

Next post: CHA Winter 2012 :: Little Yellow Bicycle
Previous post: CHA Winter 2012 :: Doodlebug