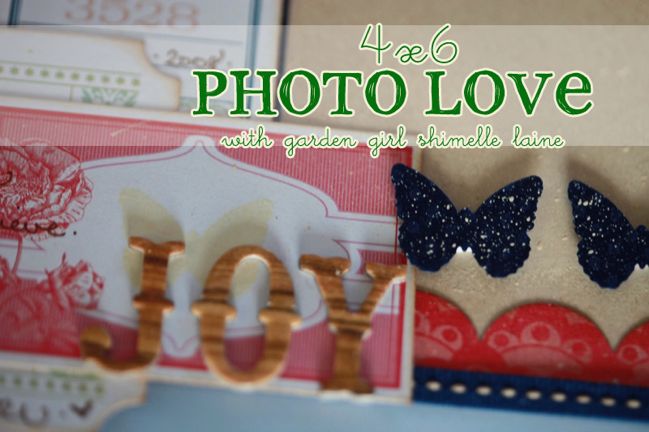 ©twopeasinabucket.com. Click here for supplies and class details or click here for the message board thread.
Have you checked out the latest edition of 4×6 Photo Love? In the third prompt of the year, we're scrapping with three 4×6 photos. It's a design concept that lines everything up and makes use of border strips, so you can get a big impact from relatively little stash – and it's also quick to do! You can pretty much scrap right along with the video in real-time – just pause to grab your photos and papers perhaps. Have a look:

As always, this video includes random facts like why there is a swirl stamp permanently attached to my large acrylic block, blue nail varnish and paint spattering. Which may or may not be the true reason for wearing blue nail varnish. Oh, and making a layout with three 4×6 photos, of course!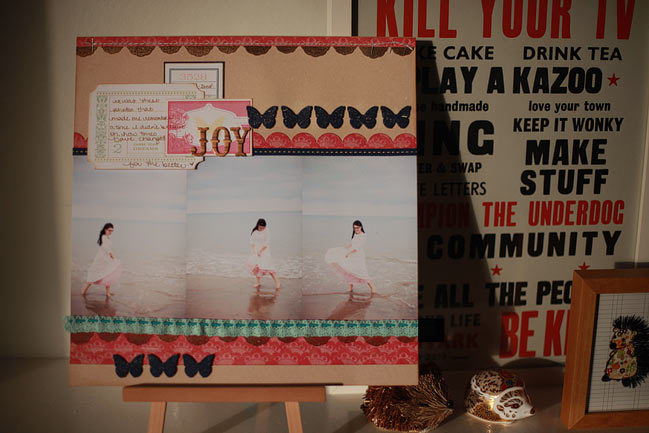 The first page features some photos taken by SJ a while back. So much fun – a highly recommended post-wedding occasion to wear your dress again! But back to the layout: this month's design concept using three photos and three borders. This page uses Crate Paper for the border strips and some lovely ribbons and trims (from Making Memories and American Crafts). And butterflies. Here's a secret: I like my butterfly punch. I bet you never, ever knew.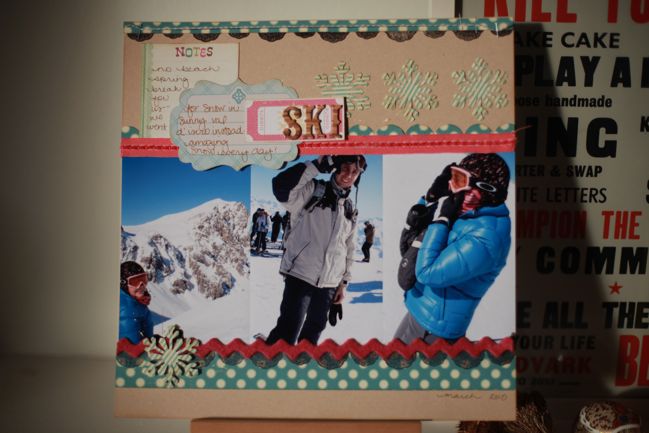 And this is the page I walk you through in the video. No butterflies this time, I promise. Snowflakes seemed far more appropriate. This page uses October Afternoon papers and a border stamp by Studio Calico. Both pages use this EK Success border punch which is one of my absolute favourites.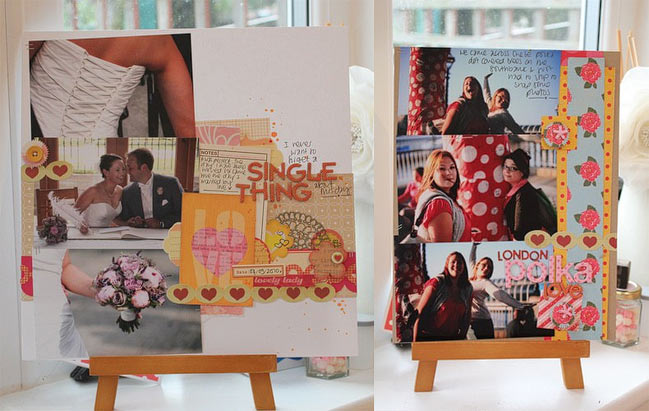 The lovely Laura is my special guest this month, and she gets all creative with this month's design concept – one option for using landscape photos instead of portrait and a second option for scrapping in 8.5×11 instead of 12×12. You can leave her a little comment love if you like her pages, you know! I love how her pages are always so bright and fresh.
So now it's your turn! Throughout this month, I challenge you to create a page with three 4×6 photographs and three border strips. As an added incentive, you have two chances to win a prize too! When you upload a picture of your completed project to the scrapbook gallery at Two Peas, make sure to check the box for the 4×6 Photo Love challenge in step four of the upload process. Then come back to this post and leave a link to your page here in the comments. One person from all the entries at Two Peas and one person from all the links here will be chosen and each wins a gift certificate to go shopping for your favourite stash! (By the way, they have added a crazy amount of new stuff in the last week – like several thousand new products! Just in case you felt like you needed some new product to inspire your creativity!) You need to upload and link by the 29th of April for both chances to win.
So what do you think about three pictures? Can't wait to see what you create!
xlovesx
PS: As this is a free class and it lasts all year long, I'd love for you to invite a friend to join in the fun. Click the share button or grab the badge there on the left for your blog. Thanks!

Read more about: 4x6-photo-love two-peas-in-a-bucket
06 April 2011

Next post: Scrapbooking Sketch of the week
Previous post: Scrapbooking giveaway winner