On Friday, Katherine and I braved the snow and cold for a night at the V&A to listen to a discussion with the amazing Orla Kiely. She spoke about her work process, her training, how she got started with her own label after working as a designer for brands like Espirit and about how she stays inspired, along with a bit about her new book, Pattern. The time went so quickly – I could listen to her speak all day I think! The presentation ended with this short played on the big screen, made to promote the spring/summer collection and shot throughout London by Gia Coppola.
"From London with Love" – Orla Kiely Spring/Summer 2011 from gia coppola on Vimeo.
I absolutely love it. Party because of the style in which it is shot and edited, and partly because these are places I see often and it makes me a bit sentimental. I think there is much inspiration here for still shots as well as video. The only drawback is that it does make me wish my legs were at least another foot longer, for tall mod girls always scream 60s London and a small part of me wishes I could do that! But short little me will forgive this.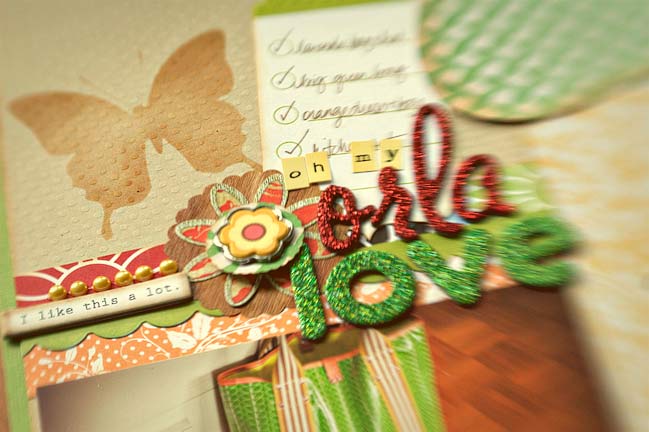 ©twopeasinabucket.com Click for layout.
I'm not hugely into named designers but I love Orla Kiely's designs – I have even scrapbooked my love for her bags (and her sample sales!) and I have long wanted to turn one of her notebooks into some sort of scrapbooking mini, though I have never moved further than the idea stage. One interesting thing she discussed was how it feels to see other designs which are a copy or largely inspired by her work, like the iconic leaves on a stem. She said she never minds, for it must be flattery, but she never likes the designs and can usually identify some element 'they got wrong', which I found sweet. What seems to some like leaves in a line to her obviously has very exact rules. I find simplicity intriguing when it comes to creativity: what makes some designers make ten different things makes others, like Orla Kiely, design ten variations on one idea. Food for thought!
The most mysterious mention in the presentation? Orla Kiely has designed a car for Citroen that will be available in the new year. She described it as a car for girls, and said she took much from the idea of a cozy home interior for kitting out inside the car. I told Katherine I may be happy to not have a car right now but I have a feeling I shall pine extensively for whatever bit of lovely this car may be!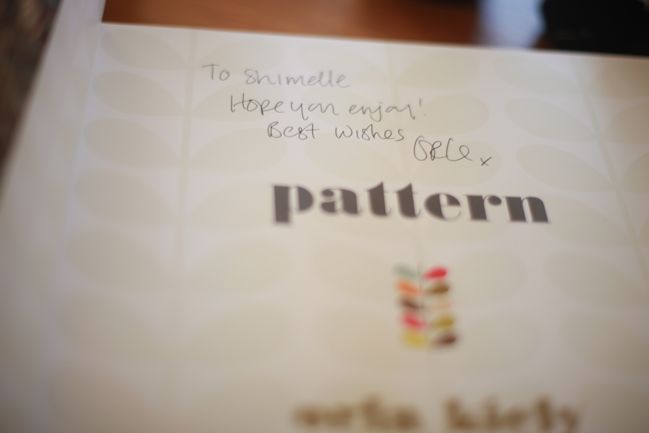 And then we had books signed and people watched a bit at the gallery. I have only started to soak in the book, but so far I am in love. Both the words and the photos translate hugely to crafting, if you like to take thoughts from one genre and apply them to another. So lovely.
xlovesx

Read more about:
05 December 2010

Next post: BasicGrey Card Kits
Previous post: 5 ideas for punched decorations