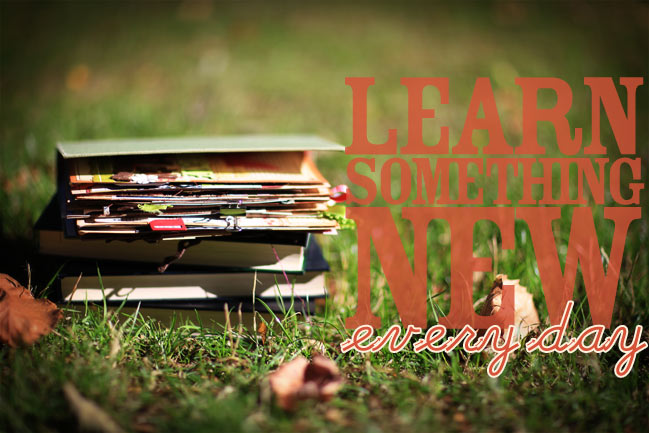 Every year, September makes me excited. Whether I'm headed back to school in a literal sense or not, the back to school season still seems to flip a switch that makes me think it's time to learn something new. For the past several years, I've gone back to school by means of a month-long album called Learn Something New Every Day.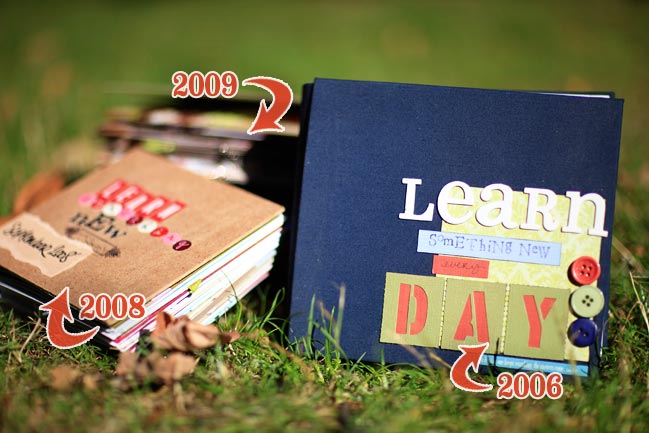 This adventure started in 2006, when back to school was more literal and I was heading to back to my classroom after the summer holidays. And somehow I still managed to create a 6×6 scrapbook page each day, even while working on lesson plans and seating charts and making sure everyone in my department had enough colours of board pens to annotate exemplar essays. In fact, the few minutes I set aside each day to review the experiences of that day with some pretty paper and a pen became my own little oasis of calm every day during that crazy back to school time.
In 2007, I followed the same class prompts but focused more on writing by keeping daily personal blog entries. It was like scrapbooking from another part of my mind, since I couldn't depend on pretty papers to take the emphasis if I hadn't had a particularly eventful day. But it worked, and I promise it only felt a tiny it like the end of a Doogie Howser episode.
Every year is a little different, and yet I still find there is something new to learn just from going through the day. In 2008, my September journal documented the first thirty days of married life. In 2009, I used my book as a daily reminder to myself to get out and make things happen rather than just hoping for the best. Each book has its own mood that matches life for that month and sharing that journey with other scrappers has become part of the process through an online class. Here you can see a few other albums that were created last September, and because past participants can join in every year at no extra cost, you'll see some of these lovelies return to make new albums this year too. I can't wait to see what everyone – both new and returning scrappers – learns through their back-to-school journal this year.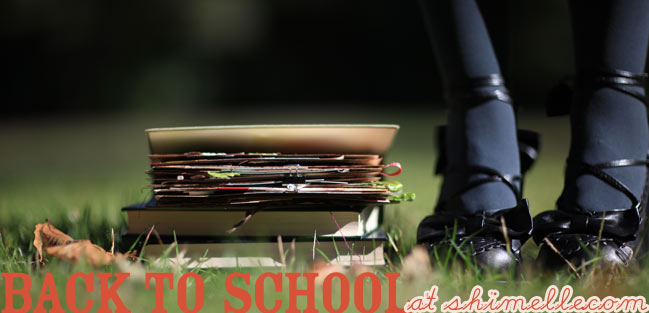 Now it its fifth year, this online scrapbooking class encourages you to observe the world around you and learn from your daily experiences and surroundings. We work with a small format album to make thirty daily entries, and we adopt a few short cuts and techniques to make those daily entries possible in even the busiest of weeks. And once you've joined, you're welcome to participate for as many years as you like at no extra cost.
The class includes:
…preparation notes delivered next week
…thirty daily full-colour pdf prompts delivered to your inbox
…access to a private class forum at shimelle.com to chat and share your work
…permanent file archive so you can come back to the materials at any time
Plus new additions for 2010:
…custom printables for paper scrappers
…page templates and a digital kit for digi scrappers
…Try Something New Every Day, a back-to-school workbook with quick and easy crafting techniques that adds an element of challenge and surprise
…bonus technique tutorials (as PDF and video formats) to spice up your creativity
…two live chat sessions: one to start the class and a second to celebrate at the end of the month
Each of the daily prompts includes full colour photos of pages from a range of albums so you can see a variety in styles, from simple scrapbook pages to looks that use more layers to art journals. There are also hundreds of additional samples to view in the members' forum, so no matter what your creative style you can always find something right up your street.
Ready to sign up? You can choose to pay in UK Pounds or US Dollars. If neither of those is your currency, you can choose whichever you prefer – you don't need to do anything special to change the currency from your account.
You can pay by credit/debit card (click on the left of the payment screen) or Paypal account (log in on the right of the payment screen). Please be sure to enter a valid email address as part of your payment so your prompts can be delivered to your inbox.
Participated last year? You don't need to do anything. You'll receive a message in the next day or so with all the relevant links for you. If your email address has changed in the past year, however, you will need to update it on your forum account to ensure you receive your emails. If you can't remember your login details, send me an email and I'll get that all set for you.
If you have any questions, feel free to email me or ask in the comments on this post.
I'm excited to meet the class of 2010!
xlovesx

Read more about:
17 August 2010

Next post: A summer weekend of scrapbooking :: prize winners!
Previous post: A wrap-up to a weekend of scrapbooking