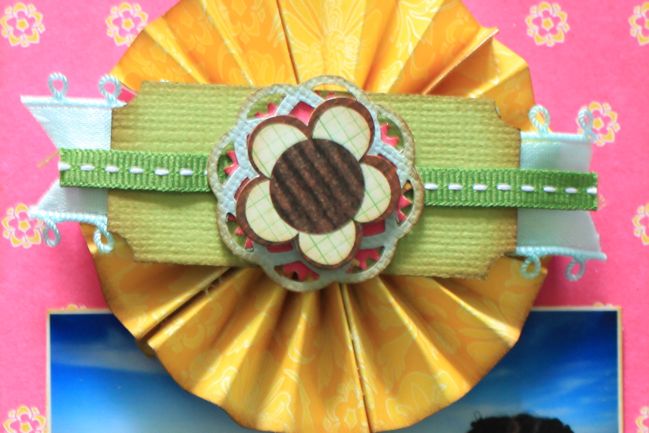 Time for a tiny technique challenge – I love paper pinwheels in all sorts of projects!
They are very simple to make. Cut your patterned paper into squares — I use three squares for a circle with this number of pleats, but you can use an extra or fewer squares to get the look you like best. The width of your square should be the same width that you want for all the way across the rosette circle.
Then take each square and fold it back and forth like a paper fan or an accordion. Then fold that folded piece in half so it's a semi-circle — and adhere the joining spot with a strong adhesive. Sometimes I even staple it from the reverse side if the paper doesn't want to cooperate. Repeat this with all your squares, then glue all the pieces together to make the circular rosette!
Take this technique and make something with it – a card, a tag, a scrapbook page, some gift wrapping or whatever you fancy! Take a picture and upload it to share with the world on your blog or in an online gallery. Post a link in the comments on this post so we can see what you made!
One entry will win a copy of Scrapbook Inspirations Idea Book volume 2!
xlovesx

Read more about: inspiration-party
14 August 2010

Next post: Photo challenge :: Study session
Previous post: Photo challenge :: Reflections