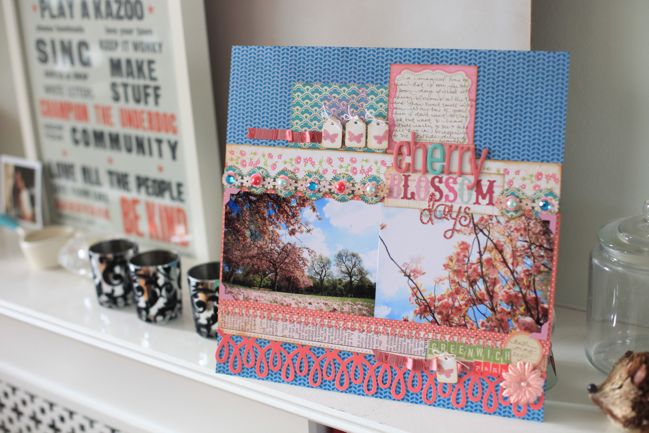 Supplies: Patterned papers by K&Company, The Girls' Paperie, October Afternoon and KI Memories. Letter stickers by American Crafts, My Mind's Eye, October Afternoon, KI Memories and My Little Shoebox. Label stickers by October Afternoon. Ribbon by American Crafts. Journaling spot by My Mind's Eye and Banana Frog stamps.
I just finished this scrapbook page with some sparkly stamping and butterfly stamps from Banana Frog, and put together this short video so you can see how the layout comes together and how the stamped designs sparkle. It's such an easy way to add shimmer and well, I am nowhere near the end of my obsessions with sparkles or butterflies, it would appear!
Plus this has really made me smile to see all the different colours and topics that have been scrapped with the same free digital page template. If this is your layout, you're a challenge winner! Email me with your choice of three kits from the Shimelle Digitals store so I can get your prize zapped over to you!
And in other news, I've been asking everyone for things to do in Dublin, and would love to hear any suggestions you have… since I'm not exactly a fan of the Guinness, sadly! (Thank you for the amazing help so far!)
Wishing you a wonderful week!
xlovesx

Read more about:
10 May 2010

Next post: Two quick questions
Previous post: Happy birthday to Banana Frog Stamps!