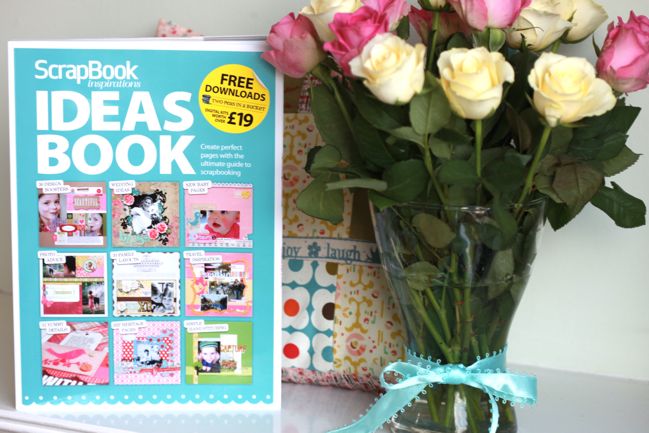 I know some of our regular readers were very sad to hear of the end of Scrapbook Inspirations' monthly issues last December, and it was certainly sad news for all of us involved behind the scenes, both our full-time staff at the office and our team of contributors. But I am so very excited to report Scrapbook Inspirations is officially back on the scene.
Instead of thirteen magazines a year, we're bringing you quarterly books. We've changed the format to bring you more ideas and less clutter, and there's only a tiny amount of advertising. Each volume will include a variety of themed galleries sharing beautiful pages in a range of styles as well as articles on techniques, composition, photography and colour. In volume one, we've focused on some classic scrapbooking themes like family, weddings, babies and travel and there's also an article on improving your everyday candid photographs, great looks with hand-stitching, ten techniques to put your patterned papers to work and a range of projects with one of my favourite colour combinations. We've also kept some of your favourite features from the monthly issues, like a revamped edition of Sketch Collection. We're also bringing you special codes for free downloads from some of your favourite scrapbooking websites.
Volume One hits stores on the 31st of March. In the UK, you'll find it at WHSmiths, Sainsbury's and newsagents. It is on its way to the States as well, so keep an eye in the magazine section at your local Barnes and Noble and some other stores too. But even easier, you can order it online and have it delivered right to your door. Click here to order your copy now and it will be on its way to you on the 31st of March! The prices include postage: £10.99 for the UK, £11.99 to Europe and £12.99 to the rest of the world. (If you buy it at the store in the UK, it will be £9.99 — I'm not sure what the price will be in dollars in the stores just yet.)
We shared a few preview copies with readers at the Stitch and Craft show and it was lovely to see people excited that SI is not gone! As far as contributors, you'll see familiar faces from our team and also new faces who have joined us to share their amazing pages. As the editor, this project is obviously pretty near and dear to my heart — but I hope you enjoy this new publication as much as I do! I have more bonus features to share with you online on and after the 31st of March too, so don't be a stranger!
Contributors for Volume One, your layouts will be returning to you with a copy of the book very soon.

In other news, it's rather an exciting week all round here! Tomorrow afternoon we're having a Shimelle Digitals blog hop with some brand new releases and this Wednesday you'll find a new step-by-step tutorial for the minibook class I taught this weekend at Stitch and Craft. So lovely to see so many of you in class — please do stop by on Wednesday afternoon for the post we discussed!
It's sunny here today too — may this be a good week for everyone!
xlovesx

Read more about: scrapbook-inspirations-magazine reading-material
22 March 2010

Next post: Celebrating springtime releases at Shimelle Digitals
Previous post: It's Rebekah's birthday... and you get a free printable present!