Three-day weekends are pure bliss in my book. I love that we have two in May here—perfect for the month that tends to have some of our most pleasant weather. Perfect for fresh air and rejuvenation. What are you planning for this fabulous window of time?
Here are a few ways I'm hoping to mix craft and life over the next three days.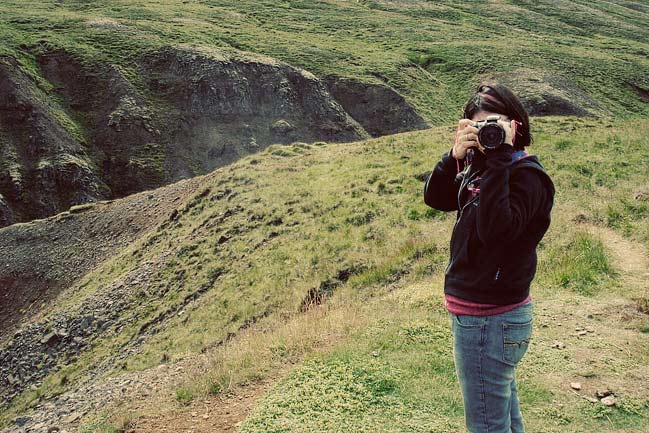 Iceland, August 2006.
1. Pick up the camera.
I've taken fewer everyday snapshots over the last month that I have in ages. Too much going on, a lot of putting work ahead of life. Definitely planning to redress that balance with lots of snapping this weekend. And really hoping I can get others to take pictures too. I am not above inciting silly camera games to encourage this.
2. Take up a challenge.
How about this weekly challenge to be inspired by graphic design, this digital challenge to paint with your pixels or this week's Scrap Like You Mean It challenge to use a song title on your page? If you follow challenges and always mean to take them up, this weekend could be a good time to make that happen.
3. Finish something that's already started.
If you have a half-finished layout or minibook sitting around, perhaps this is the time to finish it. Perfect for a long weekend, since you can budget your time to finish one project and then start something new. And let's just say I have plenty of projects that qualify for this category.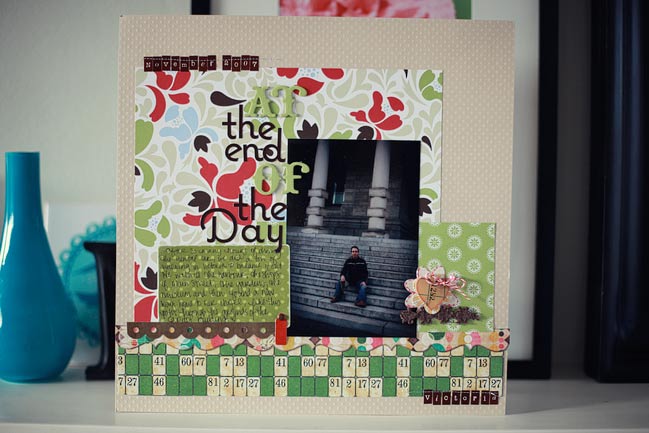 Supplies: Bazzill Dotted Swiss cardstock, Pebbles patterned papers, Sassafras patterned paper, October Afternoon journaling card, Creative Cafe scallop stickers, October Afternoon letter stickers, American Crafts thickers, MLS little letters, and more stickers from Sassafras Lass.
4. Scrap about someone, somewhere or something you miss.
Long weekends sometimes give us extra time in our heads to think about things we wish we were doing or people we wish we could see…but for whatever reason, those things aren't happening this weekend. Use craft as therapy to get those thoughts through their angsty stage and back to balance. It may help to use older photographs and focus on happy memories. Let nostalgia have a happy side!
5. Go find your inspiration.
I love reading crafty blogs and crafty magazines but sooner or later I have to get my head out of the craft world and into other forms of inspiration or I'll hit a dead end. We have concrete plans for two things that will get me away from crafts and yet inspired to craft…one very long hike and a trip to see Coraline at the cinema (which has been evading me for nearly a month due to that silly work-taking-over thing I have mentioned a few times). Excited to see what ideas things like this will spark. Love that there is a balance of something that is active inspiration to keep me moving and something calmer to relax and absorb.

photo processing inspired by this tutorial
6. Follow a tutorial.
I love learning-by-doing. Tutorials are a perfect way to learn a new skill by following someone's instructions when you make something the first time. Then make it again with your own spin by changing the colours, materials, shape, etc. I love this process for lots of things, like learning a new recipe (today I'm using this recipe for macarons but also trying a batch tweaking it for a new flavour), getting the most out of software (loving the new TRA recipes site to get the most from the Totally Rad Actions for Photoshop) as well as crafty goodness like this.
If you own a gadget or a supply that you paid for but rarely use—search for tutorials for that specific item and make something cool. By the end you'll know how to use that tool, have your own ideas for future projects and thereby end that dreaded feeling of buyer's remorse, because now you'll be using it!
7. Include friends and family.
These are the people in our photos. The people who inspire us to scrapbook, right? Doing something nice with them gives you a lovely day and the added bonus of future scrapbook page fodder. Scrapbook pages some of them will even appreciate (this one is entirely dependent on how well your family and friends appreciate scrapbooking in general, of course). But still: everyone wins.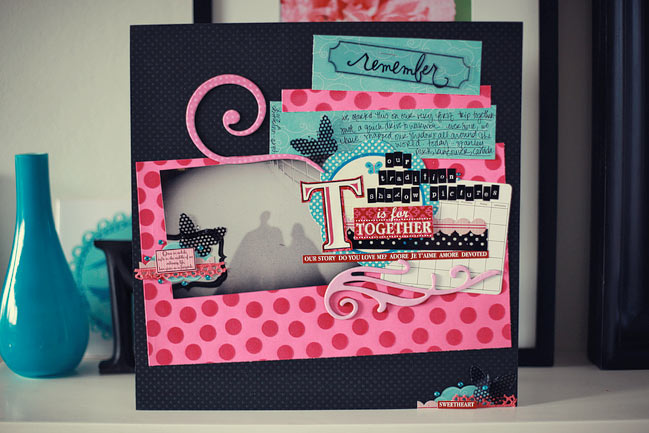 Supplies: Bazzill Dotted Swiss cardstock, Doodlebug flocked paper, Imaginisce patterned paper, MLS little letters, 7gypsies stickers, BoBunny chipboard, Heidi Swapp clear die cuts and passport trims from Making Memories.
8. Scraplift yourself.
Go through your own gallery or your albums and find that layout that you still really love. Use it as the inspiration for a new project and feel doubly brilliant at your endless creativity!
9. Listen to something new.
When I am on my own, I am very motivated by sound, so much so that I have playlists set up by habit so I can click to turn out my 'getting caught up on email' playlist, my 'clean the kitchen' playlist, my 'seriously need to finish this layout' playlist. Seriously. And I have those because I am predictable and know that they will almost always help be stay focused and productive. But sometimes things need shaking up. I'm planning to create some new playlists this weekend to see what the new tunes inspire. (Suggestions always welcome!)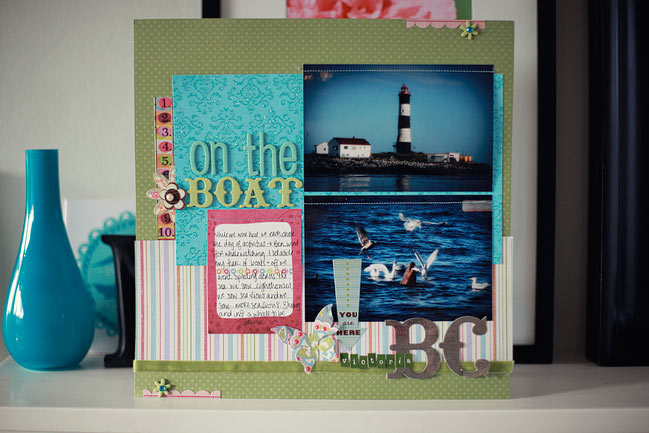 Supplies: Bazzill Swiss Dot cardstock, Doodlebug glittered paper, Imaginisce patterned paper, Fancy Pants journaling card, MLS little letters, American Crafts Thicker letters in aqua and green, BasicGrey monograms, Sassafras stickers, Amy Butler butterflies and flower stickers also from Sassafras.
10. Use up what you need to put away.
I prefer crafting to cleaning. So given the option of walking five steps to put a sheet of paper away or just making something else that will use the rest of that sheet of paper, I will go with option B. If your desk is littered with leftovers, clean by means of using up. It's far more fun and it's economical…because otherwise I know my half-sheets have a pretty big chance of remaining half-sheets forever. A long weekend might mean you can dip in and out of your craft space (if you're lucky!) and use whatever you find that needs tidying to make pages and cards. By the end of the weekend, your desk could be clean and you'll have a stack of crafty goodness to show for it.
11. Just journal.
Just like we take pictures with future pages in mind, write things down in the same way. If you have a busy weekend planned, don't worry about how you're going to fit in the actual scrapbooking. Take pictures during the day. Write things down in the evening. Reflection is good for the soul and good for the scrapbook.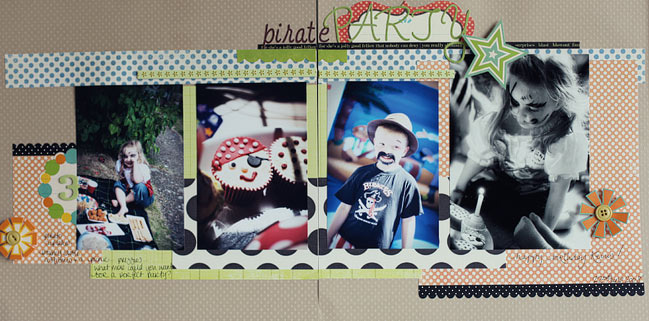 From the current issue of Scrapbook Inspirations magazine.
Supplies: Bazzill Dotted Swiss cardstock, some older Making Memories patterned papers, Sassafras Lass stickers, 7gypsies stickers, Creative Cafe scallop stickers, and BasicGrey letter stickers (but in an older colour scheme).
12. Do something unexpected.
Use a colour you never use. Scrap about yourself if you never do. Swap a single page for a double. Make a card if you never do. Scrap with one picture if you usually include many…or many if you usually use just one. Do something to shake things up. My big plan for this weekend is a…video. I never do video. And I have no excuse: my camera does video so I don't even need extra gear. So I am determined: a video of this weekend! Cross your fingers that I can figure it all out!
So…what are your plans for the long weekend? Hope it's a lovely one!
xlovesx

Read more about:
22 May 2009

Next post: Happy Monday
Previous post: Two digital scrapbooking freebies for May