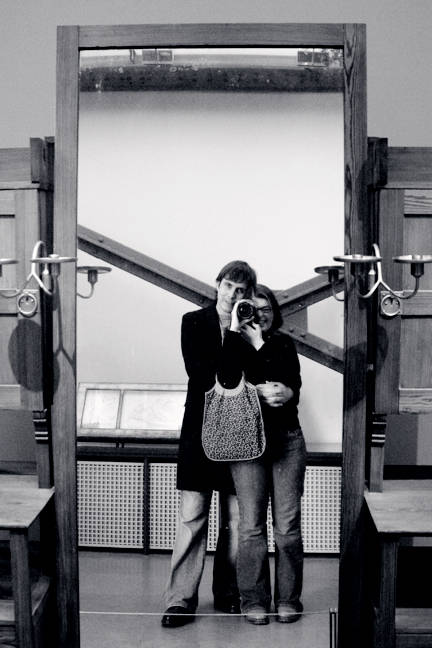 The Boy + Me + the Mackintosh exhibit, Paris, October 2005.
I think one of the reasons I am blogging far more in my head recently than I am actually getting time to type out is because there is such inspiring blog fodder out there at the moment that I feel inspired to actually get up and do something rather than sit and type about it. There are a few series of blog posts out there that I've been meaning to 'respond' to in a way…just because the original posts have made me think about something in depth. Some of them are going back a bit so I'm going to need to go back through bookmarks and reread, so I'm going to start with something more recent: Ali's photography questions. All this week, she's focusing on words and photos as the cornerstones of storytelling. And it just has good timing for me—a four day week seems more relaxed even when you work for yourself; I have this coming weekend off and we are doing some things that will definitely have stories. More about them later. Good weather for taking pictures and getting outside. Even switching our menus from heavy winter foods to sashimi and summer salads. A good time to be reflective and set summer goals.
Ali posted her personal photography basics on Tuesday along with tons more perspective and information. It spurred me on to some notes of my own.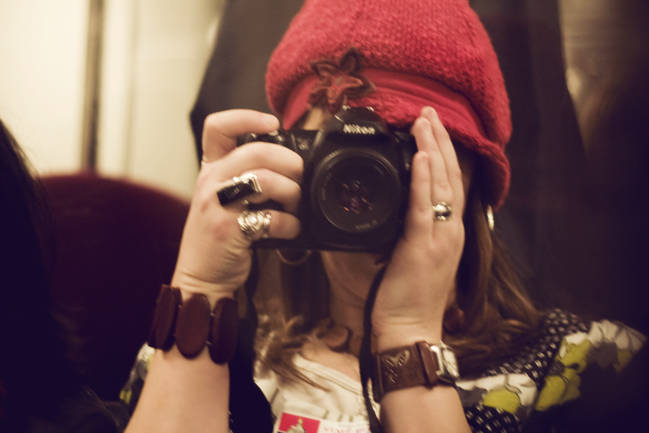 Tia is a Nikon girl, Washington DC, February 2008.
1. My everyday camera is a Canon 30D. I would never have bought this camera for myself—it was a birthday present a year and a half ago. It took a while for me to learn its ins and outs to use it like a 30D, but it was definitely worth the time and trouble. I have always been a Canon girl: I learned on a Canon AE-1 series, upgraded to the Canon Rebel/300 film SLR in 2001 and shot entirely on film until I switched to the same camera in digital format, which must have been Christmas 2004. It's not that I have anything against Nikon—but once you know your way around one brand, you can keep your lenses as you upgrade the body and you just know your way around it. I guarantee if you shoot with a Canon dSLR, you would be able to use a thirty year old Canon A-1. I like that familarity.
2. I usually leave the Canon 50mm/1.8 lens on my camera, because it is lightweight and small enough that I can still fit this big camera in my handbag, plus I really like it for everyday photos. I also use a Canon 100mm/2.8 for macro shots. That is still the highest quality lens I own and you can tell in a second when you compare the shots, but it's not as versatile as the 50mm and it is super heavy. I have a Sigma 28-200mm zoom that is useful but old and really on its last legs. It was a bargain six years ago, but it doesn't capture colour very well at all. And I have an 18-55mm that was my everyday lens before I had a 50mm. It's still quite lovely and I often feel guilty that I don't use it as much any more, but the 50mm just captures a better depth of tone. (Also, it has to be said that the Canon UK website shows prices that bear little resemblance to the prices you can get if you buy on holiday or during a sale, so don't let them discourage you. They are not nearly as scary as they look!)

The Boy + Me + Leaves, Bellevue, Washington, November 2007. With thanks to Jon Madison for taking the photo.
3. When we go on holiday, we follow the two camera rule: The Boy and I both carry a camera. He has a Sony W100 point and shoot that actually has about the same megapixel level as my SLR, and it's small enough to fit in a pocket rather than a handbag. He would much rather take pictures than be in them, but I think he has given up trying to continually fight that battle. I also really value an opportunity to go out and about with friends who also love their cameras, because it means we can have a few photos of us together without the stress or the fee of going to a studio or hiring a photographer.
4. I have managed to convince a fair few friends back home to join Flickr and post photos even if they don't blog. It has been lovely to get to see a little snippet of them and watch as their kids grow up and such.
5. After a few months of getting the hang of it, I now shoot in fully manual pretty much all the time and I'm much happier about it. I don't know why, but I let myself get talked out of shooting in manual when I went digital. That it would just be too difficult and I would be fiddling with my camera too long and miss the shot. But after figuring it out on my own terms just through trial and error, I am seriously hitting myself for not doing that years ago. That and shooting in raw format. If I could go back and do anything, it would have been to shoot in raw when we went to Iceland. But live and learn. (And watch for sales from IcelandAir!)
6. We definitely keep the camera out. My lenses actually live on a shelf in our living room because if I put them in a bag, I will forget where I've put the bag. And we keep the point and shoot near the door so we can always grab it as we're going out. I don't carry my camera constantly, but if the weather looks nice or I'm headed somewhere interesting, I'll take it along. Sometimes I'll use it, sometimes I won't.
7. I also use Photoshop CS3 to edit photos. Usually just a little, but sometimes a lot just for something different. I actually do most of my tweaking in Adobe Camera Raw, because I find it more straight forward and I like the results better, but for ages I didn't even know it was there. Whoops. I only have full Photoshop on my home computer, but I have a really ancient copy of Photoshop Elements on my laptop that I use mostly for cropping or minor fixes.
From there on out, I found Ali's notes interesting because our philosophies are very similar and yet our styles are very different. Much like Ali, my photos and journaling come before my embellishment in a layout because the stories are what inspire me to create. But I am not as disciplined as Ali in the deleting of images. I delete what I consider to be rubbish and I will leave a lot of the mediocre just on the off chance. Sometimes I do use them, so for the moment they are worth keeping. I use iPhoto to organise my pictures and I love the events feature they added in the last big upgrade. It makes things so much easier for me and I rarely have to reshuffle. And I use the 'hide' feature so when I click on an event, I will have deleted the photos that were totally rubbish, hidden the ones that are just okay and I can instantly see the ones I like. But I only get away with this right now because my computer has plenty of hard drive space. And I would not be surprised if I became more ruthless with the deleting if there were children about, because I can totally imagine that I will take fifty photos a day of relatively little, but that is not now so for the moment, I can keep five photos of Sunday breakfast and not be too terribly troubled by it.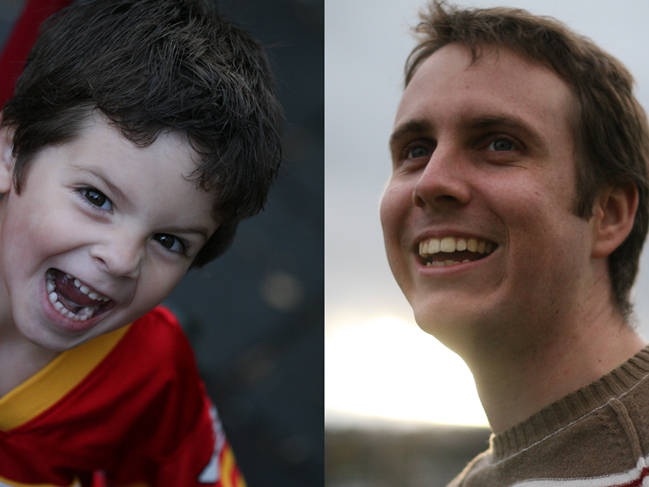 Tucker, Kansas City, October 2007 & The Boy, Seattle, November 2007.
Over the past year or so I have been more aware of light and how light differs from place to place and how that appears in an image. I love how the light changes as you go north, and I never realised this before this year. In the photo above, the image on the left was taken in Kansas City and the image on the right was taken in Seattle (quite a bit further north, if you're not familiar with American geography). Both were shot on overcast autumn days at a similar time of day with similar camera settings. In Kansas City, the light was still quite harsh and flat. In Seattle, there is more warmth to the light. It's not something that I have any expertise with—I'm just becoming more aware and trying to use my camera to find the types of light I like.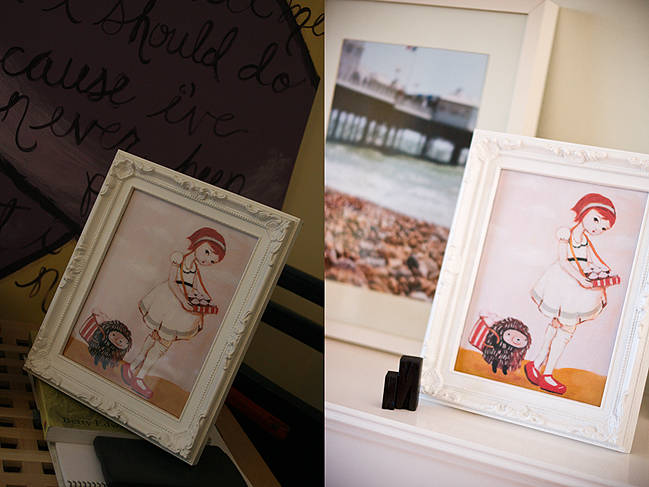 Cupcake Peddlers print by Emily Martin from The Black Apple on Etsy.
When we moved house, we were also more conscious of light and more than a bit lucky. Our last place had very little natural light, as the largest windows were blocked in and the sun couldn't get to them. Our current house has more windows than real walls, and this has made life with a camera far more fun. The two shots above show you the difference—old flat on the left, new flat on the right. Beyond the camera, I really find that good light (which can still come right alongside rain or storms!) makes me worry less and feel more upbeat. That's probably why I am more aware of it in my pictures now.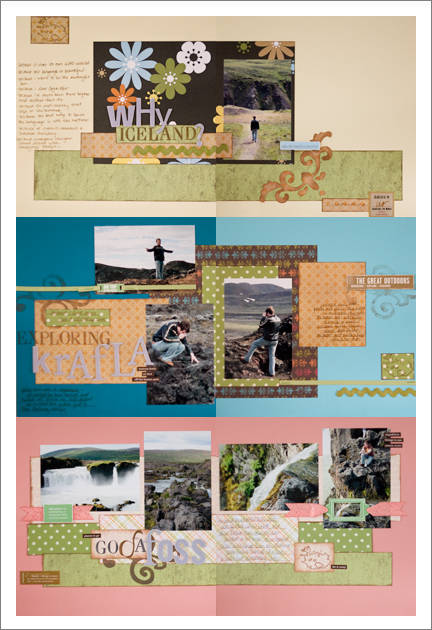 From Ali's posts this week, I have realised the extent to which I scrapbook with just a few photos at a time. I know one and two photo layouts have a reputation for being more about pretty paper than the story (and believe me, I have nothing against pretty paper) but in my case I think I use relatively few photos because I like to tell the story in small parts. So much so that sometimes my layouts overlap and tell the same part of the story twice because I've forgotten that I included it elsewhere, but that doesn't bother me. I like to see the layouts come together to tell the whole story as an album, even if it's not an album with a particular theme. And I like finding that I wrote about something in 2005 and then again in 2008 and finding that the perspective has changed in some cases. That doesn't mean I am scrapping the same photographs in most cases, though that does happen sometimes too. I don't have any rules on getting certain photos scrapped or not scrapping a photo twice…if something sounds like a good idea, I give it a try. I really think much of the stress that we come across in our creativity is just that—created—and we have to find our own ways of getting past the barriers we build. The pages above are from an album I made about our trip to Iceland and they are a couple years old now and this album looks different than any of the rest I have made, but it is just perfect for me. Almost everything is in two page layouts, which has been a rarity for me over the past four or five years. (Pre 2002, I scrapped 95% double pagers. Just how it goes I guess.) Lots of empty space, but lots to look at too. The entire trip broken down into pieces of the story, from the reasons why I so wanted to go there to how we nearly crashed our rental car into a volcano. And colours that remind me of the place. Colour emotion on layouts is a huge topic for me…something for another day perhaps.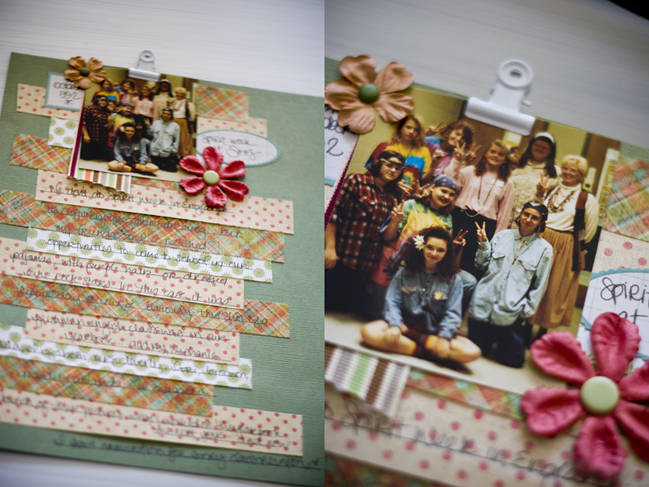 I don't have lots of photos from my childhood but I have enough to help tell those stories. They come from a variety of places—family who have photos, scanned them and emailed or posted them to me as a surprise, a box of photos I found when I cleaned out some of my old belongings on a trip back home—full of shots from my first days snapping on any camera with lots of finger-in-front-of-the-lens and overheated film snapshots, and a stack I rescued from the dark room of my high school yearbook. I always wonder how many scrappers were part of the yearbook committee if their school had one. It's very scrapbooky. I suppose putting those pages together on a combination of tiny little computer plus actual paste-up with spray adhesive and a giant light box…that must be early hybrid scrapbooking! Who knew? But that photo of a bunch of classmates dressed up for the ever-academic Hippie Day was one that had been in the yearbook then came back in a box headed to the bin. I didn't know what a scrapbook was then but I already knew I shouldn't throw photographs in the rubbish. (Amanda is probably going to fight me for these now. She would be the one with the gorgeous flower in her hair!)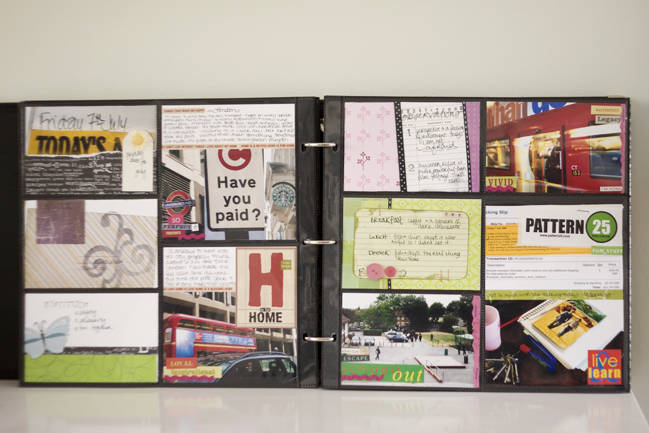 Interestingly, when I flipped through albums thinking about this, the pages with the most photographs are actually from Ali's Week in the Life class (there are details about this project in her Life Artist book as well). Everything you hear about making this album is true—it is positively divine and I love to go back and look at it. There are eight photographs on this double page spread and yet so much space for words as well. The album starts with Monday and this is Friday's page, and I purposely left some of the cards with very little writing that day because in real life that day was quiet and emotional. Other days that week were very, very busy and every bit of space is filled with words and pictures. Everything coexists in a very lovely way here, and it takes less time than I ever thought possible. This was the first week in July 2006. The same week in 2007, I took very different photos as I started to box up my classroom with my last few days teaching in a traditional school setting. The same week this year will include the final fitting of my wedding dress. So these pages make that interesting to revisit. Definite storytelling.
Alas, this has taken me all week to write, on and off! But it has been useful thinking for me, if quite lengthy for you to read.
Still much to update but we will get there, little blog. We will get there. We might even look at layouts that I made in the last twelve months. But that is crazy talk today.
xlovesx

Read more about:
09 May 2008

Next post: Also: we are both short.
Previous post: Observations