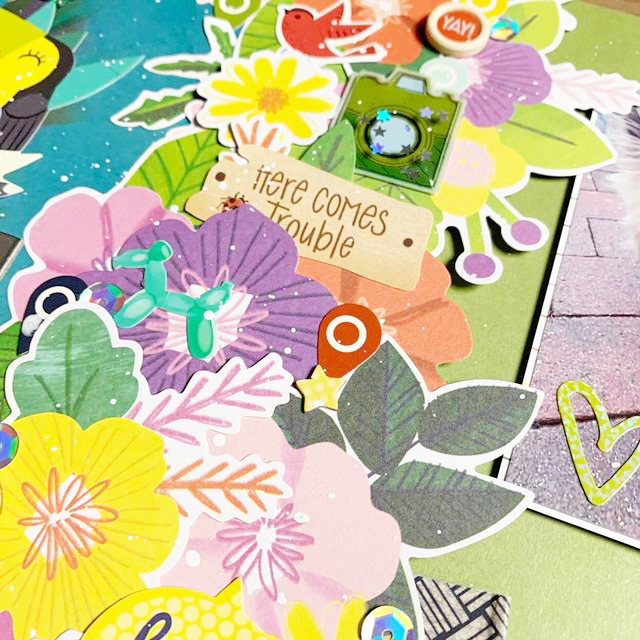 I scrapbook most days and generally scrap about the lives and adventures of my partner, my two best friends who I live with and me. But in January 2022, something very special happened – we adopted THREE dogs! They'd lived together their whole lives and were looking for a forever home. They're quite old and best buddies. So, Mick, Tom and I decided to go for it and they're now home with us. Chris, my partner loves to visit regularly – and the pooches love us all so much and have settled incredibly well.
So I now have a whole new topic to scrap – the dogs! We've nicknamed them "The 3 Pawmigos" and they really are best of friends. I wanted to create a layout that documented their new adventure and a page all about adopting them so I knew I'd want a lot of journaling and three photos – one of each.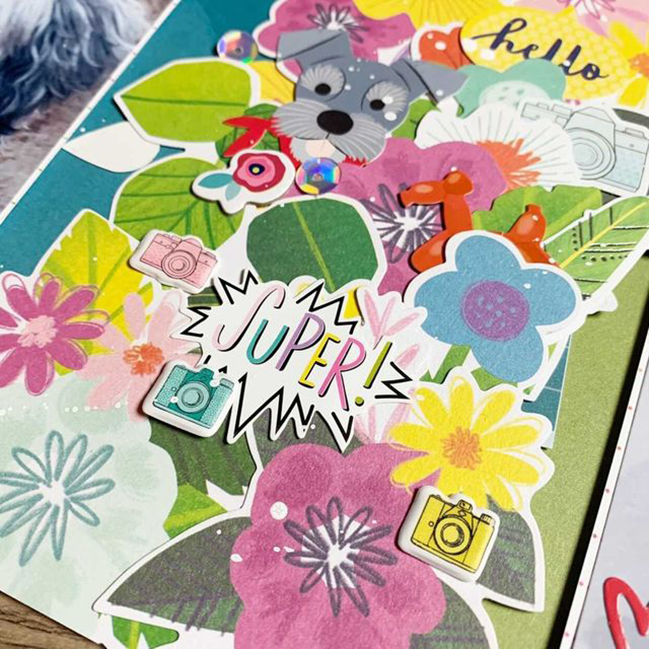 I decided to go with a superb Shimelle design – the half and half! But I wanted to do it a bit different and so I chose my two papers and then adhered them to white Cardstock but on the left, I only adhered the top, bottom and left side, leaving the middle free of adhesive. I then went about layering a ton of florals from Shimelle's brilliant Never Grow Up from top to bottom in the middle – being careful to only put adhesive on the left sides so it stuck to my left side paper but not the right side.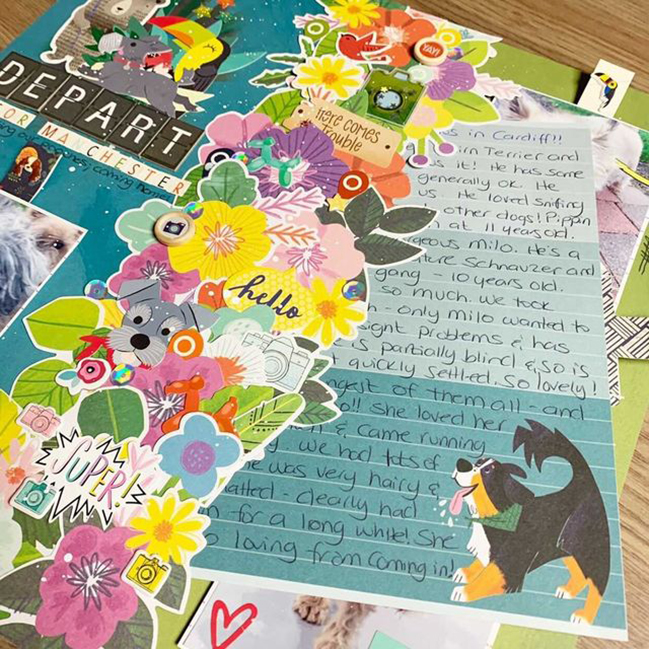 Once complete, I was left with a big 6×12" pocket, easy access and ready to hold my journaling! I used two sheets from Shimelle's Journaling Pads for my main journaling – two full pages – one documents them all individually and their characters and the other the tale of bringing them home from Cardiff, South Wales to Manchester, North of England.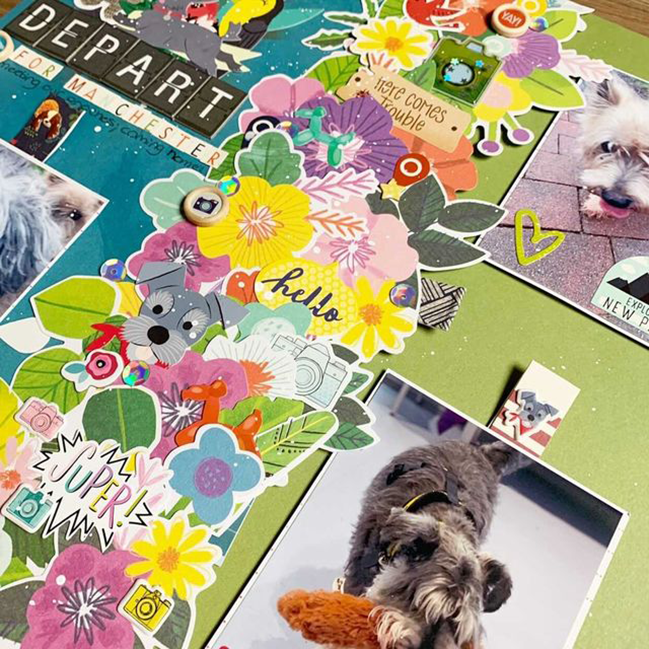 To make it easy to pull out the journaling, I added a stitched tag from Shimelle's Go Now Go collection – the perfect addition! Then I went about about matting my photos – each 3×4" and used some rainbow lined paper from the same journaling pads. I used foam tape around three sides of each photo to lift them off the page.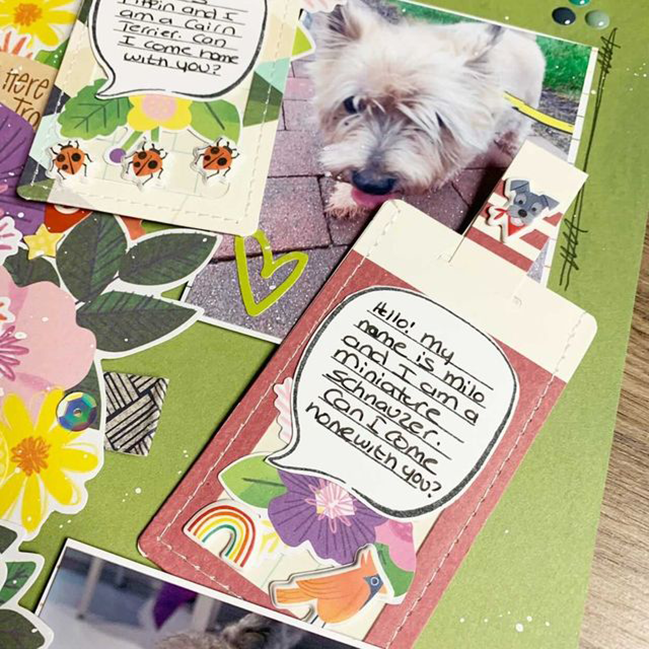 This then allowed even more journaling in the form of three more tags from Go Now Go and a hello from each dog! I also added a cute mini puffy sticker on each tag from Shimelle's Box of Crayons!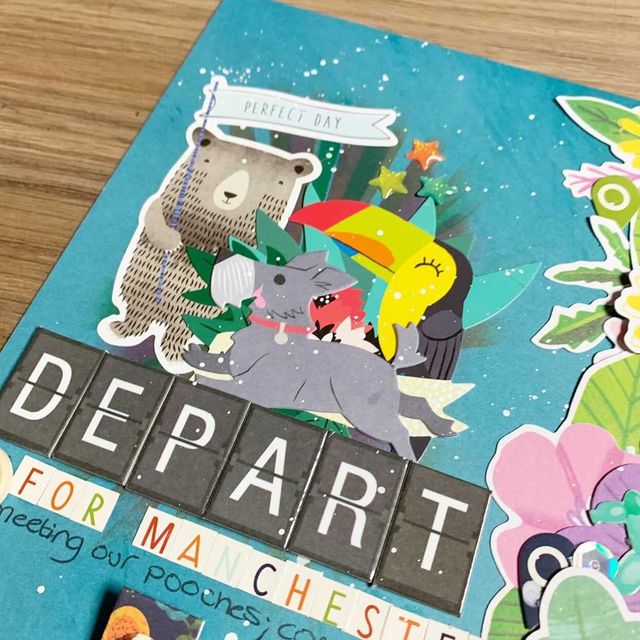 That left me with one quarter of my half and half grid design layout and I knew I wanted a title incorporating multiple words and the awesome travel board letters from Go Now Go. So I decided to use it as an embellishment area, starting with a stencilled sun burst (which I then proceeded to cover most of up, as we do!) and clustered lots of pieces from various collections and added my title – Departing for Manchester.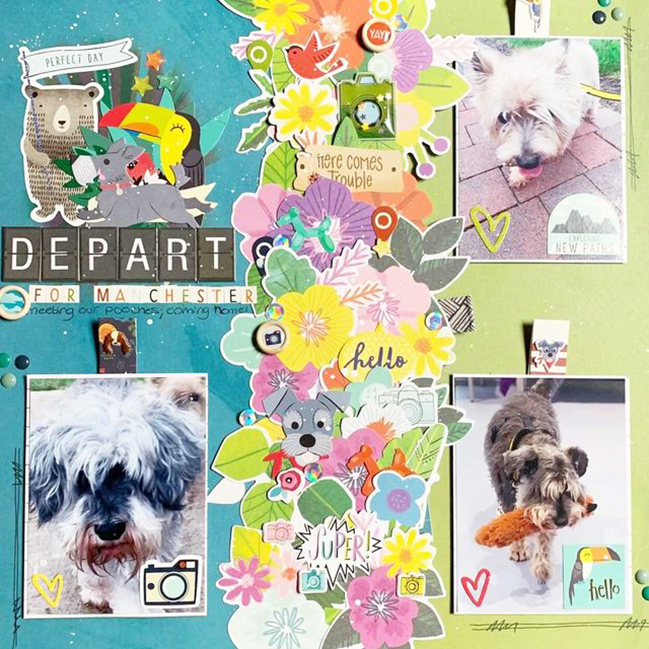 This layout was so much fun to create and was really important for me to document – those initial characteristics of our new furbaby's and how they got here to their new home. I also wanted this layout to be a celebration of my love for Shimelle collections. Because I started scrapbooking only a relatively short time ago, I missed a lot of Shimelle's collections but I hunted high and low to build up my huge box! Creating this layout, I used pieces (some more than others) from the following Shimelle collections: Never Grow Up, Field Trip, Go Now Go, Glitter Girl, Box of Crayons & Little By Little.
| | | |
| --- | --- | --- |
| Hi Scrappy Friends! I'm Adam, aka ScrappyAdam in the scrapbooking world! I've been scrapbooking almost three years now and it all started with an awesome Disney trip in 2019. Since then, scrapbooking has white literally consumed my life and is firmly a passion, a hobby – and now a job and I couldn't be happier. It quickly become a hobby to search for all the scrappy goodies and I quickly built up a good stash of goodies – including a huge box dedicated to the wonderful Shimelle! Since then, I've started my YouTube channel and quickly passed the first one thousand milestone and my passion for scrapping and the community remains so very much! I own Dotty About Flair, a small UK Based business selling 'flair' for the scrapbooking and crafty people out there. I'm also the face behind The Cut Hut, an exciting new venture for 2022 with Paige Evans and myself, bringing pre cut cut files from Paige to the UK and Europe! You can find me on Instagram and YouTube. | | |

Read more about: tutorials
30 August 2022

Next post: Use What You Buy: Let's Scrapbook with those Stencils!
Previous post: Using symmetry in Scrapbooking with Erika Breslin