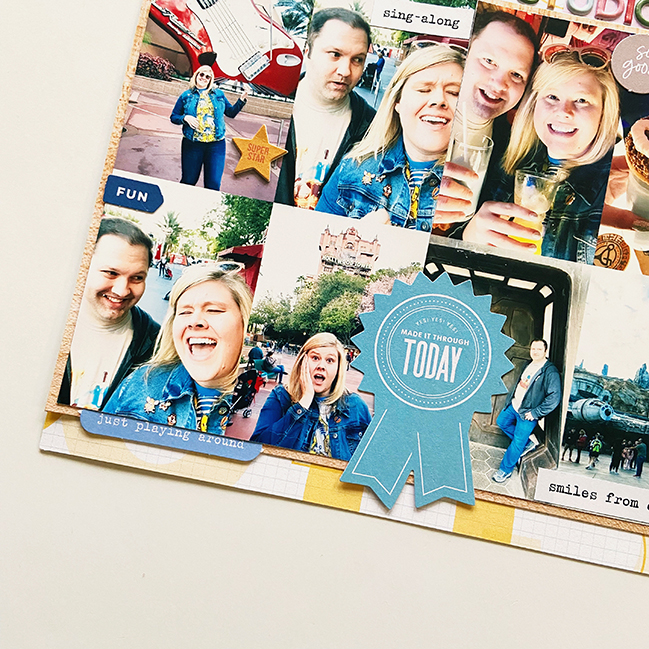 As someone who has been known to clock up hundreds of photos on a Disney Parks day, today's guest artist Tracey Fox is here to show me I don't need to make hundreds of single photo pages really. I mean I can, if I want to, but she's here to show exactly how multiple photo layouts can look cooler than cool. Amazing. Out of this world, even. And as usual: a reminder that supplies have affiliate links where possible and that makes all this possible. Thank you! -Shimelle
I almost always start layouts with lots of photos, but after that, the fun part is digging through my scrappy stash of products and finding just the right items to accompany those photos and help tell my story. And it's even more fun when those products all come from different collections and manufacturers! So much creative inspiration can come from the scrappy challenge of mixing and matching products. On this layout, I set out to document our experience at Disney's Hollywood Studios on our last trip to Walt Disney World in January of 2020. We did an extra early rope drop at the park to grab our virtual boarding group for the Rise of the Resistance ride, and we ended up packing so much in before lunch, it felt like livin' on the edge – both figuratively and literally!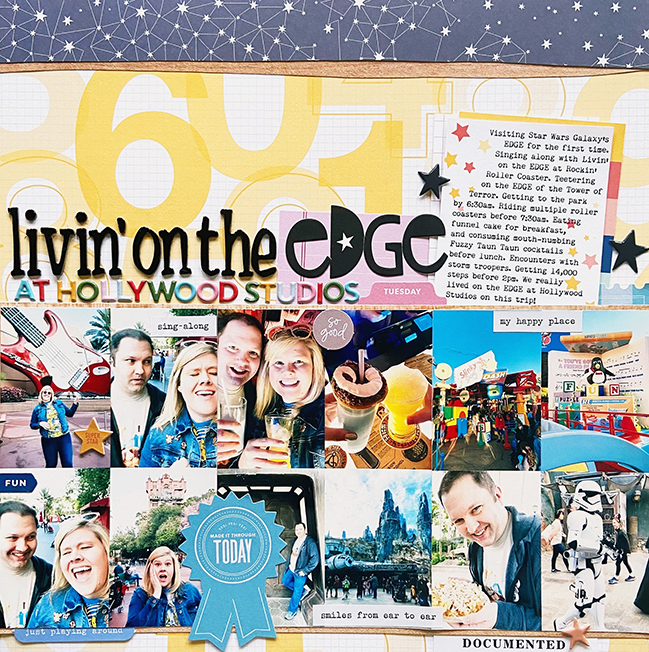 I gathered 12 photos from our intense morning at the park, printed them each at 2" by 3", and arranged them in a simple grid and stretched them in a band design across the page. This left me plenty of room on the page to play with paper and stickers. For the background, I selected a yellow, number-covered patterned paper from Pinkfresh Studio's Some Days collection. I keep this collection in a kit specifically for Disney pages, because its bold and bright colors and patterns remind me of the parks and go super well with my Disney photos and stories. The constellation paper I used along the top of the page is from Ali Edwards Design, Inc's Good Old Days kit. Starry sky patterns like this fit so well with Hollywood Studios pages due to the Star Wars theming! I also selected a light wood grain paper from Elle's Studio to back my band of photos and to include in the paper layers along the top of the layout. Choosing a large-scale pattern, a smaller-scale pattern, and a mostly solid neutral is a great formula for ensuring patterns can mix well on a page without competing.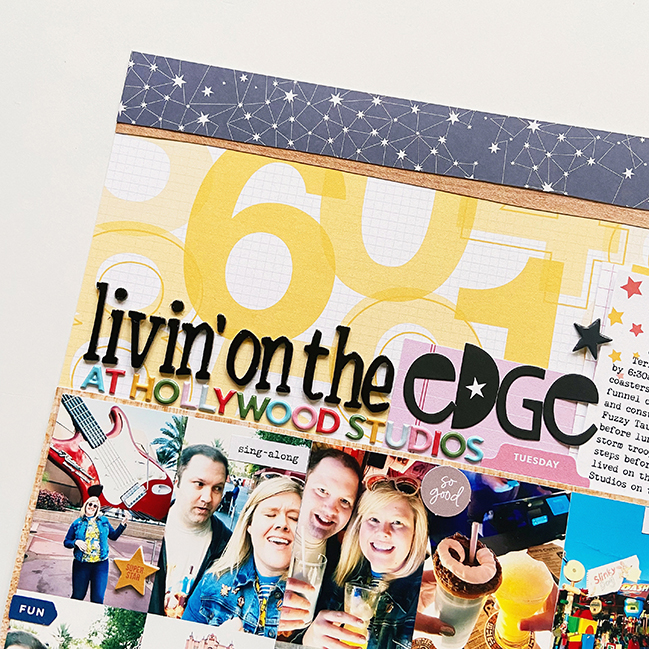 For my title, I relied on some super old chipboard Thickers from my scrappy stash and paired them with cardstock letter stickers from Bella Blvd and some smaller puffy alpha stickers from Pinkfresh Studio. Varying the size, texture, color, and style of the letters is a great way to add interest to a title, especially on a page that is all about experiencing a variety of fun things! After I added my journaling on a 3"x4" card by Elle's Studio, I finished embellishing the page with stickers and die cuts from various manufacturers.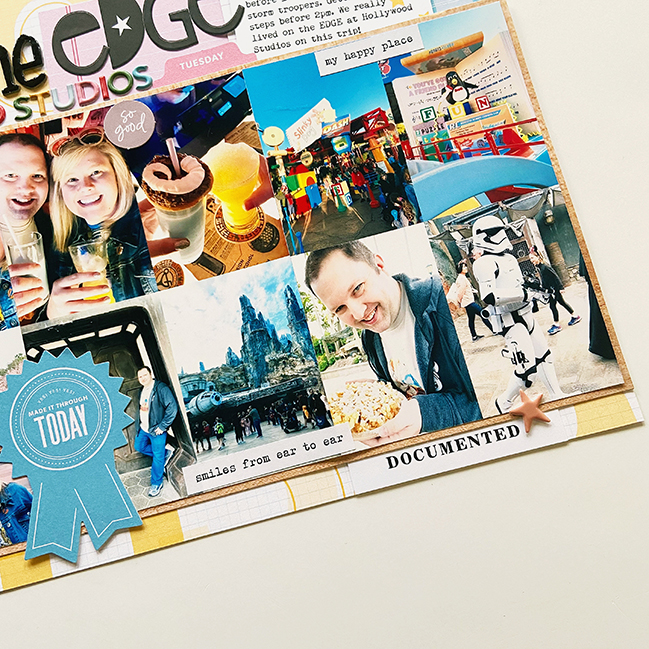 I pulled a few items from that same Pinkfresh collection where I got the background paper, grabbed some of my favorite go-to phrase stickers and past kit die cuts from Elle's Studio, and continued the starry theme with some shiny puffy star stickers from Crate Paper.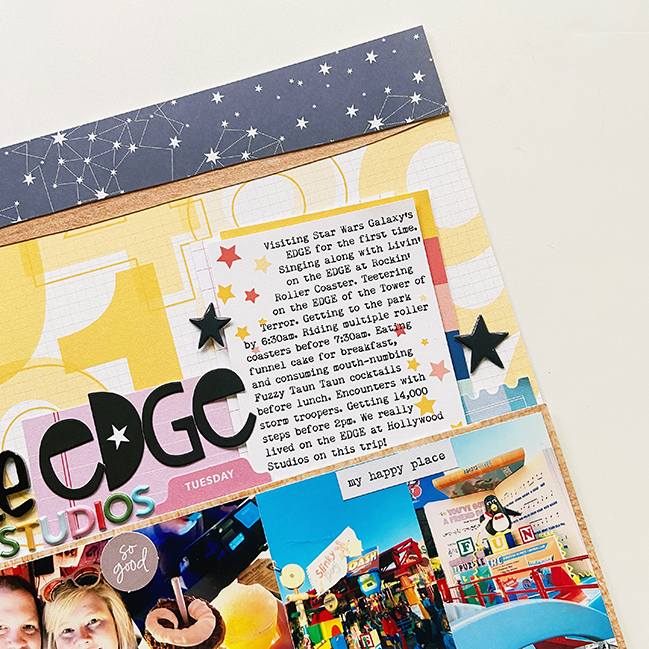 I really love how this layout came together and how I was able to let myself be inspired by the colors and themes from my photos to select products I already owned that worked together — regardless of how long I have had them or where they originally came from. While working with a single collection definitely has its benefits, like taking the guess work out of selecting products, mixing and matching helps you use up what you already have without shopping for new collections, and you can't beat the creative satisfaction of making it all work!
| | | |
| --- | --- | --- |
| Tracey Fox is a self-proclaimed "scrapbookin', feminist nerd" living in Ohio with her husband and cats. She has degrees in Music Education and Women's Studies and currently works full-time in data analytics for a large university. Needing something to do with her college photos, Tracey started scrapbooking in 2004 and has never looked back. Tracey is the host of the Scrappy Like a Fox Facebook group, and she has served on the creative teams for Elle's Studio, Freckled Fawn, ColorCast Designs, Paper Issues, and Feed Your Craft. She has also guest designed for numerous crafty companies and has contributed class content for The Awesome Ladies Project, Crafty Jen Schow, and Get it Scrapped. Find Tracey on Instagram,Facebook, or her website. | | |

Read more about: tutorials
11 August 2022

Next post: Scrapbooking Disney in a Travel Album with Jennie Ray
Previous post: Starburst Scrapbooking Inspiration with Niki Rowland