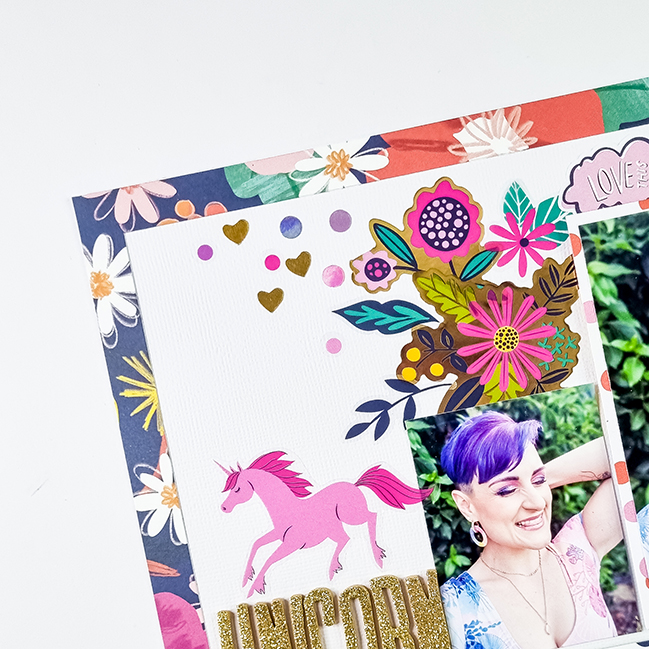 Happy Friday! Please welcome the fabulously colourful Ronelia, here to share a colourful project! As usual, supplies are listed with affiliate links.
Hello scrappy friends! Today I'm creating this 12×12 layouting using beautiful products from Shimelle. I love colour, it's one of the main reasons why I craft, I love playing with colour and tones and rainbows. My original plan for this layout was to follow my favourite colour scheme being pink, blue and purple (largely dictated by my colourful hair of course) but as you can see it turned into more of a rainbow layout, which is also a favourite colour scheme of mine.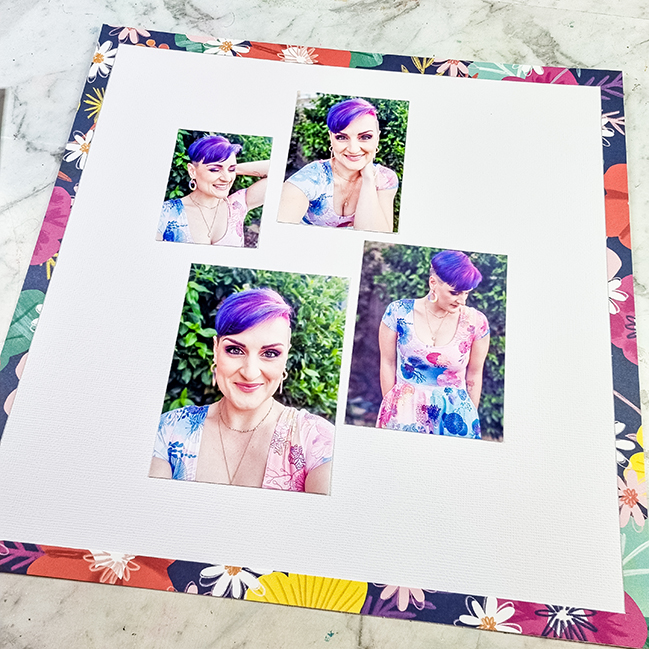 I started with adding a border to the layout using that lovely floral paper. I then laid out my photos in lopsided grid pattern and chose two of my favourite photos to mat on another beautiful Shimelle paper.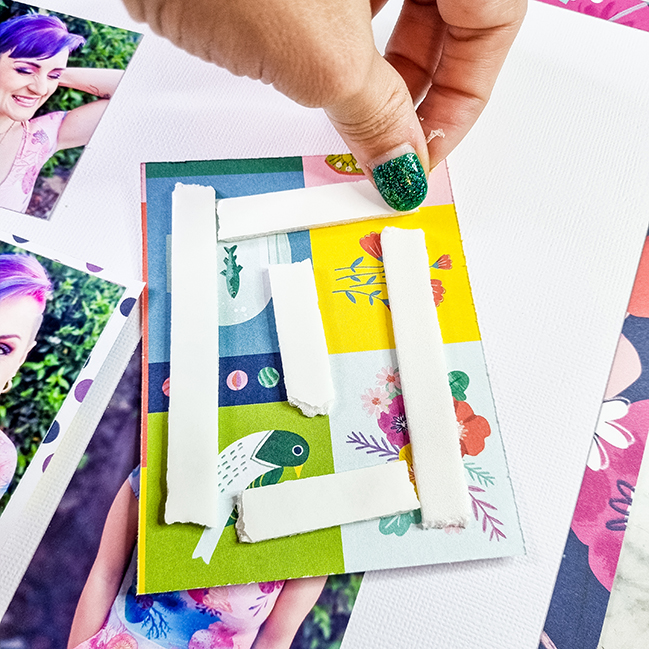 I added some dimension by propping those same two photos up on some foam tape.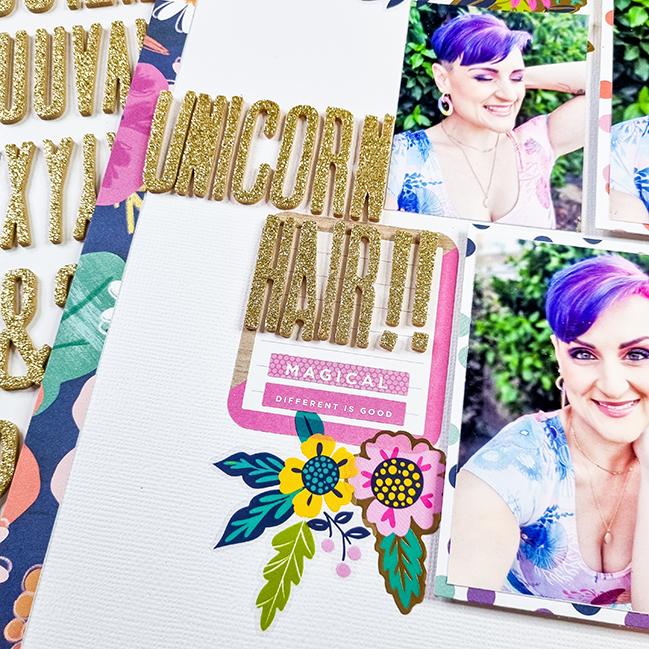 My original plan was to create a journaling spot on the left of my photo cluster but I decided that my title should go there instead. Those gold glitter thickers were so pretty and I love how tall and skinny they are, they allowed me to have a longer title in a relatively small space.
Then for the fun part… embellishing! I used Shimelle's sticker book and I wanted it to look like flowers were exploding from underneath my photos! If you know me then you know that my style is not exactly minimalist. I love to add ALL of the embellishments.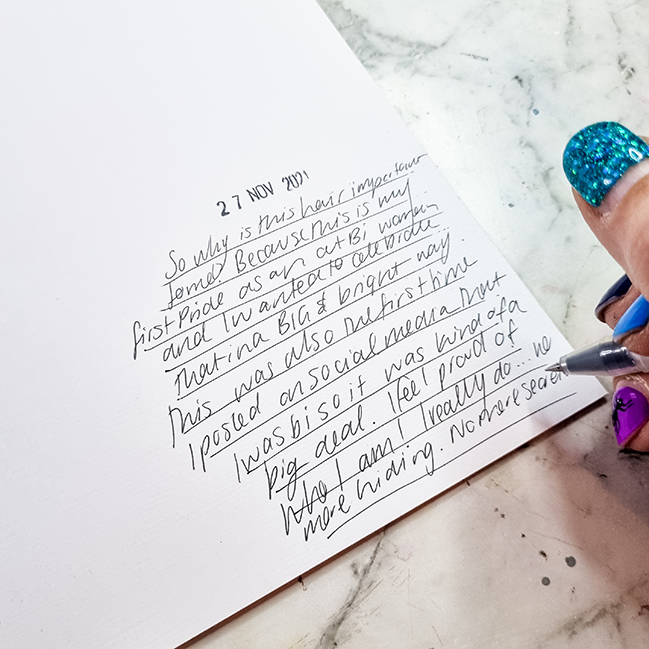 The story is a really important part of any layout for me. If I don't have enough space to tell the entire story, then I usually just flip the layout over and add more detailed journaling on the back (like I did on this layout).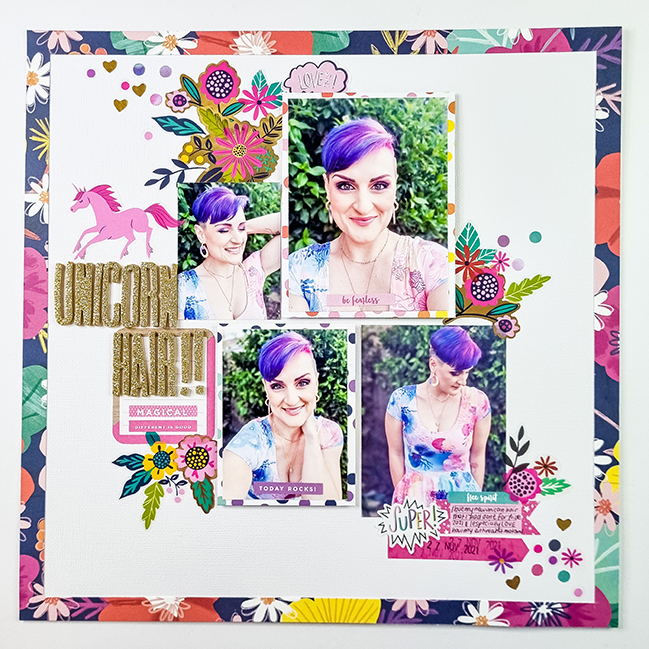 What I love about this grid style layout with a colourful border is that it can be translated into any size, from 6×8 to 9×12. You just need to adjust the size of your photos and maybe choose smaller (or fewer) embellishments.
I had such a blast putting this one together and I hope you enjoy the explosion of colour.
| | | |
| --- | --- | --- |
| Ronelia has been a storyteller and crafter for almost 4 years since the birth of her daughter in 2018, but has been a creative person her entire life. She still has her high school scrapbook in storage… somewhere. She crafts because she believes that telling your story is so important and she loves the treasured memories she has documented over the years. In her non-crafty time Ronelia works in artisan market organisation, supporting creative small business owners in selling their hand designed and handmade goods. You can follow her creative journey on Instagram. | | |

Read more about: tutorials
25 March 2022

Next post: Scrapbooking using Stencils with Brianna Lepper
Previous post: Scrapping & Making your own kit with Lauren Hender