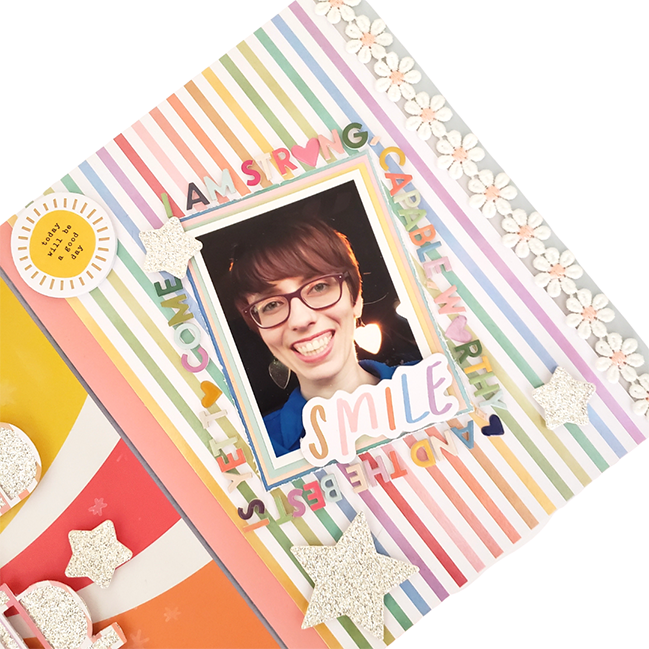 Ready for some more #scrapbookrainbows inspiration? How about a double page layout? Please welcome today's guest artist, MJ Magnuson! A reminder that supplies have affiliate links to make the guest artist series possible. Thanks for clicking through when you go shopping! -Shimelle
From my perspective, it doesn't get much better than rainbows! They are so essential to the person that I am, and I wanted to create a project that authentically felt like me. If you were to take a step into my wardrobe (which includes all of my colorful and most cherished scrapbook albums), you would see a bright array of clothing, shoes, hats, and all of the things that make me feel the most like me. I wanted to create that same vibe with this project!
Ideation is one of my favorite parts of crafting, creating, and even when working at my 9-5pm job. I started by laying out some of my most recently purchased rainbow sheets (including some notable patterned papers from the Fantástico collection from Obed Marshall and the Pebbles Kid At Heart collection), and then I just let my creativity fly!
However, I really wanted to strike a balance between adding "all of the rainbows" without it feeling too disconnected. I also LOVE using big bold cut file titles in my projects, and I truly believe that every page could use a little sparkle- so I backed one of my favorite Paige Taylor Evans cut files (which is saying a lot) with some gorgeous Diamond glitter paper from the Stamp Market.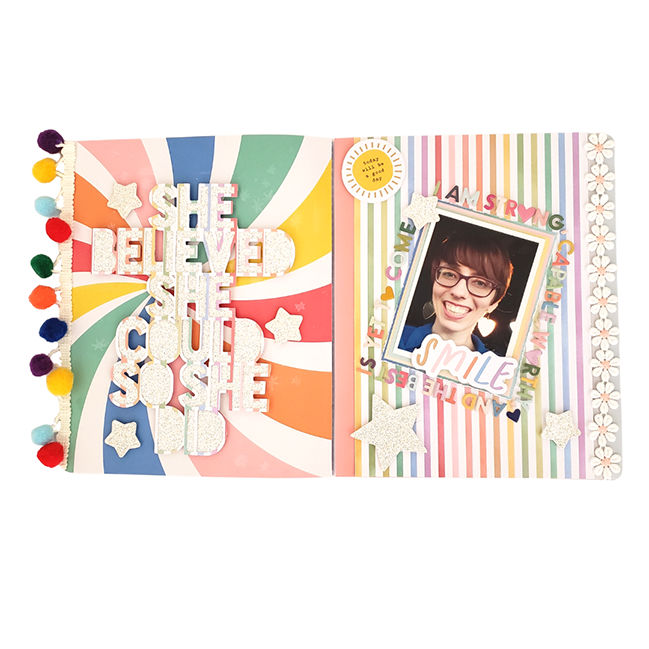 To tie the two pages together, I added a mix of star die cuts from the same glitter sheet to each of the pages and also used the same Pebbles background paper from the right page as the cut file border from the left page. I have been itching to use some pom poms and fabric strips in my crafting, so I added some rainbow pom poms to the left edge and a soft daisy strip of fabric to the right page. I really loved how this softened up the right page, as I knew that I wanted to create a title of rainbow letters on the right page (and I didn't want to pull too much focus away from the title). I added those colorful alphas, along with a fun mix of stickers, and then decided that this page was ready to roll!
The inspiration behind this page is a bit darker, despite the punch of rainbow that this spread packs. The photo was from my 30th birthday amid the pandemic, and I had recently lost my job. I wasn't going to let it get me down, though, and I made it a priority to go out and get some fun photos outside- socially distanced, of course ;) This photo was taken on the way back after being stuck inside for 8 weeks due to the pandemic, and after everything I had been going through during that time, this day felt like a burst of sunshine in the darkness.
Despite all of the fear of the pandemic and the uncertainty regarding my job situation, this was a great day. I used the cut file title and the alphas to serve as a reflection of the hope that I tried to invoke during this time, in the face of surmounting obstacles. Documenting memories like this is so important, and I appreciate having this photo and moment to look back on!
My biggest hope for creating projects like this is that it inspires other crafters to tell their stories. The tough ones, the fun moments, the goofy, or even embarrassing ones. YOU are worthy of having your stories shared, appreciated, and heard. Who you are deserves to be celebrated, and even if colorful rainbows aren't your jam- try using pastels or creating a cool monochromatic masterpiece. No matter how you create, you will never regret sharing pieces of yourself in your own crafting projects. I promise you that!
| | | |
| --- | --- | --- |
| You might know MJ Magnuson as @scrappygolucky on Instagram! If you're into all things rainbow, authenticity, and finding fun ways to tell your story, then join along with her crafty adventures on Instagram. | | |

Read more about: tutorials
26 April 2022

Next post: Hidden Journaling with Natsuko Suzuki
Previous post: Scrapbooking on a small scale with Cristin Howell