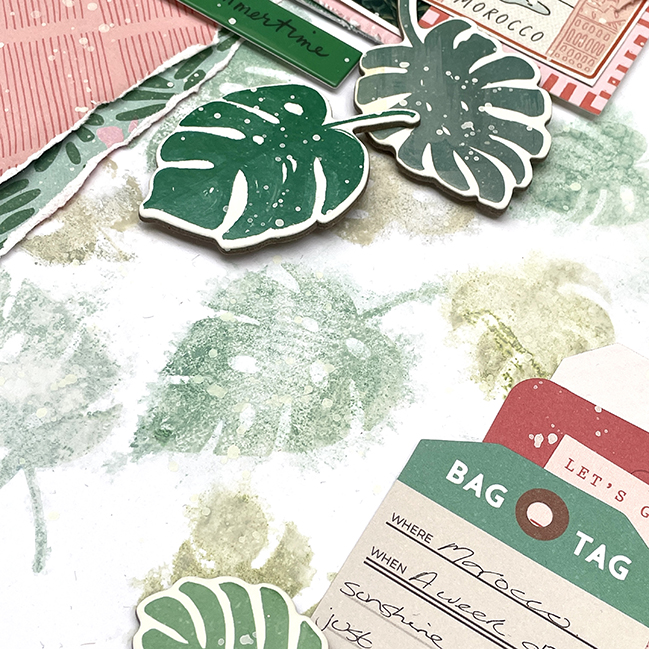 When you set out to make a new scrapbook page, what comes first: the photos, the story you want to tell, the products you want to use? Today guest artist Sheena walks us through a page she made by choosing the photos first and letting that dictate what she selected through her creative process. Sometimes I find it helpful to remember that the end result doesn't need to make this obvious: if one thing leads to another on your layout and you're happy with the end result, it's okay if no one else clocks whether you started with the photos, the words, or the products, or something else. Paying attention to your creative process can help each of us make more wonderful things, but those who enjoy flipping through the pages of our albums might just appreciate the final project, especially if they aren't crafty themselves. A little thought ramble for you today, but one that might ramble the right way for some of you as you work on the next project on your desk! Right, onto Sheena, with a reminder that supplies have affiliate links which make all of this series possible. Thanks! -Shimelle
Hello Summertime. This layout began with the photos I, which is not always the case for me, it could be the story or a certain paper, but these pictures of my Daughter are from our last family holiday in the winter sunshine in Morocco and I wanted to scrap them. Exploring the world is something we all enjoy, and I have lots of holiday photos from far and wide.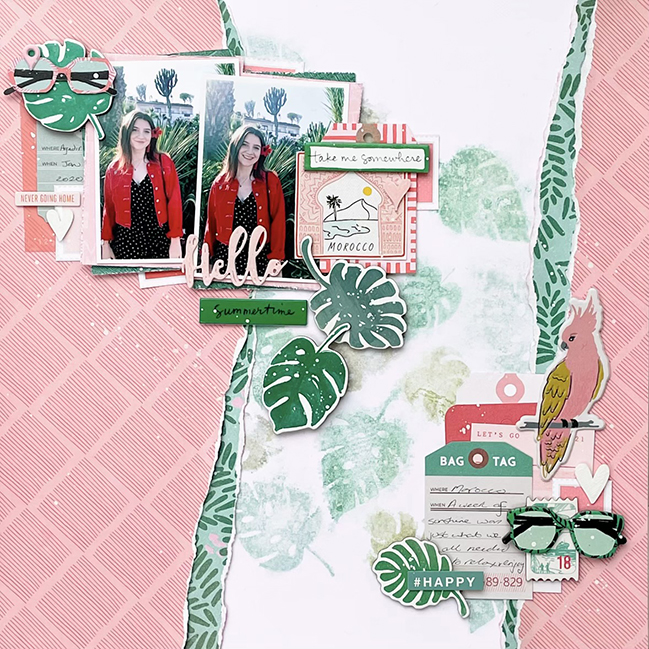 As I like to scrap our trips, I keep all travel type supplies together in my craft space so I can pull them out and make a start and this way the collections get mixed together and papers and embellishments get chosen more by their colour than the manufacturer. Taking my inspiration from the photos, I picked out everything in pinks, reds and greens. This layout features three different Crate Paper collections, some Pinkfresh Studio, and a Making Memories paper from 2008!
The background was easy to make using gessoed cardstock as my base. Then stamping onto it using four different Ink Oxides – Evergreen Bough, Iced Spruce, Speckled Egg and Bundled Sage using tropical leaf stamps in three sizes. The stamped images were sprayed lightly with water allowing the edges to blur creating a softer effect.
When the background was dry I added my torn papers and created the clusters, around the photos and my journaling on the tag, sticking with my colour combo and creating a diagonal line to lead your eye down the page.
| | | |
| --- | --- | --- |
| Sheena Rowlands is a UK mum to grown children, part time nurse, and lifelong crafter. Scrapbooking has been her creative release for over sixteen years and for the past twelve years she has also recorded her family's story using a Project Life format. She scrapbooks her family, travels, and furry grandpup. Her pages often feature machine and hand sewing, ink work, and clustering of embellishments. Sheena runs a small scrapbook embellishment business Sheenanigans and with two friends a retreat and workshop company Birds of a Feather . Presently Sheena designs for the Hey Little Magpie store and Just Nick Studio and have previously designed for shops, magazines and Shimelle. You can find Sheena on Facebook, Instagram, Sheenanigans. | | |

Read more about: tutorials
16 August 2022

Next post: Using Paper Scraps in Scrapbooking with Valeska Guimaraes
Previous post: Scrapbooking Disney in a Travel Album with Jennie Ray