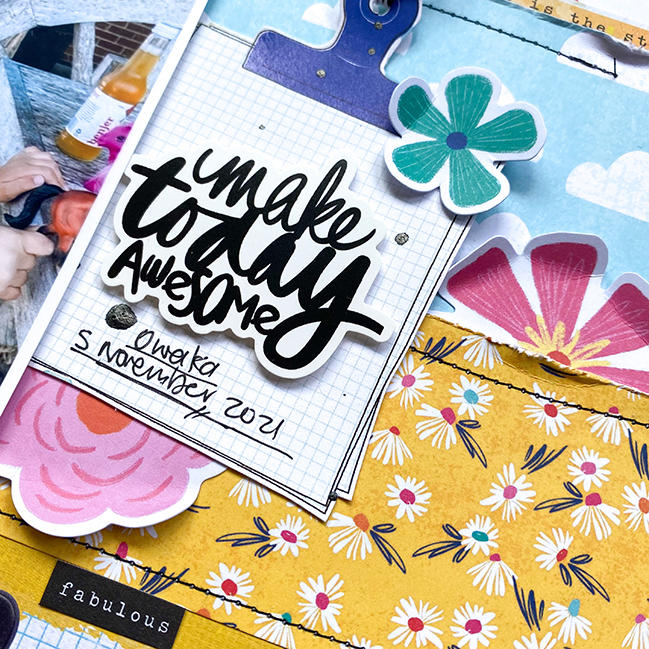 Hello again! Today's guest artist comes to us all the way from New Zealand, and she's bringing the pattern mixing love with her! Please welcome Melissa to the blog. Remember, supplies are linked with affiliate links where possible. Thanks! -Shimelle
I've always been creative but I started crafting when my now nearly fifteen year old son was eighteen months old. Like many I wanted to make a baby book but couldn't find a pre-made one that I liked. So I decided to start scrapbooking to create my own. It didn't take me long to get hooked, and I've been creating ever since. I used to say that my reason for creating was to document my four children's memories, but it's evolved into so much more than that! I love the process of creating, I love to journal the story behind the photos, and I adore the beautiful products! It's the one hobby I've stuck with and I love looking back and seeing how my style has evolved over the years.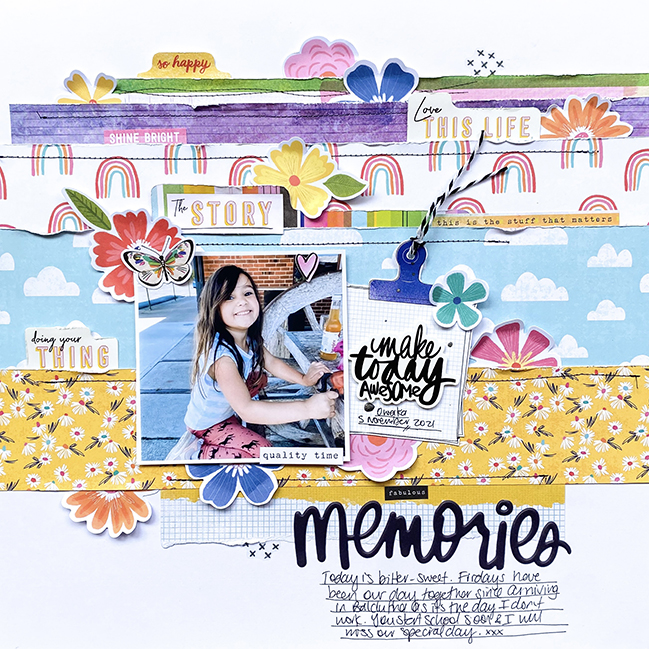 For this layout I decided to mix my two favourite collections of 2021 – "Sunkissed" by Cocoa Vanilla Studio (who I'm blessed to design for) and Color Study by Vicki Boutin. Both collections are bright and fun, but mixing them was a little challenging because Sunkissed is very clean, and Color Study is more distressed. In the making of this layout I was totally inspired by the cut-apart piece from Color Study with "The Story" tab. I wanted to feature this, and also lots of other patterned papers (which are always my favourite product)! I selected papers from both collections, distressed the edges and layered them up. I machine stitched with black thread to add extra texture and interest. The mix of beautiful papers already made this a visually busy layout, so I limited my embellishment to tab stickers, word phrase stickers, a fussy cut clipboard with twine, and ephemera flowers that I tucked under my layers.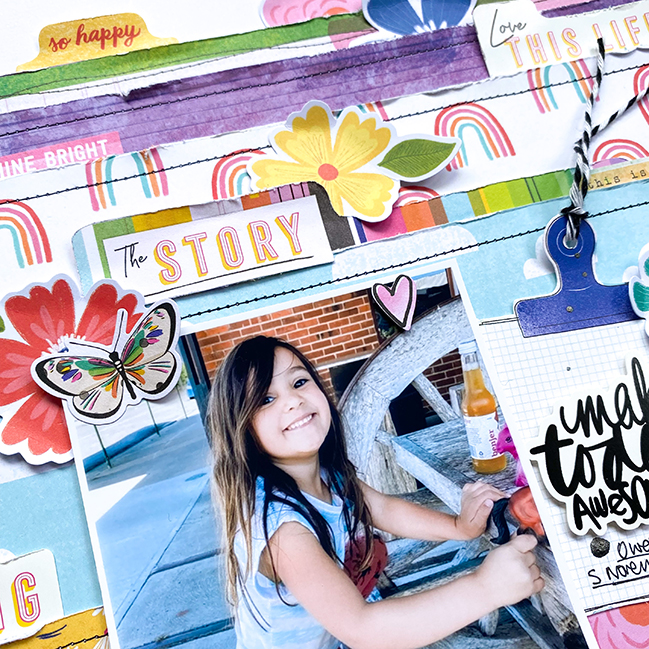 My photo is of my youngest daughter Ava (now five), but I took this photo just before she turned 5. The journaling is about how bittersweet this day was because it was one of our last Fridays together before she started school. I love that I have this moment captured and my feelings recorded. They grow up so quickly!
To recreate this layout let the paper inspire you! In order to mix collections, look for a similar colour palette, which in this instance is bright and happy summer colours. Layering papers horizontally is a great way to feature lots of your favourite patterns. The layers then enable the tucking in of embellishments which makes the layout more interesting! The white borders on the Sunkissed flowers help them to stand out, and by cutting them in half I get more use from them! Don't forget to keep a space for your journaling, and capture not only the details but your feelings about the photo.
| | | |
| --- | --- | --- |
| Melissa Vining is married with four children and from New Zealand. She has been scrapbooking for over thirteen years now, and predominantly creates traditional 12×12 layouts, but also Traveler's Notebooks and mini albums. Her favourite memories to document are moments from everyday life. She loves hand and machine stitching, cut files and dabbleing in mixed media. See more of Melissa's work on her Instagram feed. | | |

Read more about: tutorials
12 April 2022

Next post: Rainbow Lettering & Cut Files with Melinda Sweetman
Previous post: Creating a Scene with Anna Komenda