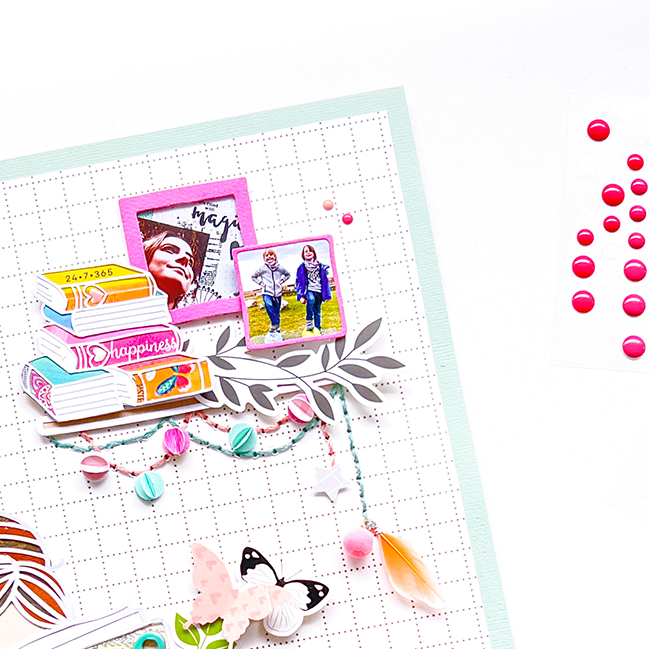 Welcome back! Please say hello to guest artist Michelle Crela, who has created a work of art using cut files, embellishments, and photos to tell the story of who she is right now. Such an interesting topic to consider: what motifs would you put on the page to scrap your own personality at this moment in time? -Shimelle
Hi crafty friends! Sometimes it's good to slow down a bit and allow yourself a moment of self-reflection. So I took a short creative time out and created a self-portrait. It shows me, in my little creative world, away from the hustle and bustle, away from Covid and everyday life. It shows me, in happy moments, inspired and creative. Because that's me. Surrounded by loving people and incredibly many pens, colors and creative chaos. In thought already at the next book, the next trip, the next creative project. This layout shows you me as I am, as a creative free spirit, book lover and coffee junkie.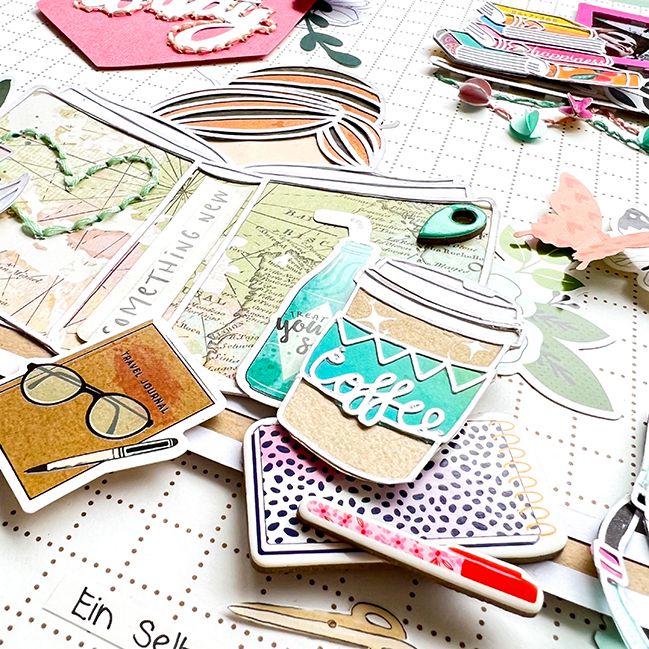 I designed this layout in my favorite colors. Although I usually like to work on a plain white background, I wanted a little more texture for the wall behind my back – it symbolizes my peg board where I pin creative ideas, notes to myself and also keep my pens, brushes, notebooks and more. To create the layout, I used different cut files. I just cut everything that suits me and inspires me without worrying too much about how it would all fit together. During the design, I then focused more on what is really important to me and found a way for it to fit together. It relaxes me immensely in my creative process to first have a large selection of options for my page.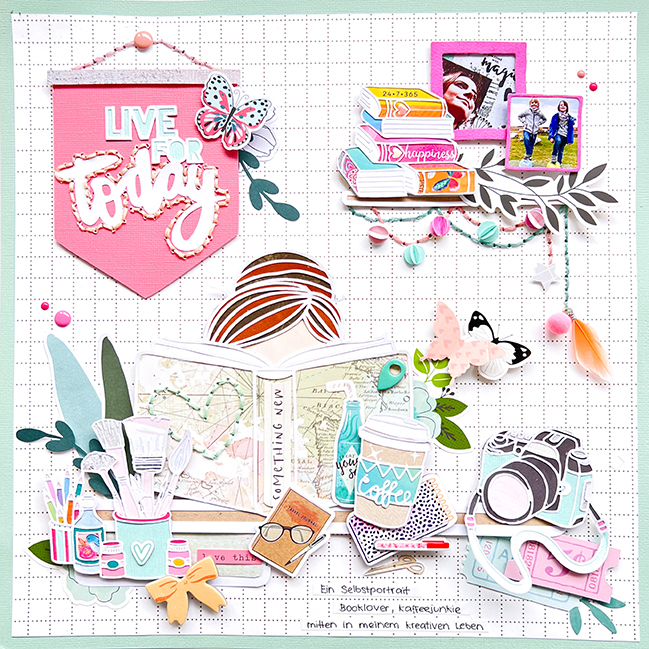 I started with the cutfile of the girl with the book. I think that fits me perfectly. I backed the cutfile with the matching papers and took the artistic liberty to give my hair beautiful copper highlights, since I could not keep my hands off the shiny paper. In real my hair is also highlighted, but unfortunately not so beautifully shiny.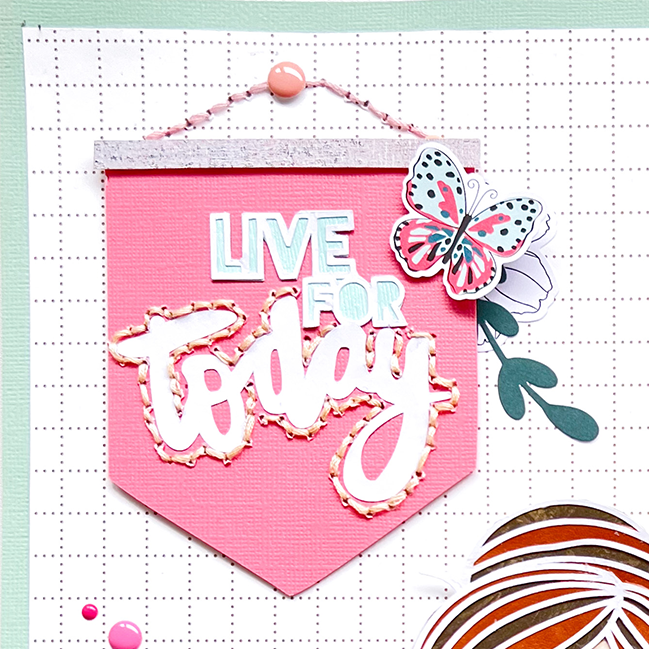 Then I backed more cut files with colorful papers: the tins with pens and brushes, paints, the books. My coffee and my camera must also be there in any case. As a title for my layout I designed a banner with a text that I want to keep in mind for my creative year 2022. To live a little more in the moment. Not only to plan for someday. To enjoy everyday life, regardless of whether it is sometimes a bit hectic and chaotic.
Before I subsequently arranged the individual elements on the paper, I added hand-sewn details in various places. Mainly because I find it relaxing to sew on my layouts and because it adds more texture to my layout. I like my layout to be full of details, textures, and colors.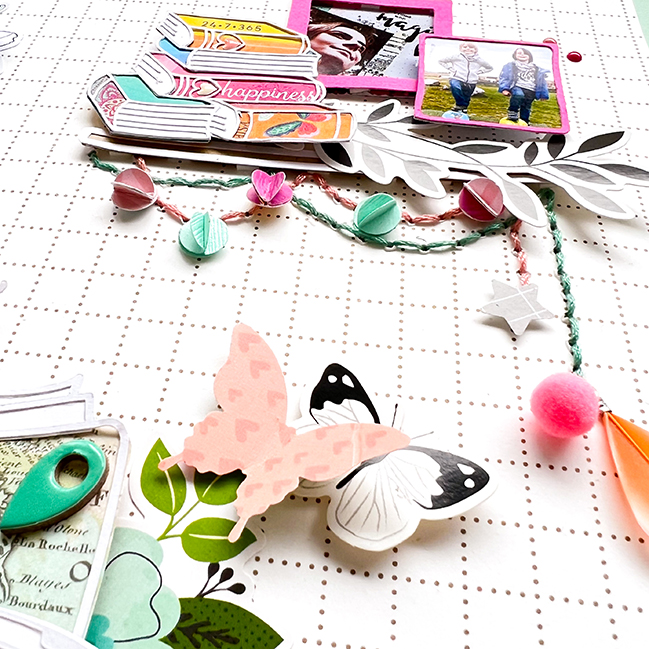 Another thing that adds a little texture to my layout are the little balls on the garland, the real feather and the real fluffy ball. While I bought the charms as they are and sewed them on, the little paper balls are quite simple things I made myself. To do this, I punched out a circle 4 times with a paper punch. 3 circles I have then folded and glued together on the fourth circle. I framed my photos by punching out the frames with metal punches and then placed them next to my books on the shelf. After arranging and sticking the main elements on my layout, I then grabbed various stickers to complete my layout. Again, I made sure to surround my designed me, with things that I like.
Have you ever thought about taking a moment to reflect on where you are in your life? To appreciate what you have and just become aware of how many possibilities are open to you? Maybe you'd like to do the same and create a self-portrait that shows you. It is a very nice feeling to simply sketch yourself and enjoy the moment.
If it appeals to you, I would be incredibly happy if you want to share your self-portrait with me. If you post a moment-in-time page on Instagram, please tag me @Michelle_Crela so I can see!
| | | |
| --- | --- | --- |
| Currently serving on the design team of Hip Kit Club, Michelle Crela has previously worked with My Creative Scrapbook, Scrapbook Werkstatt, and others. She enjoys trying new techniques and products and sharing her insights with other like-minded people. Find Michelle's ideas for techniques, minibooks, and scrapbook pages on her Instagram, where she looks forward to meeting you. | | |

Read more about: tutorials
21 July 2022

Next post: Starburst Scrapbooking Inspiration with Niki Rowland
Previous post: Creating with Connection with Sarah Millerhouse