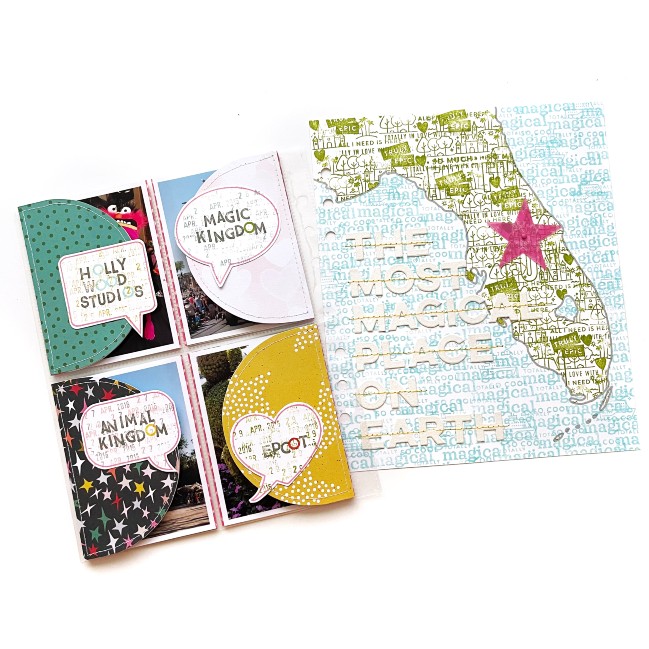 Happy Friday, friends! In a week with ideas perfect for projects with lots of photos, I would love for you to see this oh-so-clever paper contraption beautifully created by guest artist Jennie Rey! -Shimelle
Hi friends, Jennie Rey here! Like Shimelle I love love love everything Disney! I've been to Disneyland Paris quite a few times and in 2016 a dream came true when I was able to travel to Orlando, Florida, to go Walt Disney World with my husband and daughter. I can still feel the excitement we felt when we finally drove through the gate and entered the most magical place on earth!
When looking for inspiration on documenting a Disney trip you quickly end up on Shimelle's blog! I love her use of bold colors and combining different patterns and I decided to challenge myself to do the same and I really like how it turned out!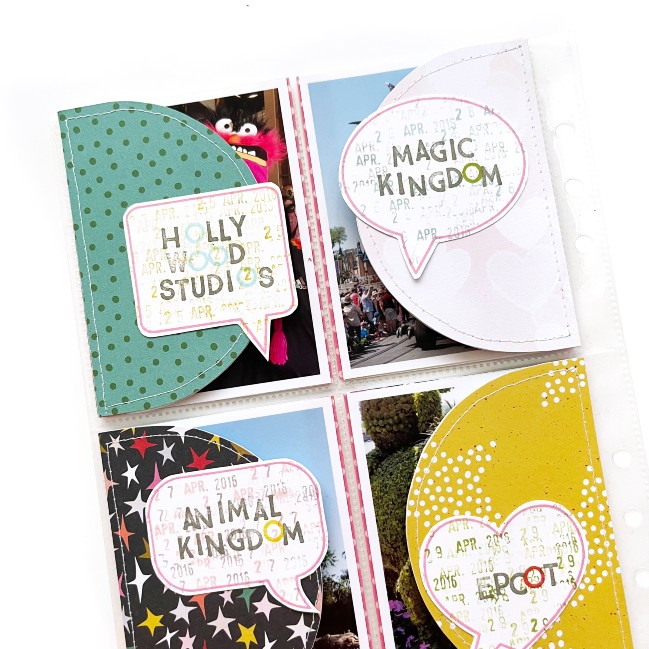 I've documented my two trips to Florida in four (!) 6×8 travel albums but I also wanted to include my love of everything Disney in my Stories album so I made a 6×8 spread about our visit to the four main parks. A little problem with documenting Disney is the number of photos you come home with.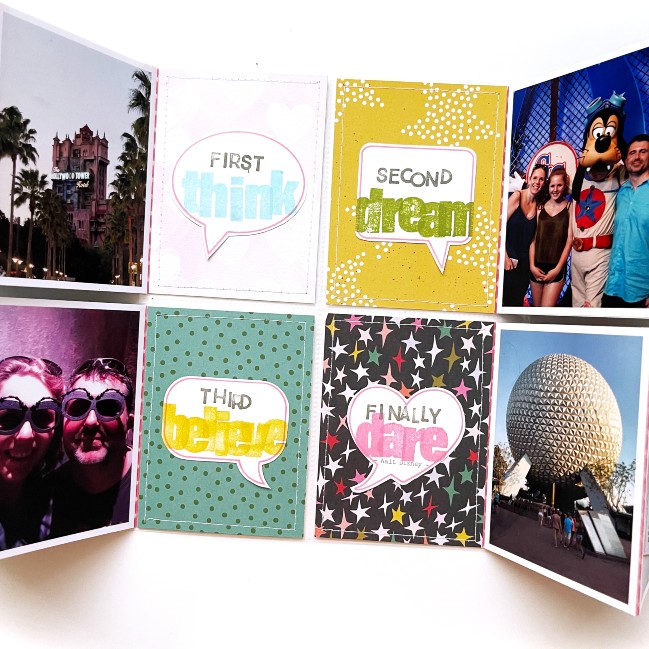 To be able to include a little bit more I decided to make a little mini-album flip-out per park and just stick it to the outside of the page protector.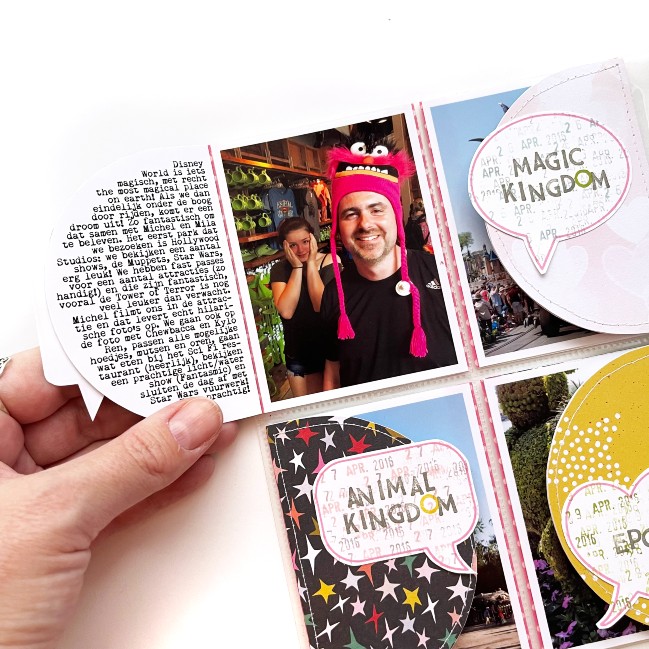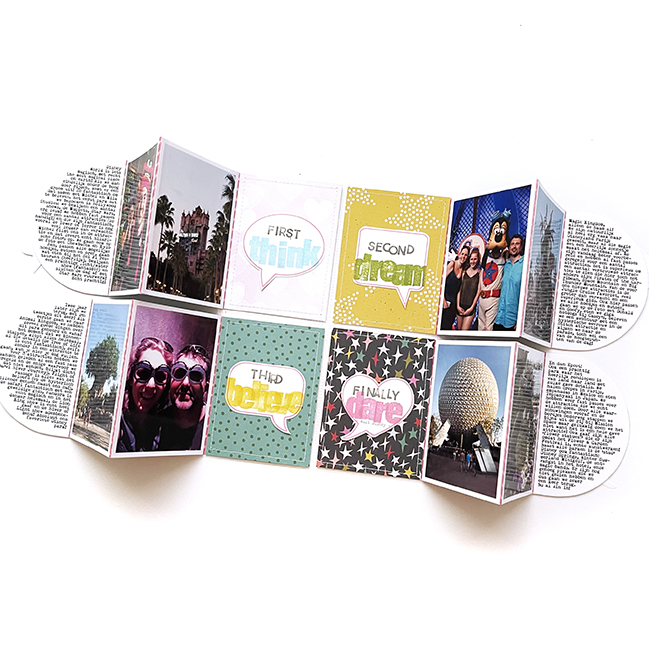 For the mini-album flip-outs I've used two 3×4 pieces of patterned paper, 4 3×4 photos and a piece of white cardstock for my journaling. I cut one of the 3×4 patterned papers and my journaling card in a half-circle and attached all the pieces together using washi tape. I stitched around the edges of the patterned paper pieces, just for some texture. I stamped the names of the parks inside a speech bubble (and also repeat-stamped the date) and added those to the front of the flip-outs. I also used speech bubbles spread over 4 3×4 cards to stamp a Walt Disney quote.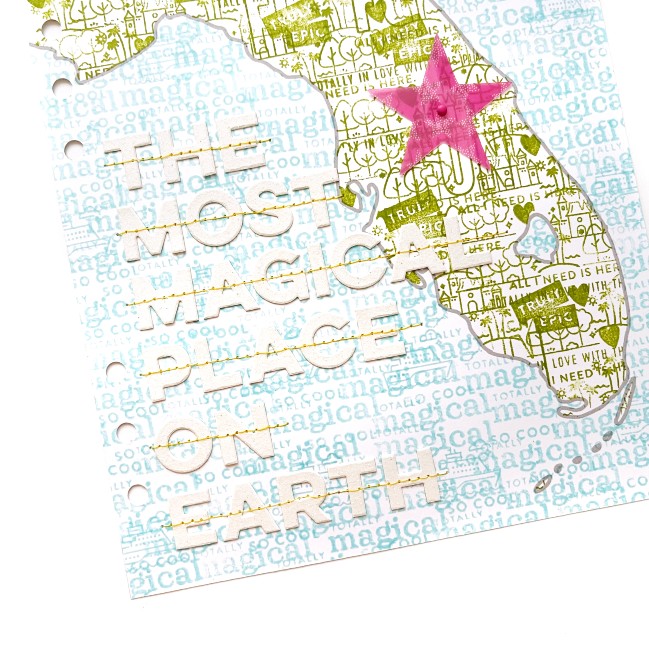 For my right side page I found a map of Florida on the internet and traced it in Procreate on my iPad. I printed the map on regular paper and cut out the Florida piece and used it as a mask so I could repeat-stamp to fill the water part. I did the same with the land part using another color. I added a title using cardstock alphabet stickers and stitched those onto the page and lastly, I added a star to the map to mark the location of Disney World!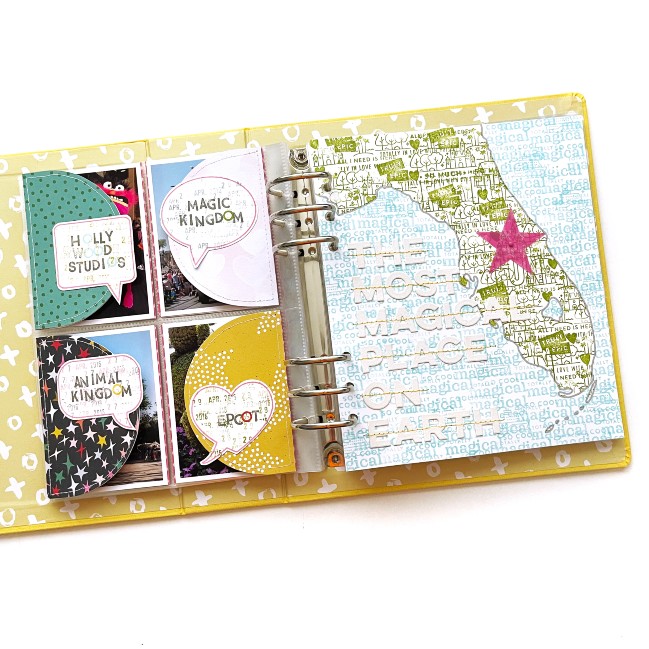 | | | |
| --- | --- | --- |
| Jennie Rey is lives in The Netherlands. She has been married to husband Michel for twenty-three years and they have two children who are now adults. Hybrid scrapbooking is Jennie's favourite thing to do and the hobby has kept her grounded through the last few years of unpredictability. Jennie is a member of the Ali Edwards Creative Team and loves the December Daily and Week in the Life projects, and also enjoys documenting her travels and her family's daily life. Check out Jennie's class on hybrid scrapbooking via Ali Edwards or find her work on Instagram. | | |

Read more about: tutorials
12 August 2022

Next post: Scrapbooking from the photos with Sheena Rowlands
Previous post: Scrapbooking Multiple Mini Photos with Tracey Fox