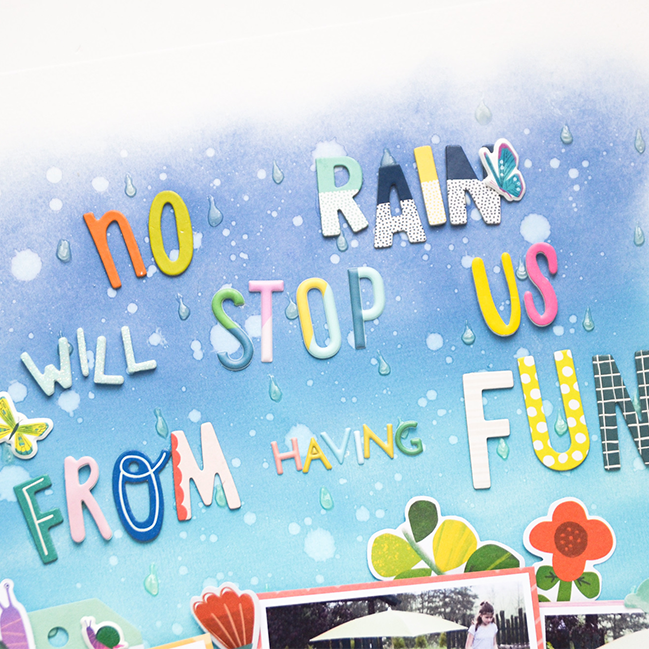 Happy Tuesday friends! Please welcome today's guest artist Anna, who joins us from Poland! And of course a reminder that supplies are listed with affiliate links that make all this possible. Thanks! -Shimelle.
We have this saying in Poland that "dirty kids are happy kids" and it totally applies to my daughters. We live in a city but we are lucky enough to have a grandma at the countryside, where girls can run barefoot, catch butterflies, make sand pies and just enjoy being kids. Nothing can ruin the fun – even rainy weather! One day it was raining few hours but they wanted to play in mud so much, that they just took beach umbrella and spread it over the sand pit so they could play with their heads dry. It all ended up with running in the rain. I, of course, as a mamarazzi, was totally prepared with my camera and I snapped some photos safely hidden under the roof.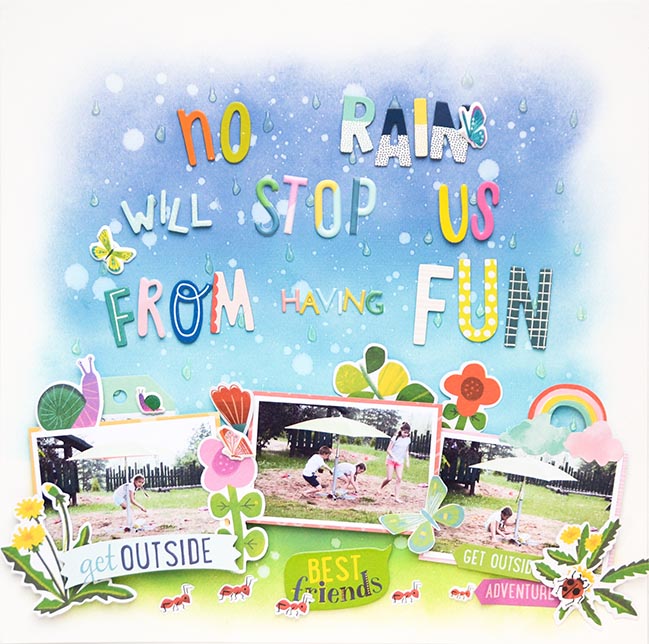 It was time to finally scrapbook those photos. I used just the perfect collection – Shimelle's Never Grow Up line from American Crafts. I was so excited when it was revealed while ago as I was sure it will be great for all our countryside adventures. It's full of colors and fun motifs that my kids can totally relate to.
However I had to add my own special touch by making the background. It was quite a simple process with blending some Distress Oxide Inks onto the background creating sky and grass. I then splashed it with clear water to make it look like it is raining. Last step was to add clear Pops of Color in a shape of raindrops. After everything was dry I made a composition out of photos and some ephemera pieces. Final step was to add title on the sky with a mix of various alpha stickers. It turned out colorful and fun. My journaling is hidden under the photo, written of the tag that can be pulled out. I like to keep it hidden as I am not a fan of my handwriting.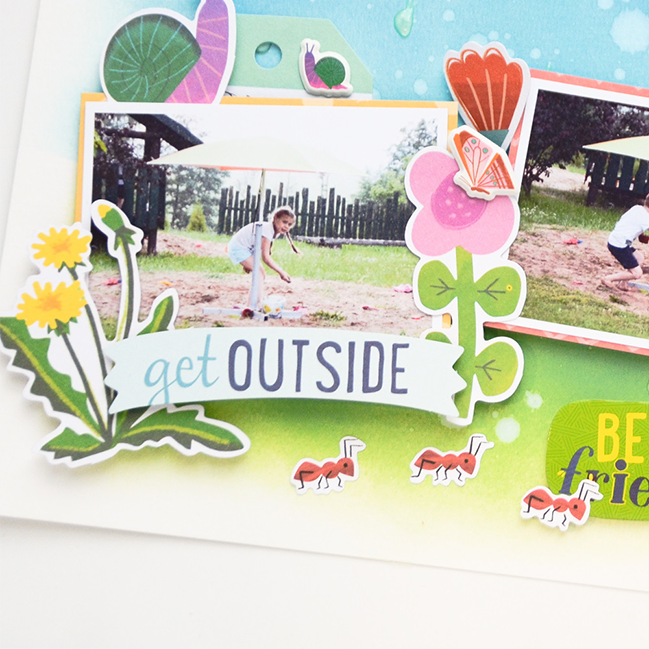 This page can be recreated in many ways with the sky and grass in the background. You can skip the rain and make a layout about some outdoor activities of your kids. You can also change the scene and add more layers with mountains, forest. Change the colors for winter fun in the snow! All the techniques will still be the same, just the motifs used will be different. Simple designs like this gives you so many possibilities. Colorful title is an embellishment of it's own so I highly encourage you to try making one.

If you'd like, you can watch my video on how I made this layout, over on my my Youtube.
| | | |
| --- | --- | --- |
| Anna Komenda started scrapbooking in 2009 as a way of documenting her new adventure – becoming a mom. It quickly grew into a bigger hobby. She discovered her passion for mixed media and painting incorporating them into layouts and albums. Scrapbooking became a very important part of Anna's life. She started sharing her knowledge by teaching live classes and creating her own YouTube channel. You can follow Anna's work on Facebook, Instagram and blog. | | |

Read more about: tutorials
05 April 2022

Next post: Combining Scrapbooking Collections with Melissa Vining
Previous post: Scrapbooking using Stencils with Brianna Lepper