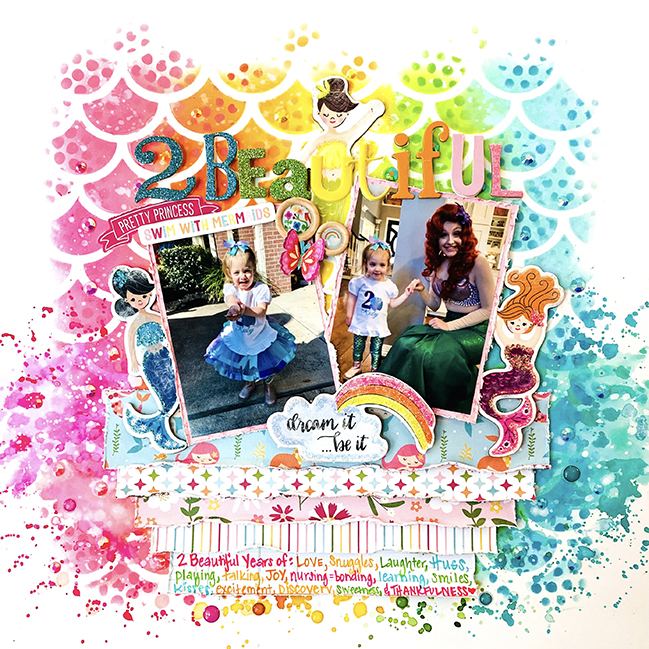 Oh bright and beautiful rainbow colour! Guest artist Sarah Millerhouse is here today to share her rainbow-infused take on scrapbooking mermaids and birthday celebrations. Sarah has included detailed notes on the supplies she used, so those have affiliate links for you if you see something you'd like to add to your cart. I hope you're having a crafty and colourful day! -Shimelle
For me, creating is about connection. I started scrapbooking when I was in high school because I wanted to remember the details and how I felt about the world at that time in my life. My work back then looked very different, but the goal was the same. I wanted to leave something behind that told my story. When I create a page now, it is usually always focused on making sure my kids and my husband remember their story. I want them to know that they are so very loved and that I have cherished and relished in every minute we have spent together. Because I lost a parent at a very young age, I have a need to document my days. It is important to me that if I were gone tomorrow, my family would have a legacy of love and photos and words to look through that would leave no doubt in their mind how I felt. I also believe that, through my pages, they are able to see who I am. As cheesy as it sounds, my pages are a reflection of my soul. The colors and layers and textures reflect who I am. When I create, I work and work until my page feels like me. I have a connection to the photos I use and every fine detail in each and every project.
For this layout, I wanted to reflect how I felt about the day we celebrated my sweet girl turning two. It was a day full of fun, laughter, the people we love, and the colors of the ocean! I used Foundations mixed media paper and started with the background using a large format stencil to create mermaid scales.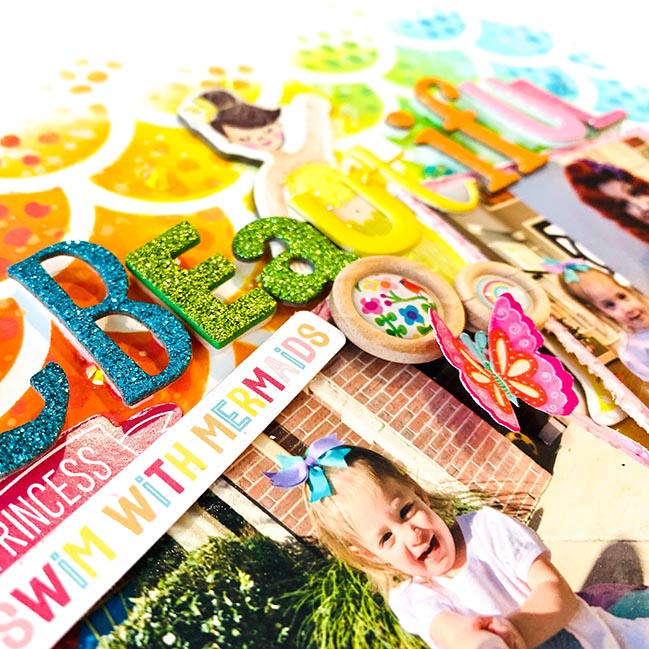 I added Distress Oxide Inks with an ink blending tool to blend the colors on the paper in rainbow order. While the scale stencil was still on the page, I laid another stencil, by Tim Holtz, over the top of that to an additional layer of visual interest. I used the same ink blending tool, but I applied more pressure to get darker pigment through the top stencil.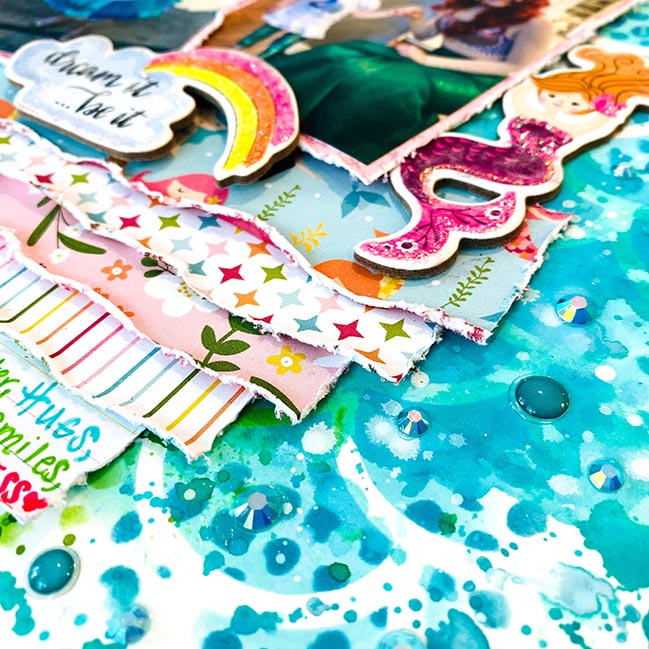 Across the bottom third of the page, I layered on Distress Inks in the same colors as the oxides to mimic water and the reflection of a sunset on the water! Once those inks were dry, I added splatters of white acrylic paint. By adding this layer of color across the page, it provided a place for my photos and embellishments to rest on the page. On top of the distress inks, I added a few strips of patterned paper, from the All Girl collection by Echo Park, in descending lengths. I distressed the edges of each strip and glued them only at the top so that I could bend them up to add even more texture.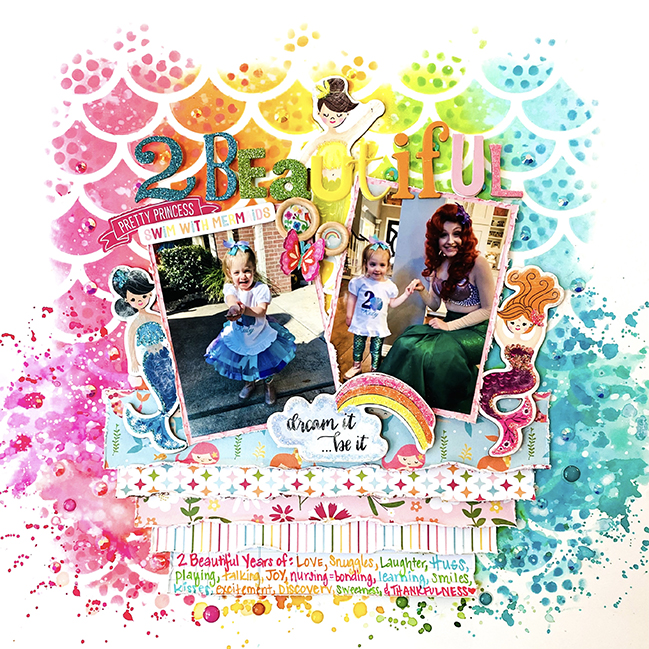 I added two sweet photos from Ruby Jane's party! One is of her in her precious outfit, enjoying the sunshine! The other is with the beautiful mermaid that came to her party. She was mesmerized by her! I backed these photos with more patterned paper from the same collection and popped them up on foam to help them stand out on the page. I embellished all around the photos with an assemblage of pretty things! I started with the three mermaid chipboard stickers from Shimelle's Head in the Clouds collection. I distressed them a little and added some glitter details. I added the rainbow chipboard piece from the same collection just under my photos. I distressed and added glitter to this piece as well. I added wooden buttons from Shimelle's Never Grow Up collection and a few cardstock stickers from the All Girl collection. I also added and popped up a tiny butterfly from the Go the Scenic Route collection by Paige Evans.
Across the top I popped up the title in reverse rainbow order using eight different sets of Thickers. I thought the title "2 Beautiful" was a cute play on words and just perfect for the layout! I added Jewelz by Buttons Galore and More and enamel dots from the Never Grow Up collection around the page in tone-on-tone layers. As a final touch, I added a strip of journaling under the last layer of patterned paper across the bottom of the page. I matched my ink colors to the colors of the layout and tried to capture the joys of my first two years with my sweet girl!
| | | |
| --- | --- | --- |
| Sarah Millerhouse is an elementary school principal, owns a catering business, is a wife and mother and still finds time to scrapbook! She's been scrapbooking for almost twenty years and loves how her style evolves with time. Sarah lost her father at an early age and believes her need to document the detail of life comes from that loss. He loved to take photos and document memories, so she is grateful for what he captured and hopeful the future generations of her family will be able to treasure the legacy created through scrapbooks. You can see more of Sarah's work on Instagram. | | |

Read more about: tutorials
17 May 2022

Next post: Scrapbooking a Moment in Time with Michelle Crela
Previous post: Scrapbooking Delicate Cut Files with Piroska Czakó-Radványi