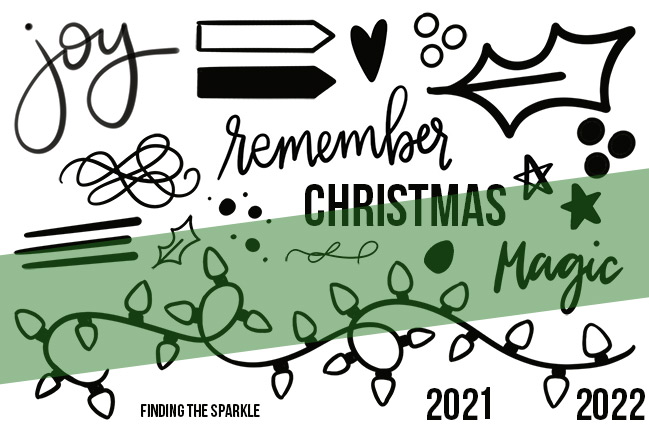 Hey hey there Christmas fans! This year's edition of the Journal your Christmas stamps are now available for preorder, which will remain open until Friday the 15th of October. I only get a very small number of extras, so if you would like a set please place a preorder.
It's a set of two sheets of high-quality photopolymer clear stamps, designed by me and made here in the UK. I pack them up and post them to you myself, and if you're participating in Journal your Christmas, you'll see me use them throughout the course on the pages in my own journal.
This year's edition includes lots of things to layer and places to add colour, either by colouring in shapes or by layering solid and outline stamps. I've also added more texture patterns this year, like stripes, scribbles, and confetti, as I feel like we've gone big on words and motifs over the last few years but I would really like more of those versatile pieces to add to my pages.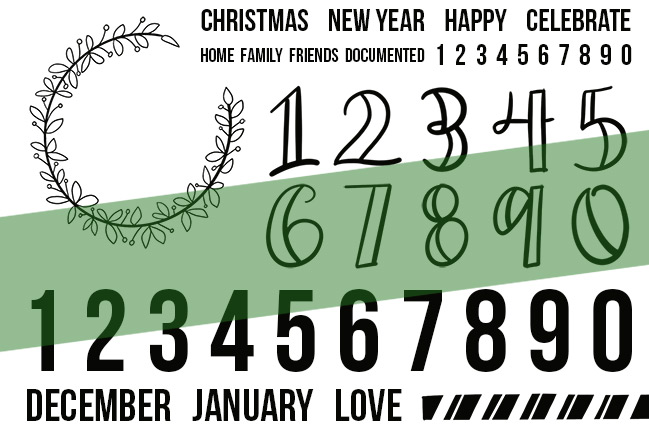 There are three sets of numbers this year – one wobbly and hand-drawn to fill in with colours or patterns of your choice, and two sizes of a more graphic style. The numbers are designed to fit into the round frame or be combined with the large holly leaf to make a corner accent. (I'll share both of those techniques in my JYC videos this year.)
(I've adjusted the design placement so it's nice and visible on your web browser. The actual stamps are arranged vertically to match other years, just in case that was bothering you! All the same stamps and sizes, just rearranged so you can see them without scrolling.)
The double stamp set is $28 and that includes shipping to anywhere in the world. Your currency will be adjusted automatically when you purchase and if you want to see what US dollars equate to where you are in the world, you can check that on xe.com.
UPDATE Stamp pre-orders for 2021 have now closed. A very limited number of ready to ship stamps will be available closer to Christmas, and those will be posted here once all pre-orders have shipped. Thanks!
Any questions, please email me. I've had to turn off comments on the blog because I get some rather not-family-friendly spam! Egad. So email me. Please. Happy to chat!
Thank you so much!

Read more about:
09 October 2021

Next post: 2021 Christmas Stamps - Ready to Ship
Previous post: Supplies I'll be using for Journal your Christmas 2021