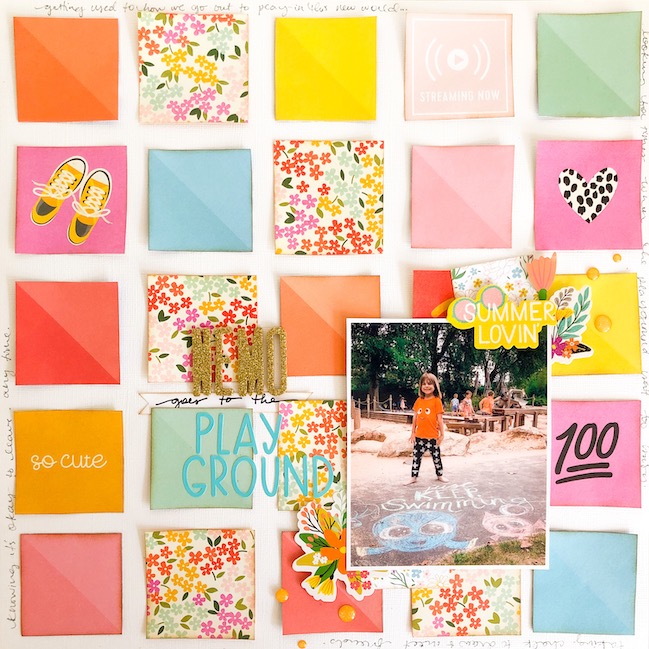 This post includes affiliate links to scrapbook.com, where I bought my supplies for this page.
The August Best of Both World kit includes two different patterned papers that can break down into squares of about 2×2 inches: this PinkFresh rainbow grid and this Simple Stories Kate & Ash cut apart. Grabbing more of that trusty (ha! more like treacherous!) white cardstock, I combined most of my left over squares from the two papers to create this page documenting the day we drew an ocean of fish on the playground pavement.
The journaling on this page goes around the outside edge of the page, and documents a bit about 'how' we go to the playground in 2020 – how we go when it's quiet and leave when it's too busy, that we can leave without question when either of us feels overwhelmed, understanding that all children – even your friends – may not want to play right now in the ways they have before. Or they just might! Those sorts of things are important to me in documenting this time in our lives. I'm not making full pages dedicated entirely to how life has changed, but instead using my happy photos to celebrate the good times while recording the differences in a way that helps me stay uplifted. Remember your scrapbooking process can be as therapeutic as you want it to be, so find the things that make it just right for you.
For links to the supplies and indeed all about this first month of Best of Both Worlds scrapbooking kits – including how you are totally welcome to play along with the supplies you already have in your stash – please see this post.
If you make a page inspired by this project and share it online, please tag me @shimelle and add the hashtag #shimelleBOBW so we can all share ideas together!

Read more about: best-of-both-worlds-kit friday-live
11 September 2020

Next post: Scrapbooking with no patterned paper?!
Previous post: Scrapbook Stamping: Make your own patterned background