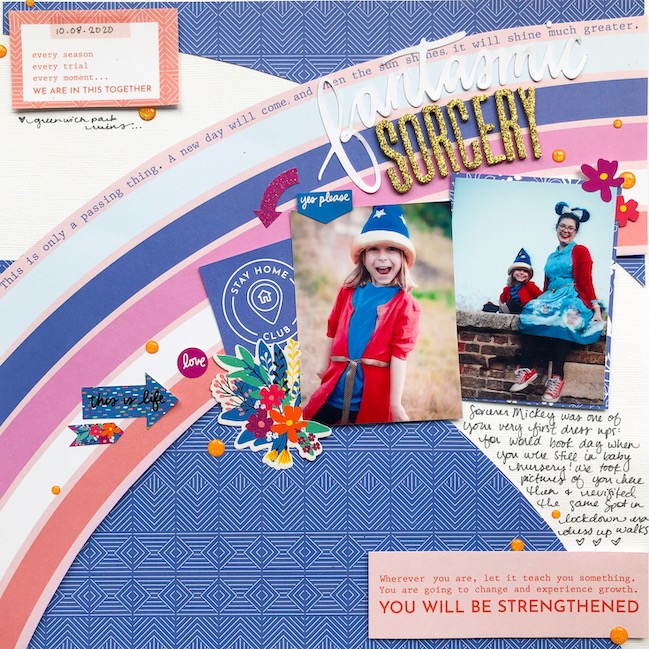 This post includes affiliate links to scrapbook.com, where I bought my supplies for this page.
What to do with that bold rainbow paper from Pinkfresh Studio… this was a question I had from the beginning! I knew I wanted it to be something that really made the rainbow special, but I didn't order two sheets so I had to get it right the first time. In a move that shocked even me, I ended up needing to put it all on white cardstock – something that definitely crept into my pages this month way more than usual!
This page was made in a Facebook Live session, so it's a chatty video today.
Abandoning the quick handcutting of the title in the video was the right call – I had drawn it out about twice as big as I needed and it's more of a quiet and patient activity rather than one that has enough pace to watch in real time. For more about handcut titles, I would really suggest checking out this post from Kirsty Smith who has been sharing more about how she creates her beautiful title work.
For links to the supplies and indeed all about this first month of Best of Both Worlds scrapbooking kits – including how you are totally welcome to play along with the supplies you already have in your stash – please see this post.
If you make a page inspired by this project and share it online, please tag me @shimelle and add the hashtag #shimelleBOBW so we can all share ideas together!

Read more about: best-of-both-worlds-kit friday-live
11 September 2020

Next post: Scrapbooking with three photos and a rainbow of embellishments
Previous post: Scrapbooking with a semi-circle from the Field Trip die-cut specialty paper